In Celebration of a Remarkable Career at ASCO
A Conversation With Allen S. Lichter, MD, FASCO


We have taken on some tough challenges over the past decade, and I'm extremely proud of the organization for not shying away from tackling important issues such as the value of cancer care; launching the TAPUR study, ASCO's first clinical trial; and creation of CancerLinQ.

— Allen S. Lichter, MD, FASCO




Tweet this quote



In March, ASCO announced that Allen S. Lichter, MD, FASCO, was stepping down as Chief Executive Officer (CEO) at the end of June, ending his 10-year tenure as head of the Society and the Conquer Cancer Foundation of ASCO. Clifford A. Hudis, MD, FACP, Chief of Breast Medicine Service and Vice President for Government Relations and Chief Advocacy Officer at Memorial Sloan Kettering Cancer Center, has been named ASCO's next CEO.
Dr. Lichter's commitment to ASCO goes as far back as 1980, when he became an ASCO member, and he plans to continue to contribute to ASCO's success and growth as a volunteer. Dr. ­Lichter served as President of ASCO from 1998 to 1999.
Before becoming CEO of ASCO in 2006, Dr. ­Lichter served in several faculty positions over 22 years at the University of Michigan Medical School, including Dean of the University of Michigan Medical School and Chair and Newman Family Professor of Radiation Oncology. He was also named the first Isadore Lampe Professor of Radiation Oncology.
Prior to his return to the University of Michigan in 1984, Dr. Lichter was the Director of the Radiation Therapy Section of the National Cancer Institute's (NCI) Radiation Oncology Branch. Trained in radiation oncology at the University of California, San Francisco, Dr. Lichter was an early advocate of breast-conserving approaches in the treatment of breast cancer and conducted a landmark study1 at the NCI; it found the use of lumpectomy and radiation therapy to be as effective in survival outcome as mastectomy in patients with stage I or II breast cancer. Dr. ­Lichter's research led to a Gold Medal from the American Society for Radiation Oncology. In 2002, Dr. Lichter was elected to membership in the Institute of Medicine of the National Academies of Science.
During Dr. Lichter's years as CEO of ASCO, the Society doubled in size from 20,000 members in 2006 to nearly 40,000 members today, including more than 13,000 international members. He has overseen the launch of such major initiatives as CancerLinQ™, ASCO's big data rapid-learning system; the Value in Cancer Care Framework; the expansion of the Conquer Cancer Foundation; and the Targeted Agent and Profiling Utilization Registry (TAPUR) study, ASCO's first-ever clinical trial.
The ASCO Post talked with Dr. ­Lichter about his time at ASCO, his plans for the future, and his championing of the launch of The ASCO Post in 2010.
Making Steady Progress
What were the greatest challenges you faced when you became CEO 10 years ago? And what were your goals?
ASCO was a strong and growing organization when I became CEO in 2006, so the challenges were not how to revitalize the organization or turn it around. The challenges were how to take an organization that was already outstanding and doing important work and ask the question how can we better serve our members and consequently affect the care of cancer patients in a positive way? It was a set of exciting challenges to try to end each year saying we are a little bit better than we were the year before, and I think we've done that.
A Decade of Milestones
The Society has achieved so many milestones during your tenure as CEO (as itemized above). What do you consider your greatest achievements?
First, I want to talk about these programs in general. They were not my achievements. I happened to be the CEO when these initiatives happened, but they were the result of the creative ideas from our volunteer leadership and the outstanding and creative work by one of the best professional staffs in the world of medical professional societies. I've been fortunate to have the chance to be part of that success, but these are really our accomplishments, not my accomplishments.
Some of what the team accomplished is extremely noteworthy not only because it is making a difference today, but also because it will make a difference for a long time in the future. One of those accomplishments is the Leadership Development Program, which is the result of the notion the Board and the staff had that ASCO was becoming more complex and we needed to identify and train new leaders to keep the organization vital for both the academic and private-practice membership. It is very gratifying to have our first Leadership Development Program graduate elected to the Board of Directors this year, and to see the placement of program graduates into leadership positions within ASCO, as committee members and committee chairs. I think these individuals will be leaders in ASCO for years to come.
You can sit back and watch the future unfold and react to it, or you can try to create the future in ways that present positive outcomes for everyone involved, and that is what we are trying to do.

— Allen S. Lichter, MD, FASCO




Tweet this quote



Another initiative that happened during my tenure was the emergence of Cancer.net as one of the leading patient and public information websites about cancer on the Internet. When I arrived, the site was called People Living With Cancer. We rebranded the website and decided to completely fund it internally and take no outside commercial support, so there would be no concern about outside editorial influence, and the site has just exploded into one of the most widely used cancer information sites in the country. I think it offers a great service to patients with cancer and their families worldwide.
We have also energized the Conquer Cancer Foundation, which was called the ASCO Foundation when I came onboard, but nobody outside the inner circles of oncology knew what the ASCO Foundation was. Today, the Conquer Cancer Foundation is taking its place as a meaningful cancer philanthropic institution, and it is helping to bring support for ASCO programs and services and is establishing itself as a vital link in ASCO's programmatic activities.
Finally, we have taken on some tough challenges over the past decade, and I'm extremely proud of the organization for not shying away from tackling important issues such as the value of cancer care; launching the TAPUR study, ASCO's first clinical trial; and, of course, the biggest challenge of all, creation of CancerLinQ, a rapid learning system in oncology.
These are all courageous acts, and, in fact, if you look across the spectrum of medical professional societies, there are not many who have taken on these types of challenges—and certainly not this many simultaneously. And I'm very, very proud of the ASCO leadership and staff for having the courage to confront these issues, and I think these types of activities will have a lasting impact on the organization.
It has been a wonderful opportunity for the Society to spread its wings a little bit and tackle important issues, and that has been very gratifying for me.
The Challenges Ahead
The next 10 years promise to hold major advances in the treatment of cancer and improvements in survivorship. However, there are also challenges, including an aging population and rising incidences of cancer; oncology workforce shortages and practice volatility; and escalating cancer care costs. What do you anticipate the greatest challenges to ASCO members will be over the coming decade, and how can ASCO help members overcome them?
In 2012, the Board held a retreat to discuss the future of cancer care. The program was led by Michael Link, MD [Lydia J. Lee Professor in Pediatric Oncology at the Lucile Packard Children's Hospital, Stanford], who was our President at the time, and the Board outlined three major areas of challenge in the years ahead, and that report remains true today. The Board members talked about the value of cancer care, the genomics revolution, and big data, and I think those are the three most important challenges we will face in the years ahead.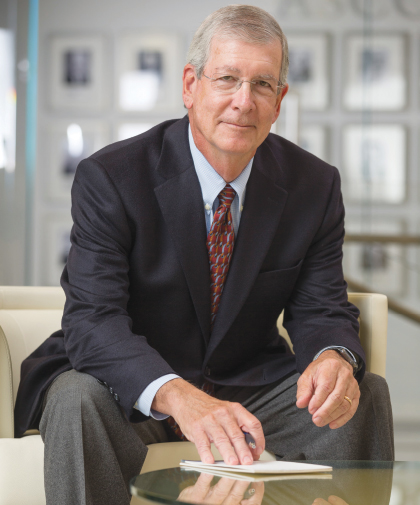 Allen S. Lichter, MD, FASCO, ASCO CEO, 2006–2016 - Photo by Mark Finkenstaedt at mfpix.com.
Value in care, cost, access, physician payment, hospital payment, keeping practices viable so they can serve our patients, and trying to make sure that patients and families do not become impoverished as a consequence of cancer therapy are the great challenges we will be facing in the decade ahead. In the discipline of genomics, the challenge is making the promise of precision medicine real for all patients and taking it out of the exclusive province of highly sophisticated academic organizations and driving the knowledge down into community practices, so patients all over the country can have the benefit of this new technology.
The ability to acquire and accumulate vast amounts of data and wisely analyze them through a rapid learning system like CancerLinQ will completely change the pace of clinical discovery in oncology.
The Next Adventure
What is next on the horizon for you?
I am moving back to my home base in Ann Arbor, Michigan, where lifetime friends and our families are located, and over the summer I hope to relax and just have a little bit of free time. I have not made specific plan, and that's quite intentional. I don't know what's in store for me in the future, but I don't think I'm completely ready to sit on the sidelines forever, so I'll see what happens.
Life has a way of taking unexpected twists and turns, and that is how most of the opportunities I've had came my way. So I'm looking forward to seeing what is in store for me, and who knows what will happen. It will be an adventure.
Championing the Launch of The ASCO Post
You were a great champion of the launch of The ASCO Post in 2010. Please talk about your vision for the publication, and why it was important to have a specific news publication for ASCO members.
Oncology newspapers were a part of the landscape of oncology. There were several in existence at the time, and they were widely read. It was Jack Gentile [Chairman of Harborside Press] and members of the Harborside Press team who said they believed they could create an oncology newspaper in collaboration with ASCO that would make an important contribution to the scientific and clinical information our members receive. I was assured that the publication would be very high quality, the reporting would be first-class, the writing would be excellent, and the presentation of the material would be in a format readers would find appealing and accessible, and all of that is true.
The collaboration was something that was worth taking a chance on, and when I saw the first issue of The ASCO Post, I had a feeling that it might be successful and it has been. The ASCO Post has become the number-one publication of its kind, and it is a terrific addition to a wide array of publications put out by ASCO. I find myself reading through every issue. It's a great way to keep up with the news of the day, and for those people who want to have a fairly quick overview of the entire landscape of oncology, The ASCO Post is a terrific resource. Readership surveys tell us that oncology professionals appreciate this newspaper, so we are very, very proud of it.
Closing Remarks
What cosing thoughts would you like to share with ASCO members and all readers of The ASCO Post?
As I mentioned earlier, there are three huge revolutions taking place in oncology, namely the value of cancer care, the genomics revolution, and big data, and these will play out in important ways over the next decade. I'm proud to say that ASCO is deeply involved in all three of these areas to help lead the world of oncology through these revolutions.
You can sit back and watch the future unfold and react to it, or you can try to create the future in ways that present positive outcomes for everyone involved, and that is what we are trying to do. I look forward to watching Dr. Hudis and the entire ASCO team take on these challenges in the years ahead.■
Disclosure: Dr. Lichter reported no potential conflicts of interest.
Reference
1. Lichter AS, Lippman ME, Danforth DN Jr, et al: Mastectomy versus breast-conserving therapy in the treatment of stage I and II carcinoma of the breast. J Clin Oncol 10:976-983, 1992.
---
Related Articles

Julie M. Vose, MD, MBA, FASCO 2015–2016

Peter Paul Yu, MD, FACP, FASCO 2014–2015

Clifford A. Hudis, MD,
FACP
2013–2014

Sandra M. Swain,
MD, FACP
2012–2013

Michael P. Link,
MD
2011–2012

George W. Sledge, Jr,
MD
2010–2011

Douglas W. Blayney,
MD
...