Reflecting on the Past Year and Looking Ahead to the Next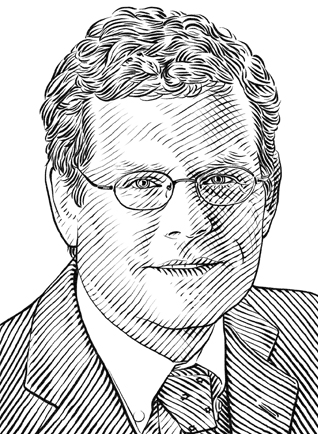 Clifford A. Hudis, MD, FACP
It is an exciting time to be a doctor, especially one who treats patients with cancer. We are seeing advances being made at an unprecedented level, and they hold the promise of evolution and revolution in terms of the expected outcomes after a diagnosis of cancer for millions of patients around the world.

—Clifford A. Hudis, MD, FACP
On assuming the Presidency of ASCO a year ago, I recognized that one of our greatest challenges as a professional society is helping the American public understand the value of cancer research, especially now, when scientific advances are accelerating but resources are contracting. This is partly why I chose Science and Society as the theme of my term and the 2014 Annual Meeting. To inform the public's view of the value of research—and of science in general—we have to passionately share our stories and explain how scientific investment improves our lives by enabling the development of more effective treatments that benefit everyone. Engaging all members of society in this discussion should help increase the priority of scientific research investment, which is the underpinning of all of our shared progress.
Looking Back
Five decades ago when ASCO was founded, there were only a handful of chemotherapy drugs to treat cancer, and most of them were only modestly effective. In the ensuing years, the United States has led the world in investing in cancer research, which has yielded dramatic improvements in our ability to prevent, detect, and treat cancer. In 2013 alone, the U.S. Food and Drug Administration approved 18 new chemotherapeutic agents, bringing the total number now available to more than 170.
The result of our progress has been a dramatic decline in overall cancer deaths, with nearly 14 million American cancer survivors alive today and more than 18 million projected by 2022. However, surviving is just the beginning. Not only are the patients we treat living longer, they are often able to enjoy high-quality, productive lives thanks to advances in better symptom management and targeted treatments that improve outcomes while limiting overall side effects.
Unprecedented Challenges
Among my goals for the year leading up to our 50th Annual Meeting was to critically reflect on the progress we have made but, more importantly, to carefully consider what ASCO needs to do going forward to best serve our members and their patients. Our recent Board of Directors Retreat focused, in essence, on reimagining ASCO for the 21st century. If we had a blank slate, what would ASCO need to do and look like to be a successful force for good around the world? True to our mission, what more can and should we be doing to increase the pace of global control and cure for cancer?
ASCO's landmark report, The State of Cancer Care in America: 2014 shows that even as we make exciting scientific gains we simultaneously face unprecedented challenges in the near future. The convergence of the growing demand for services as the population ages—by 2025, demand for cancer care is expected to increase by 42%—and a concurrent projected shortage of nearly 1,500 physicians over the next decade; changes in health-care delivery systems that may limit access for some; the financial pressures on independent oncology practices, threatening their survival; and the loss of research support are all conspiring to thwart patient access to high-quality, high-value cancer prevention and treatment services today and in the future.
The severe budget cuts to the National Institutes of Health and the National Cancer Institute are a particular long-term danger as they hinder our ability to continue making the advances in cancer care that inspire us and make our careers rewarding and exciting (along with patient care) at a time when, ironically, the pace of scientific advance has never been greater. It's as if we can see the opportunities but can't quite reach them.
Overcoming these challenges will not be easy, and there may be additional obstacles to confront, but I am confident that ASCO and its members have the skills, insights, and fortitude to do so. Indeed, we must succeed so that every American, and indeed every cancer patient anywhere, benefits as fully as possible from the advances in cancer care we have developed and will bring forward in the near future.
Developing Solutions
In addition to continually pressing the public and our elected officials for a significant increase in research support, we also need to address broader issue of value and how we deliver care. In this regard, our recent The State of Cancer Care in America report, included ASCO's suggestions on steps we can take to address emerging threats and called on federal policymakers and other stakeholders in the oncology community to help create an environment where quality patient care can thrive. They include:
Developing and testing new health-care delivery and payment models that preserve the viability of small community practices while encouraging high-quality care.
Ending persistent financial threats to community practices caused by uncertain funding such as sequester-related cuts to Medicare physician payments, and by the sustainable growth rate (SGR) formula, Medicare's current reimbursement system. The latter has become a source of tremendous instability within the health-care system and a threat to millions of seniors. Repeal of SGR is an obtainable goal with bipartisan support already established.
Embracing and supporting physician-led quality initiatives, such as ASCO's Quality Oncology Practice Initiative (QOPI®) and CancerLinQ™, ASCO's rapid-learning health system.
Improving Quality and Value of Care
QOPI was launched in 2006 to provide oncologists with a tool to improve the quality, consistency, and value of care their patients receive. Today, with the cost of oncology care in the United States projected to rise to $173 billion by 2020,1 having one standard set of common quality measures in cancer care has never been more urgent.
Across industries, it is generally true that standardization improves quality and reduces cost. In oncology, we have increased opportunities to apply this principle without threatening the sanctity of the patient-physician relationship and professional judgment in choosing among care options. Doing so will not only increase measurable quality, but also preserve resources, allowing us to serve more patients well. Doing this requires measures, and this is where QOPI has been so critical.
I am happy to report that since QOPI's inception, more than 850 oncology practices have registered in the program. A recent analysis of QOPI data has found consistently high levels of performance in many areas of cancer care and has demonstrated the favorable impact of program participation on adherence to standards. For example, an analysis of more than 150 participating practices showed high scores (greater than or equal to 90%) in complying with recommendations for postoperative (adjuvant) chemotherapy standards in breast, colorectal, and non–small cell lung cancers.
QOPI participants have also shown demonstrable improvements in end-of-life care for adult patients with advanced cancers. The result is that fewer patients are receiving ineffective treatments in the last 2 weeks of life. The incorporation of molecular testing has also been shown to rapidly improve in appropriate disease areas as assessed by QOPI.
We are very, very proud of QOPI. But QOPI will continue to rapidly evolve, and the next step in that process is the CancerLinQ initiative. This is a "big data" learning health system comprising a knowledge-generating computer network that will collect and analyze cancer care data from millions of patient visits and expert guidelines and feed that knowledge back to oncologists at the point of care. The program was conceived in response to the Institute of Medicine's recommendations for establishing a "learning health system" for health care, and with CancerLinQ, all patients treated in any oncology office in the country will have the potential to access vetted state-of-the-art care and research without leaving their local communities.
In 2013, ASCO demonstrated an operational prototype, which gathered de-identified data from more than 177,000 patients with breast cancer who received treatments at hospitals and practices nationwide. Based on that early success, we plan to make the first components of CancerLinQ available to physicians in 2015. This will include relevant data on all types of cancer and will eventually provide access to millions of de-identified patient records, as well as expert guidelines and relevant scientific literature to enable a faster learning cycle from real-world patient experiences.
There are many approaches to responsibly controlling the costs of health care. One of them is to continually reevaluate conventional approaches to care, and during 2013, ASCO contributed a second set of recommendations to the American Board of Internal Medicine Foundation's Choosing Wisely® campaign. In doing so, we joined professional societies across the spectrum to look critically at which components of our day-to-day practices add value and which do not.
To extend our communications internationally, we also launched ASCO International. This ambitious program is aimed at accelerating our global effort to bridge the gap in health equity among different racial and economic groups in cancer prevention, diagnosis, and treatment around the world. We have made a commitment to double our international programs over the next 4 years.
Looking Ahead
This year has been a great joy for me. It has been my honor to serve as President of ASCO during its 50th Anniversary year and when there is so much potential and excitement in the scientific and clinical realms. The next year promises to present even greater challenges and opportunities for advancements in many areas of cancer prevention and treatment, and we hope these are reflected in the 2014 Annual Meeting Education Program.
This year's program includes multidisciplinary sessions that emphasize collaborative care in the management of different cancers; topics relevant to daily practice; tools for delivering high-quality care; global health challenges in oncology; and understanding molecular pathways and genomics. You will also find discussions on the cost and value of cancer care integrated into many sessions.
In addition to celebrating the 50th anniversary of ASCO's founding, we are also celebrating the inauguration of Peter P. Yu, MD, as ASCO President. Dr. Yu, Director of Cancer Research at Palo Alto Medical Foundation and a member of the Alliance for Clinical Trials in Oncology and the Gynecologic Oncology Group, is well known in the oncology community for his knowledge and understanding of how health information technology can advance the prevention, diagnosis, and treatment of cancer care. His interest and expertise in this area will be invaluable as we move forward in the big data digital age of health care.
I also want to congratulate Julie M. Vose, MD, MBA, FASCO, on her election. Dr. Vose will take office as President-Elect during the Annual Meeting and begin her 1-year term as President in June 2015.
It is an exciting time to be a doctor, especially one who treats patients with cancer. We are seeing advances being made at an unprecedented level, and they hold the promise of evolution and revolution in terms of the expected outcomes after a diagnosis of cancer for millions of patients around the world.
I chose a career in cancer medicine about 25 years ago because, even then, it was obvious to me that this field offered the possibility of transformative, science-driven changes in clinical outcome coupled with the opportunity to work closely with patients and families coping with one of the most universally feared illnesses we confront. Everything I expected turned out to be true, except that the reward was even greater than I imagined. For younger physicians entering the field, I believe that the future will be even more exciting than it was for me.
Given our talent and accomplishments, I'm looking forward to another year of great progress for our members and the patients and families we serve. ■
Disclosure: Dr. Hudis reported no potential conflicts of interest.
Reference
1. Mariotto AB, Yabroff KR, Shao Y, et al: Projections of the cost of cancer care in the United States: 2010–2020. J Natl Cancer Inst 103:117-128, 2011.
Dr. Hudis is Chief of the Breast Cancer Medicine Service, Memorial Sloan Kettering Cancer Center; President of the American Society of Clinical Oncology (2013–2014); and Professor of Medicine, Weill Cornell Medical College, New York.
---