Novel Regimen Produces High Pathologic Complete Response Rates in Triple-negative Breast Cancer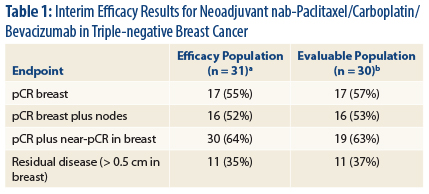 a Among the first 35 patients, 4 withdrew prior to surgery. b Patients in the evaluable population received at least 75% of planned neoadjuvant treatment and underwent surgery. pCR = pathologic complete response. Courtesy of Jasgit C. Sachdev, MD.
Interim results from a small neoadjuvant study of patients with triple-negative breast cancer has found high rates of pathologic complete response with the combination of nab-paclitaxel (Abraxane), carboplatin, and bevacizumab (Avastin).1 The study was presented at the 18th Annual Conference of the National Comprehensive Cancer Network by Jasgit Sachdev, MD, who led the investigation while a fellow under the mentorship of Mohammad Jahanzeb, MD, at the University of Tennessee Cancer Institute, Memphis. She is now with Virginia G. Piper Cancer Center, at Scottsdale Healthcare in Arizona.
Study Rationale
Explaining the rationale for this triplet in triple-negative breast cancers, Dr. Sachdev noted that these cancers cluster with the basal subtype on molecular profiling, which overexpresses SPARC and CAV1; SPARC-albumin binding results in high intratumoral concentration of nab-paclitaxel. Due to defective BRCA-mediated DNA repair, basal-like cancers are sensitive to DNA-damaging drugs like platinums, and bevacizumab improves the response rates for chemotherapy in metastatic breast cancer.
"Based on this rationale, we hypothesized that nab-paclitaxel plus carboplatin would produce high rates of pathologic complete response in triple-negative breast cancer, further enhanced by the antiangiogenic properties of bevacizumab," she said.
The phase II trial included a total of 42 patients, with data for the first 35 patients presented in this interim report. Median age was 52 years; 60% were postmenopausal, and 43% had positive nodes. Patients received four cycles of nab-paclitaxel at 100 mg/m2 and carboplatin at AUC 6, followed by four cycles of doxorubicin at 60 mg/m2 and cyclophosphamide at 600 mg/m2. Bevacizumab at 10 mg/kg was given every 14 days with the first six cycles of preoperative chemotherapy and continued postoperatively to complete 1 year of treatment.
High Response Rates
"Our interim results show high rates of [pathologic complete response] compared to standard anthracycline/taxane regimens without bevacizu-mab" in triple-negative breast cancer, Dr. Sachdev reported (Table 1).
"While the individual contribution of each of the experimental agents is difficult to determine, our results are in concordance with the GeparQuinto study, where a higher rate of [pathologic complete response] was observed in the bevacizumab-containing arm in patients with triple-negative breast cancer," she said. 2
The most common grade 3 and 4 adverse events included, respectively, neutropenia (63%, 29%), thrombocytopenia (34%, 3%), and anemia (23%, 3%). No serious cardiac events were observed. Seven patients had a serious adverse event; one grade 5 event occurred during the postoperative bevacizumab phase (acute liver injury and thrombocytopenia).
An ongoing randomized study is evaluating the individual contributions of carboplatin and bevacizumab to pathologic complete response in the neoadjuvant treatment of triple-negative breast cancer, she said. ■
Disclosure: Dr. Sachdev receives research funding from Celgene, Genentech, and Pfizer.
References
1. Sachdev JC, Sinder J, Schwartzberg L, et al: Interim results of weekly nanoparticle albumin bound (nab)-paclitaxel plus carboplatin followed by doxorubicin plus cyclophosphamide with concurrent bevacizumab for triple-negative breast cancer. National Comprehensive Cancer Network Annual Conference. Abstract AB2013-2. Presented March 15, 2013.
2. Von Minckwitz G, Eidtmann H, Rezai M, et al: Neoadjuvant chemotherapy and bevacizumab for HER2-negative breast cancer.  N Engl J Med 366:299-309, 2012.
---