Vandetanib: New Drug for Unresectable Medullary Thyroid Cancer

In the Clinic provides overviews of novel oncology agents, addressing indications, mechanisms, administration recommendations, safety profiles, and other essential information needed for the appropriate clinical use of these drugs.
Indication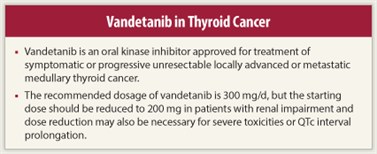 The oral kinase inhibitor vandetanib (Caprelsa) was recently approved for treatment of symptomatic or progressive unresectable locally advanced or metastatic medullary thyroid cancer. The use of vandetanib in patients with indolent, asymptomatic, or slowly progressing disease should be carefully considered due to the treatment-related risks of the drug (see Safety Profile, below).
Approval of vandetanib was based on a randomized trial comparing vandetanib at 300 mg/d (n = 231) vs placebo (n = 100) in 331 patients with unresectable locally advanced or metastatic medullary thyroid carcinoma. Median progression-free survival, the primary endpoint of the trial, was significantly prolonged with vandetanib, with risk of progression reduced by 65% (HR = 0.35, P < .0001). Median progression-free survival was not reached in the vandetanib group vs 16.4 months in the placebo group. Subgroup analysis showed similar increases in progression-free survival with vandetanib in symptomatic patients (HR = 0.31, 95% CI = 0.19–0.53) and in patients with progression within the 6 months preceding study entry (HR = 0.41, 95% CI = 0.25–0.66).
At the time of progression-free survival analysis, 15% of patients had died and there was no difference between groups in overall survival. Overall response rates were 44% with vandetanib and 1% with placebo (all partial responses).
How It Works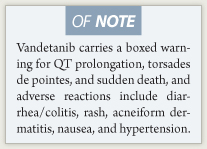 Vandetanib is a multikinase inhibitor that selectively targets RET (rearranged during transfection), vascular endothelial growth factor receptor (VEGFR), and epidermal growth factor receptor (EGFR) signaling. Both RET and VEGFR are rational targets in medullary thyroid cancer. Mutations in RET, which are found in virtually all patients with hereditary medullary thyroid cancer and approximately half of sporadic cases, result in constitutive activity of kinase function and activation of downstream pathways that induce neoplastic transformation of parafollicular C cells in the thyroid. Increased expression of the proangiogenic factor VEGF is characteristic of thyroid tumors and is associated with increased tumor growth and invasiveness.
How It Is Given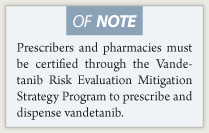 The recommended daily dose of vandetanib is 300 mg orally. Vandetanib may be taken with or without food. The starting dose should be reduced to 200 mg in patients with moderate (creatinine clearance ≥ 30 to < 50 mL/min) and severe (creatinine clearance < 30 mL/min) renal impairment. Dose reduction may be necessary for severe toxicities or QTc interval prolongation.
Only prescribers and pharmacies certified through the Vandetanib Risk Evaluation Mitigation Strategy Program, a restricted distribution program, are able to prescribe and dispense vandetanib.
Safety Profile
Vandetanib carries a boxed warning for QT prolongation, torsades de pointes, and sudden death. Given the prolonged half-life of vandetanib (19 days), ECGs and levels of serum potassium, calcium, magnesium, and thyroid-stimulating hormone should be obtained at baseline, at 2 to 4 weeks and 8 to 12 weeks after starting treatment, and every 3 months thereafter. Electrolytes and ECGs may require more frequent monitoring in patients experiencing diarrhea.
In the trial supporting vandetanib approval, the most common (≥ 20%) adverse reactions in vandetanib patients were diarrhea/colitis, rash, acneiform dermatitis, nausea, hypertension, headache, fatigue, decreased appetite, and abdominal pain. Laboratory abnormalities in more than 20% of patients included decreased calcium, increased ALT, and decreased glucose. The most common (≥ 5%) grade 3 or 4 adverse reactions were diarrhea/colitis, hypertension and hypertensive crisis, QT prolongation, fatigue, and rash.
Adverse reactions resulting in death in patients receiving vandetanib (n = 5) were respiratory failure, respiratory arrest, aspiration pneumonia, cardiac failure with arrhythmia, and sepsis. In addition, two deaths in patients receiving vandetanib (one sudden death and one death from cardiopulmonary arrest) were observed after the data cutoff.
Cost
Vandetanib is estimated to cost $198 per 100-mg tablet, which at a daily dose of 300 mg equals $17,820 for a 30-day supply. ■
Suggested Readings
CAPRELSA® (vandetanib) tablets prescribing information. AstraZeneca Pharmaceuticals LP, June 2011. Available at http://www1.astrazeneca-us.com/pi/caprelsa.pdf. Accessed December 14, 2011.
Commander H, Whiteside G, Perry C: Vandetanib: First global approval. Drugs 71:1355-1365, 2011.
Deshpande H, Roman S, Thumar J, et al: Vandetanib (ZD6474) in the treatment of medullary thyroid cancer. Clin Med Insights Oncol 5:213-221, 2011.
U.S. Food and Drug Administration: What's New from the Office of Hematology Oncology Products: Vandetanib. Available at http://www.fda.gov/AboutFDA/CentersOffices/OfficeofMedicalProductsandTobacco/CDER/ucm250347.htm. Accessed December 14, 2011.
Wells SA Jr, Gosnell JE, Gagel RF, et al: Vandetanib for the treatment of patients with locally advanced or metastatic hereditary medullary thyroid cancer. J Clin Oncol 28:767-772, 2010.
---