Update on Oncology Drug Shortage: Better for Now, But Permanent Solutions Must Address Underlying Issues

Over the past few years, drug shortages in the United States have been on the rise, involving hundreds of agents, many of which are lifesaving medications for patients with cancer. In recent months, the FDA has taken steps to alleviate some of the most critical oncology drug shortages.

"We should absolutely be grateful to the FDA for their efforts in solving the methotrexate shortage, which was really a crisis for children with cancer," ASCO President Michael P. Link, MD, said in an interview with The ASCO Post. "They have used leverage and they have used their knowledge to prevent a crisis. On the other hand, there is no reason to believe that there won't be another drug in short supply in the very near future, because we have not addressed the fundamental issues that caused the shortage in the first place." Dr. Link is Professor of Pediatrics, Division of Pediatric Hematology/Oncology, at Stanford University School of Medicine in Palo Alto, California.
"FDA, our pharmacists, physicians, and manufacturers have cobbled together patches, but we cannot continue to practice medicine from crisis to crisis. Many other drugs remain in shortage, and we need permanent solutions," Dr. Link stated at an FDA news briefing in February. The briefing was held to announce the approval of a new manufacturer of a preservative-free formulation of methotrexate and temporary importation of the liposomal doxorubicin Lipodox as a replacement for Doxil.1 The announcement put the issue of drug shortages in the news once again, including several reports quoting Dr. Link on the need for permanent solutions that address the root causes of the drug shortages.
Economic Underpinnings
"Many of us believe that economics in some way underpins this," Dr. Link told The ASCO Post. The economic issues include the relatively low price of generics and the resulting lack of incentives for companies to produce drugs for little or no profit. "If you are not making much money on a drug and you have problems producing it, there is very little incentive to fix the problem, especially if fixing the problem costs a lot of money, which it usually does," Dr. Link said.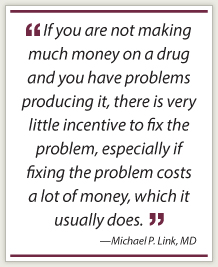 Some who assert that the prices of generic drugs in this country are too low point to the example of European countries where the prices of generics are higher and the drugs are not in short supply. "That is sort of circumstantial evidence, but it is compelling," Dr. Link said.
At the FDA briefing, Dr. Link called on Congress to appoint a bipartisan panel to develop legislation that would result in permanent solutions, and outlined three specific actions advocated by ASCO. Two of these measures address economic issues—providing economic incentives to companies to ensure continued availability of drugs, and expanding FDA's authority to collect user fees from generic drug manufacturers as part of the regulatory approval process.
"These fees should be used to ensure that FDA has the resources to quickly review applications for generic drugs either in or at risk of shortage, and speed the availability of these medicines to patients," said Dr. Link. "The fees would also provide flexibility for FDA to incentivize production of key drugs, for example, by charging reduced fees for companies that demonstrate adequate contingency plans for manufacturing disruptions," according to ASCO.
The other measure advocated by ASCO is to require manufacturers to notify the FDA about "market withdrawals or manufacturing interruptions 6 months in advance or as soon as such problems become known." (The ASCO priorities were reported in the April 15 issue of The ASCO Post.2  Reasons and potential solutions to chemotherapy drug shortages were described in an article coauthored by Dr. Link in the March 1 issue of the Journal of Clinical Oncology.3)
Previous ASCO recommendations to ease drug shortages included potentially extending the expiration date of a drug in short supply and clarifying the definition of "medically necessary," the term that triggers notifying the FDA about drug shortages. The FDA has been extending expiration dates of drugs when they are still safe and effective to use, but "that's just a mechanism that FDA can use in the very, very short term. That is not a long-term solution," Dr. Link said. "Extending the definition of what is medically necessary and early notification came out as part of the executive order," he added, referring to Executive Order 13588, issued by President Barack Obama on October 31, 2011.4  
A recent article in The New York Times noted that while the executive order directs the FDA and the Department of Justice to take actions to prevent drug shortages, "the steps remain voluntary for drug companies," because Congress has not passed legislation enforcing these requirements.5
Cures and Collaborations
For many pediatric cancers, as well as some adult cancers—certain early-stage breast cancers, testicular cancer, adult lymphomas, and adult leukemias—curative therapies are known, Dr. Link noted, but these regimens are "based all or in part on older drugs that are now generics. Virtually all of those drugs, which are the foundation of curative therapy for those diseases, have at one time or another been in short supply."
These include preservative-free methotrexate, as discussed at the February FDA briefing. Doxorubicin, "which is a mainstay of therapy for lymphoma, and for sarcomas in adults and young adults, has been in short supply on and off," Dr. Link said. "Cisplatin, which is a major drug for the treatment of many cancers and for the curative therapy of testicular cancer in young men, has been in short supply," he added. "When you know the recipe for curative treatment and yet the ingredients are not available, that is pretty heartbreaking." ■
Disclosure: Dr. Link reported no potential conflicts of interest.
SIDEBAR: Drug Development in the Era of Personalized Medicine
SIDEBAR: Expect Questions from Your Patients

References
1. FDA acts to bolster supply of critically needed cancer drugs. FDA News Release, February 21, 2012.
2. ASCO advocates for solutions to the oncology drug shortage crisis. The ASCO Post 3(6):44, 2012.
3. Link MP, Hagerty K, Kantarjian HM: Chemotherapy drug shortages in the United States: Genesis and potential solutions. J Clin Oncol 30:692-694, 2012.
4. Executive Order 13588—Reducing Prescription Drug Shortages. The White House Office of the Press Secretary, October 31, 2011. Available at www.whitehouse.gov. Accessed April 4, 2012.
5. Savage C: Shift on executive power lets Obama bypass rivals. New York Times, April 22, 2012.
---
Related Articles
Advances in understanding cancer on a molecular level and the identification of subgroups of cancer patients with rare diseases are expected to have an effect on drug development and supply.
"The vision of what cancer care will be like in the future is this very precise personalized care, where...
While the process of finding permanent solutions to the shortage of oncology drugs continues, physicians and patients may still face difficult situations when certain drugs, possibly part of curative regimens, are not available.
"The key thing is that we urge patients to have discussions with...