Novel Initiative to Address Oncology Drug Crisis

Much has been written about the oncology drug shortage crisis in the United States. In the spirit of being part of the solution to that problem, a group of oncologists has formed the Citizen's Oncology Foundation (COF). The goal of the start-up not-for-profit association is two-pronged: to find solutions to alleviate oncology drug shortages and to foster alternative drug discovery and development of drugs that are cheaper than and as safe and effective as those currently being used to treat many types of cancer.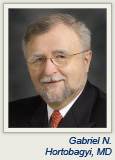 In the words of founding member Gabriel N. Hortobagyi, MD, the organization was formed "when the stars, moon, and sun aligned in a way to favor good deeds." Dr. Hortobagyi is Chair of Breast Medical Oncology at MD Anderson Cancer Center, Houston.
Laurence H. Baker, DO, who is credited with the idea for the foundation, explained that COF is in the tradition of "social entrepreneurship," which means an effort that benefits the greater community and also generates a small profit (used toward self-preservation, expansion, or to further social goals). In other words, Citizen's Oncology Foundation will explore becoming a successful business that promotes social good. Dr. Baker is Chair of the SWOG cancer research cooperative group and is Collegiate Professor in Cancer Developmental Therapeutics at University of Michigan Medical School, Ann Arbor.
Giving Back to the Cancer Community
Drs. Baker and Hortobagyi said that they are at a point in their careers where they want to use their influence to give back to the cancer community by addressing major challenges related to access to oncology drugs. Dr. Baker said that the seed for COF was planted when he received a university-wide e-mail notifying the faculty of a doxorubicin shortage, with no suggestions about what other drugs might be good substitutes.
"At SWOG, when a drug is in shortage, we try to advise physicians about alternatives. I was in the process of writing an angry e-mail to the leadership and faculty at my institution, when I realized that writing yet another e-mail was not going to address the problem. That was the 'aha' moment, and I decided that action was needed."

Over the years, Dr. Baker had had conversations with similar-minded colleagues, and together they founded Citizen's Oncology Foundation. These colleagues are: Lowell E. Schnipper, MD, Chief of Oncology at Beth Israel Hospital, Boston; Mark J. Ratain, MD, Leon O. Jacobson Professor of Medicine and Associate Director for Clinical Sciences at the Cancer Research Center at University of Chicago; Frederick R. Appelbaum, MD, Executive Director of the Seattle Cancer Care Alliance at the Fred Hutchinson Cancer Center, Seattle; Michael P. Link, MD, current President of ASCO and Professor of Pediatrics at Stanford University School of Medicine, California; and George F. Tidmarsh, MD, a pediatric oncologist who has spent most of his career as a businessman in the pharmaceutical industry and an expert on delivery of generic drugs.
Two-pronged Mission
The first part of COF's mission is to ensure the continuing availability of generic oncology drugs to all Americans. Some possible strategies to address this, according to Dr. Baker, are for Citizen's Oncology Foundation to (1) go into business as a generic drug company, (2) lobby Congress for changes that will encourage generic drug companies to continue to produce oncology drugs, especially injectables, and (3) coordinate efforts with other powerful groups invested in the same goal.
The second, and equally important mission of COF is to serve as an alternative pathway to drug discovery, development, and delivery. Elaborating on this goal, Dr. Hortobagyi explained that there is a disconnect between the research that he and his colleagues believe is needed and the research they are actually able to do, mainly because of shrinking support from NCI and the growing influence of Pharma.
"Much of the research that we think is important does not interest the NCI or Pharma," Dr. Hortobagyi said.
An example is the potential use of rapamycin (sirolimus, Rapamune) as a replacement for everolimus (Afinitor) in the treatment of metastatic breast cancer. At the 2011 San Antonio Breast Cancer Symposium, Dr. Hortobagyi and colleagues presented a study showing that everolimus added to exemestane more than doubled progression-free survival in metastatic breast cancer.1
"This is the first time that we were able to show extended progression-free survival with hormonal therapy," he said. Although an effect on overall survival remains to be shown for the combination of everolimus and exemestane, the authors hypothesized that they could get a similar benefit from substituting rapamycin, the parent compound for everolimus, which would be much cheaper. First, a noninferiority study comparing rapamycin vs everolimus would be needed.
"We could save the health-care system billions of dollars if this proves to be true," Dr. Hortobagyi said.
Another example of a much less expensive, but possibly equally safe and effective therapy might be to replace tamoxifen with its active metabolite, endoxifen. At present, neither Pharma nor the NCI would support a study to demonstrate endoxifen's equivalence with tamoxifen, even though—once again—billions could be saved each year. This is exactly the type of research that COF wants to engage in.
Sound Business Model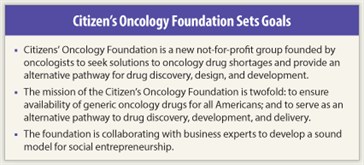 Citizen's Oncology Foundation has filed for approval as a 501.3c (tax-exempt) corporation. The founders are in the process of developing a sound business model in conjunction with the University of Michigan's Ross School of Business and the Tech Transfer group of the School of Medicine. Also, Dr. Baker and other COF members are exploring relationships with benefactors who believe in social entrepreneurship and exploring potential partnerships with other professional societies. Thus far, the response has been enthusiastic, Dr. Baker said.
"In the next few months, we will meet with consultants and have business models based on solid business practices compatible with social entrepreneurship," Dr. Baker said.
"The founders of Citizen's Oncology Foundation are passionate about this. We want to make this a viable entity. The initiative itself is great news and will be the first tangible service to the oncology community," Dr. Hortobagyi stated. ■
Disclosure: Dr. Hortobagyi serves as a consultant to Allergan, Genentech, Merck, Novartis, and sanofi-aventis and receives research support for a multicenter clinical trial from Novartis. Dr. Baker receives grant support from the National Institutes of Health and Hyatt Corporation and he's on the advisory board of The Hope Foundation, Merck, BioMed Valley, Inc, and CytRx DSMB.
Reference
1. Hortobagyi GN, Piccart M, Rugo H, et al: Everolimus for postmenopausal women with advanced breast cancer: Updated results of the BOLERO-2 phase III trial.
 San Antonio Breast Cancer Symposium. Abstract S3-7. Presented December 8, 2011.
---