JAMA Highlights New Comparative Effectiveness Studies

A recent press briefing moderated by Phil B. Fontanarosa, MD, MBA, Executive Editor, JAMA, presented new findings on comparative effectiveness research, and two of the studies discussed focused on cancer. Dr. Fontanarosa started by defining comparative effectiveness research, which gained prominence in 2009 as a $1.1 billion chunk of the 2009 American Recovery and Reinvestment Act.
"[Comparative effectiveness research] is comparing the benefits and harms of available interventions or therapies to prevent, diagnose, treat, or monitor clinical conditions, and then apply the information to make informed decisions that result in better health-care outcomes," Dr. Fontanarosa explained.
Bevacizumab in NSCLC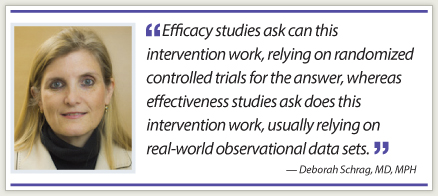 Deborah Schrag, MD, MPH, Associate Professor of Medicine, Harvard Medical School, presented a retrospective cohort study looking at survival in patients with advanced non–squamous cell non–small cell lung cancer (NSCLC), aged 65-years or older, who were treated with carboplatin/paclitaxel with or without bevacizumab (Avastin).1 The motivation for the study was a 2006 phase III NCI-sponsored trial showing that the addition of bevacizumab to carboplatin/paclitaxel gave a slight survival advantage in stage IIIB/IV non–squamous cell NSCLC.
"On the strength of this trial, FDA approved bevacizumab for this indication. However, although NSCLC is a disease of the elderly, only a minority of trial participants were 65 years or older. And in fact, the trial showed no advantage in that age group," commented Dr. Schrag.
The researchers analyzed NCI Surveillance, Epidemiology and End Results (SEER) cancer registries data; 94% of SEER patients aged 65 or older are linked with Medicare claims. "Our research question was simple: Does adding bevacizumab to standard chemotherapy improve survival in these NSCLC patients?" Dr. Schrag said.
The answer, in a nutshell: "In Medicare-insured patients with advanced non–squamous cell NSCLC aged 65 years and older, we did not find that adding bevacizumab provides a substantial survival advantage over the standard combination. This matters to overall health care because lung cancer, the leading cause of U.S. cancer death, is a disease of the elderly, and there is a critical need for better treatments," Dr. Schrag said.
Dr. Schrag emphasized that the distinction between efficacy and effectiveness gets to the gut of comparative effectiveness research. "Efficacy studies ask can this intervention work, relying on randomized controlled trials for the answer, whereas effectiveness studies ask does this intervention work, usually relying on real-world observational data sets," said Dr. Schrag. She acknowledged that population-based data banks such as SEER, have high generalizability, but provide less clinical detail than randomized trials.
Coverage Decision Time
The Centers for Medicare & Medicaid Services (CMS) had a major coverage decision to make, and unlike regulatory agencies elsewhere in the world the agency does not factor cost into its policy, only a drug's efficacy. "Even though there was no survival advantage in the 65-plus group, because the overall results of the clinical trial showed a minimal advantage, CMS, based on the reasonable and necessary criteria in the statute, covered bevacizumab," Dr. Schrag said.
"We wanted to know the consequences of FDA's approval and subsequent CMS coverage in 2006," Dr. Schrag said, adding, "In other words, did doctors and their NSCLC patients read the results of the NCI trial and adopt bevacizumab? Also, does bevacizumab provide an incremental benefit when used in routine practice?"
In answer, Dr. Schrag noted that when carboplatin/paclitaxel was prescribed for advanced NSCLC, only 22% of the Medicare patients received bevacizumab added to the regimen. "We found that younger Medicare enrollees with fewer comorbidities were more likely to receive bevacizumab. The data also suggest that physicians and their patients are judicious in using new therapies with marginal or unclear benefits," concluded Dr. Schrag.
Comparing Treatments in Localized Prostate Cancer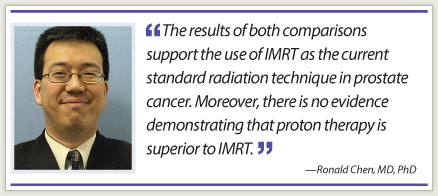 Prostate cancer, largely because of the wide variability of treatments and costs, has drawn the attention of those involved in initiatives, such as comparative effectiveness research, that strive to identify the most effective intervention for a specific health issue. In the second presentation, Ronald Chen, MD, MPH, Assistant Professor, Department of Radiation Oncology, University of North Carolina, discussed a study that compared conformal radiation, intensity-modulated radiation therapy (IMRT), and proton therapy.2
"Using SEER-Medicare data, we performed two direct comparisons of conformal radiation vs IMRT and IMRT vs proton therapy. We gauged the side effects after receiving radiation, including bowel and urinary morbidity, hip fracture, and erectile dysfunction. We also examined whether patients required or received further cancer treatments, which would be considered an indicator for possible cancer recurrence," Dr. Chen said.
"Because this was an observational study, there could be significant patient selection biases for different treatments. Therefore, to minimize any confounding factors, we used a sophisticated analytical method called propensity score adjustment," Dr. Chen explained. Propensity scores provide a means of tweaking data for selection bias in observational studies of causal effects.
In the first comparison, the investigators looked at conformal radiation vs IMRT. "We included patients who were diagnosed with prostate cancer between 2002 and 2006, so it was a fairly recent cohort of participants. They all had localized, potentially curable disease. Each arm had more than 6,000 patients," Dr. Chen commented.
Rapid Adoption of IMRT
"One of our first findings was the rapid and almost complete adoption of IMRT as the prominent radiation technique for prostate cancer in the United States. For instance, in 2000, almost all patients with prostate cancer who received radiation received conformal radiation, but in the following 8 years, IMRT usage increased significantly. In fact, today more than 95% of radiation treatments given for prostate cancer in the Medicare population are done with IMRT," observed Dr. Chen, adding that this near full adoption of IMRT over conformal radiation was done without comparative effectiveness data.
After analyzing the data, Dr. Chen reported that IMRT was associated with less additional cancer therapy compared with conformal radiation, suggesting better cancer control. IMRT also resulted in fewer bowel side effects and hip fractures, but slightly more erectile dysfunction.
In the IMRT vs proton therapy comparison, the investigators found that proton therapy was associated with more bowel side effects compared to IMRT. There were no other significant differences in side effects or in the need for additional therapy between the two therapies.
"The results of both comparisons support the use of IMRT as the current standard radiation technique in prostate cancer. Currently, there is no evidence demonstrating that proton therapy is superior to IMRT," concluded Dr. Chen. ■
Disclosure: Dr. Chen's study was funded by the Agency for Healthcare Research and Quality. Drs. Fontanarosa and Schrag reported no potential conflicts of interest.
References
1. Zhu J, Sharma DB, Gray SW, et al: Carboplatin and paclitaxel with vs without bevacizumab in older patients with advanced non-small cell lung cancer. JAMA 307:1593-1601, 2012.
2. Sheets NC, Goldin GH, Meyer AM, et al: Intensity-modulated radiation therapy, proton therapy, or conformal radiation therapy and morbidity and disease control in localized prostate cancer. JAMA 307:1611-1620, 2012.
---