Immunotherapy Clinical Trials Show Benefits for Patients with Advanced Cancers

Immunotherapeutic approaches, including vaccines, a monoclonal antibody, and a combination of low-dose interleukin (IL)-2 (Proleukin) and retinoic acid, are showing some success in clinical trials investigating the prevention of breast cancer recurrence in women at high risk, the treatment of gliomas in children, and the treatment of several advanced cancers in adults. The results of the trials were presented at the recent American Association for Cancer Research Annual Meeting in Chicago.1-4
At a press conference during the meeting, Olivera Finn, PhD, Director of the Immunology Program at the University of Pittsburgh Cancer Institute and Chair and Professor in the Department of Immunology at the University of Pittsburgh School of Medicine, cautioned, "Don't be discouraged when you hear about 'moderate success.' Moderate success in the setting of advanced cancer is great news, and it also allows us to learn something so that we can move the therapy closer and closer to the early stages of the tumor or the disease, where the successes are probably going to be much greater."
Dr. Finn noted that a common theme of the four trials discussed is to "provoke the attack on the tumor by the immune system" late in disease, "when the immune system has already met the cancer and they have had this interplay where they have changed one another. The immune system changes the cancer and the cancer changes the immune system, and then we immunotherapists come at the end and try to reverse that dance in favor of the host and against the tumor."
Breast Cancer Vaccine Targets HER2

The breast cancer trial used a peptide vaccine, known as AE37, to target HER2.1 "The goal of the vaccine is to prime the immune system to recognize and attack the HER2 protein that is found in some breast cancers. Thus, if or when the patient has a recurrence, their immune system will recognize it and take action against it," stated Diane F. Hale, MD, a research resident in general surgery at Brooke Army Medical Center in Fort Sam Houston, Texas.
"HER2 is also the target of Herceptin [trastuzumab]," but trastuzumab "is currently used in the adjuvant setting only for the approximately 20% of patients who are found to be HER2-positive, defined as having overexpression of the protein as detected by immunohistochemistry or having amplification of the HER2 gene," Dr. Hale said. "This vaccine will be available for breast cancer patients expressing any degree of HER2 including low expression, which accounts for an additional 50% to 60% of breast cancer patients."
A phase I trial demonstrated AE37 to be "safe and capable of stimulating a CD4-positive helper T-cell response with HER2-specific antitumor activity." Following that study, a prospective, randomized, single-blinded phase II trial is comparing AE37 paired with the immunoadjuvant granulocyte-macrophage colony-stimulating factor (GM-CSF, Leukine) to GM-CSF alone in the prevention of breast cancer recurrence.
Highest-risk Patients
"We currently have 217 patients enrolled—109 patients randomly assigned to AE37 and 108 to GM-CSF," Dr. Hale reported. All patients completed standard-of-care therapy for breast cancer and were disease-free at the start of the trial.
"We wanted the patients who are at the highest risk for recurrence, so we included those who were node-positive or who were node-negative but had poor prognostic factors, such as estrogen/progesterone receptor negativity," Dr. Hale noted. Patients were inoculated with the vaccine monthly for the first 6 months, then had a booster inoculation once every 6 months.
Delayed hypersensitivity reactions were evaluated by injecting a small, nontherapeutic dose of the vaccine beneath the patient's skin and looking for a physical reaction of greater than 5 mm. Results at 24 months revealed that 86% of patients in the vaccine group had a significant response compared with 27% of patients in the control group. In addition, researchers evaluated in vitro proliferation responses and found that the vaccine group had more responders than the control group.
Researchers also measured T-regulatory cells at baseline and after vaccination in a subset of patients. "A large number of vaccinated patients had decreased levels of these cells from baseline, leaving us to think they have an improved immune response to the vaccine," Dr. Hale commented. "Other studies had previously found that higher levels of T-regulatory cells are associated with invasive tumors vs ductal carcinoma in situ, and more importantly, that the number of T-regulatory cells correlates with clinical outcomes," she said.
"There is a trend toward survival benefit in the vaccinated patients," she said, and subset analysis of the low HER2-expressing patients showed "an even greater benefit—approximately 40% reduction of recurrence in those patients," she added. 
The phase II study is continuing and has nearly completed enrollment.
Responses Observed in Glioma Trial

Building on extensive experience with immunotherapy in adults "that involved a cocktail of novel glioma-associated antigen peptides," researchers at the University of Pittsburgh Cancer Institute and the Children's Hospital in Pittsburgh tested a peptide vaccine among children with gliomas.2 The vaccine includes three glioma-associated antigens—IL13Rα2, EphA2, and survivin, which are overexpressed in pediatric gliomas—emulsified in the immune modulator Montanide-ISA-51. The vaccine was administered every 3 weeks subcutaneously for eight courses.
"Immunologic and clinical evidence of activity, in some cases very dramatic, has been obtained," reported Ian F. Pollack, MD, Co-Director of the Brain Tumor Program at the University of Pittsburgh Cancer Institute and Chief of Pediatric Neurosurgery at the Children's Hospital in Pittsburgh. "Our vaccine-based approach has been well-tolerated in terms of systemic toxicity," he added, but "pseudoprogression—transient enlargement of the tumor and neurologic worsening—is a concern that warrants close monitoring and, in some cases, intervention." Cases of pseudoprogression responded well to corticosteroids, Dr. Pollack said.
"The prognosis for children with diffuse brain stem gliomas and other high-grade gliomas is really awful with current therapy," Dr. Pollack noted. "The only treatment modality that has shown any sort of efficacy for diffuse brain stem gliomas is radiation. Numerous chemotherapy and radiation intensification approaches have been used, but the 1-year event-free survival is still in the range of only 15% to 20% with overall survival in the range of about 35% to 50%. So there is a strong rationale for novel treatment approaches such as immunotherapy," he explained.
Eligibility Criteria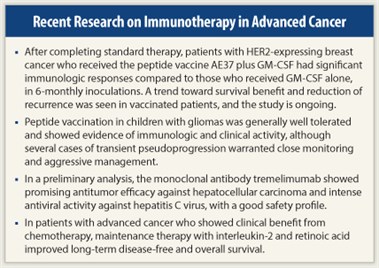 The key eligibility criteria were that patients had to have newly diagnosed diffuse brain stem gliomas or malignant non–brain stem gliomas, very poor-risk tumors, or gliomas that recurred after standard therapy. Diffuse brain stem gliomas "are not amenable to surgical resection because the tumor infiltrates the brain stem," Dr. Pollack said. "So these patients had all of their tumor still intact but were newly diagnosed." Some other tumors could be only partially removed.
According to results reported at the AACR meeting, 19 of 22 evaluable had stable disease or responses through at least two vaccine cycles. "This is quite good in this poor-risk population," Dr. Pollack noted. "We've had 7 cases of pseudoprogression, 3 partial responses, 1 minor response, and 1 case of prolonged disease-free status after resection. We also had 2 patients who had responses immediately after going off the vaccine and starting on corticosteroids."
He continued, "8 of 11 of our brain stem glioma patients have survived beyond the historical median for these tumors, which is about 10½ months, and many remain on therapy. From an immunologic standpoint, 11 of 13 patients have had positive responses on ELISPOT assay, which is a functional measure of T-cell response, mostly commonly to IL13Rα2. We've looked at five of these tumors with immunohistochemistry so far, and they all overexpress at least one of the glioma-associated antigens," Dr. Pollock noted.
Disease Control Rate of 75% in Liver Cancer Study

Treatment with tremelimumab (CP 675,206), a fully humanized IgG2 monoclonal antibody that antagonizes binding of CTLA-4 to B7 ligands, stabilized patients with advanced hepatocellular carcinoma due to chronic hepatitis C infection for more than 12 months, according to data presented by Ignacio Melero, MD, PhD.3 A consultant in the Department of Oncology at Clinica Universidad de Navarra and Senior Investigator in El Centro de Investigación Médica Aplicada at Universidad de Navarra in Pamplona, Spain, Dr. Melero reported that in a three-center trial, tremelimumab showed an intense and persistent antiviral effect in more than half of the patients. The disease control rate was 75%, and time to progression was longer than 4 months.
Sorafenib (Nexavar) is the only currently approved systemic agent that prolongs survival in hepatocellular carcinoma, Dr. Melero noted, and thus, there exists an unmet need for new systemic agents. "Anti-CTLA-4 monoclonal antibodies had previously shown activity in a variety of mouse tumor models, and tremelimumab has been reported to have clinical activity against metastatic melanoma," he stated. "The limited number of patients in this first trial, nevertheless, precludes drawing definitive conclusions."
For the current study, 21 patients were treated with tremelimumab intravenously at a dose of 15 mg/kg every 90 days until disease progression. To enroll, patients had to have hepatitis C virus, the major cause of hepatocellular carcinoma in Western countries, and untreatable liver cancer.
Of 17 patients evaluated for response, "we observed 3 patients who had shrinkage of the tumor beyond 20%," Dr. Melero said, "and 10 patients with disease stabilization, for a 76.4% disease control rate." Researchers also observed a reduction of hepatitis C virus in the patients' blood, "and this clearly correlates with an immune response against hepatitis C virus antigens," Dr. Melero said.
While tremelimumab was considered well tolerated, about 80% of patients had treatment-related adverse events. "About 40% showed some signs of dermatitis, some of them with quite a lot of itching," Dr. Melero reported, and "10% had episodes of diarrhea related to inflammatory bowel disease."
The study was supported by Pfizer, and tremelimumab has been licensed by MedImmune. Dr. Melero is a consultant for Bristol-Myers Squibb.
IL-2/Retinoic Acid May Prolong Survival in Advanced Cancers

Maintenance therapy with IL-2 and 13-cis retinoic acid may be an inexpensive method for increasing survival in patients with a wide range of stage IV cancers, according to findings from a 500-patient study.4 The results were reported by Francesco Recchia, MD, Director of Oncology at the Civilian Hospital in Avezzano, Italy, who started evaluating the maintenance therapy in patients with advanced disease in 1995, after one patient with metastatic melanoma did not tolerate the usual 18 international megaunits (IMU)/m2 high-dose IL-2 therapy.
"The patient was treated with lower doses, and he had a wonderful, long-lasting response," Dr. Recchia said. "We demonstrated in this phase I study that using low doses of IL-2, we had exactly the same results as [have been obtained with] higher doses, at least from a biologic point of view." After this observation, he conducted several other studies of IL-2, with or without retinoic acid, and was encouraged by the results.
For the current study, his research team evaluated 500 patients with a wide range of advanced cancers that had a clinical benefit from chemotherapy. Patients were assigned to self-administered subcutaneous IL-2 (1.8 IMU/m2) and oral retinoic acid (0.5 mg/kg) 5 days a week for two consecutive cycles of 3 weeks, followed by a 1-week rest, for 1 year.
Survival Rates
Comparing 5-year survival rates of trial participants with data from the NCI's Surveillance, Epidemiology and End Results (SEER) program, Dr. Recchia pointed out significant improvements with immunotherapy.
"In breast cancer, we had almost double the 5-year survival [for IL-2/retinoic acid vs standard chemotherapy] (42.7% vs 23.3%)," he said. "In colorectal cancer, we showed improvement from 11.7%, which is the 5-year survival rate you expect after chemotherapy, to 43.6% with IL-2. Patients with lung cancer showed a dramatic improvement, from 3.6% [in SEER data] to 26.4%. And in renal cell carcinoma, we found 5-year survival doubled, from 11% to 23%." At 15 years, the disease-free survival rate in immunotherapy recipients was 32.6%, and the overall survival rate was 36.8%.
After a median follow-up of 90 months, researchers reported increased numbers of natural killer cells and a decrease of vascular endothelial growth factor levels. "Another important aspect of this therapy is the cost," Dr. Recchia commented. The immunotherapy strategy represented an 82% cost reduction compared to other cancer treatments.
The AACR press release on the study concluded, "Although [these] results appear promising, a blinded, controlled, randomized trial would be needed before clinicians could begin using this maintenance regimen." ■
Disclosure: Drs. Finn, Hale, Pollack, Melero, and Recchia reported no potential conflicts of interest.
SIDEBAR: Learning from Advanced Disease
References
1. Hale DF, Vreeland TJ, Dabney RS, et al: Immune response assessment in a phase II trial of AE37 HER2 peptide vaccine. AACR Annual Meeting. Abstract LB-218. Presented April 3, 2012.
2. Pollack IF, Jakacki RI, Butterfield LH, et al: Peptide vaccine therapy for childhood gliomas: Interim results of a pilot study. AACR Annual Meeting. Abstract LB-131. Presented April 2, 2012.
3. Melero I, Sangro B, Riezu-Boj JI, et al: Antiviral and antitumoral effects of the anti-CTLA4 agent tremelimumab in patients with hepatocellular carcinoma (HCC) and chronic hepatitis C virus (HCV) infection: Results from a phase II clinical trial. AACR Annual Meeting. Abstract 4387. Presented April 3, 2012.
4. Recchia F, Candeloro G, Desideri G, et al: Extended phase II study of maintenance immunotherapy in advanced cancer. AACR Annual Meeting. Abstract 5366. Presented April 4, 2012.
---
Related Articles

Current testing of immunotherapy approaches against cancer involves patients in whom standard therapies have failed. "That really puts us at a great disadvantage because a lot of the standard therapies are immunosuppressive, as is the tumor itself as it grows," Olivera Finn, PhD, said at a press...