ASCO Issues New Guideline on Chemotherapy Dosing for Obese Patients

In April, ASCO released a new clinical practice guideline on the appropriate dosing of chemotherapy drugs given to obese adult patients with cancer. The result of an analysis by a panel of experts assembled by ASCO, the guideline calls for the use of a patient's actual body weight when calculating chemotherapy dosing, rather than limiting the dose or using an adjusted ideal body weight, as is commonly done. The panel looked at 56 studies on cytotoxic chemotherapy dosing strategies for overweight and obese patients with cancer. The review excluded leukemia studies and did not address dosing of novel targeted agents.
According to the resulting analysis and recommendations, which were published online in theJournal of Clinical Oncology (JCO),1 clinical practice patterns show that up to 40% of obese patients are receiving chemotherapy doses that are lower than what would be optimal in the curative setting when calculated according to actual body weight. Limiting chemotherapy in overweight and obese patients may lead to poorer outcomes in terms of survival and cancer recurrence, according to the report.
Heightened Risks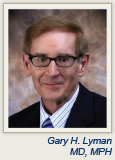 "If you dose-reduce patients just based on their weight, it may contribute to what we have seen in multiple settings, which is poorer survival in obese patients with cancer," said Gary H. Lyman, MD, MPH, Professor of Medicine in the Division of Medical Oncology, Department of Internal Medicine at Duke University School of Medicine and the Duke Cancer Institute and Co-Chair of ASCO's Clinical Practice Guideline for Appropriate Chemotherapy Dosing for Obese Adult Patients with Cancer. "The data are very clear that obesity not only puts people at greater risk of getting cancer, but if you are being treated for cancer, obesity puts you at a greater risk of disease recurrence or death from cancer. Part of the reason for that appears to be that obese patients with cancer are often undertreated." Dr. Lyman wrote a commentary on the ASCO guideline in the Journal of Oncology Practice.2
Fear of Treatment Toxicities
Up to 60% of patients are underdosed, according to unpublished data fromJennifer J. Griggs, MD, MPH, Associate Professor in the Departments of Internal Medicine and Health Management and Policy at the University of Michigan in Ann Arbor, Co-Chair of ASCO's Guideline Expert Panel, and lead author of the current JCO paper.
The reason that so many obese patients are underdosed is that physicians may be concerned about the increased risk of adverse side effects from treatment, but those concerns are unfounded, according to data showing no increase in short- or long-term toxicity in obese patients receiving full weight-based doses. In fact, most data suggest that myelosuppression is the same or less pronounced in obese patients vs healthy-weight patients receiving full weight-based chemotherapy doses, according to the study report. "We may actually be underdosing when we use actual body weight, although there is no evidence supporting dose escalation," said Dr. Griggs. "The reason I'm not recommending dose escalation is because when fully dosed, obese patients have the same outcome [as fully dosed nonobese patients]."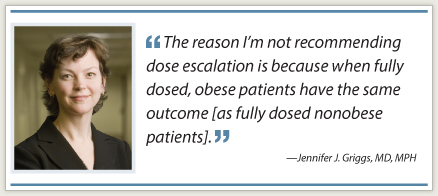 However, the panel did recommend fixed dosing for certain chemotherapy agents, including vincristine, due to the risk of neuropathy; bleomycin, due to the potential for lung scarring; and carboplatin, which should be dosed based on kidney function. The recommendations also call for modified dosing in patients with comorbidities (such as heart, kidney, or lung disease), whether they are obese or not.
With two-thirds of Americans either overweight or obese, and increasing prevalence of the problem worldwide, it is crucial to ensure that the care of obese patients with cancer not be compromised because of limited-dose chemotherapeutic treatment simply because of the patient's obesity, said Dr. Lyman.
"All we are saying is don't use obesity [and the fear of increased toxicities] as the reason for dose reduction. If oncologists have other reasons for dose reduction-for example, the patient's overall health, the stage of disease, or comorbidities-that's fine. But obesity alone shouldn't be the reason," he said.
ASCO's Recommendations
The ASCO Clinical Practice Guideline on Appropriate Chemotherapy Dosing for Obese Adult Patients with Cancer recommends the following:
Actual body weight should be used when choosing cytotoxic chemotherapy doses-intravenous or oral-for all patients, regardless of obesity status, especially if the goal of treatment is cure.
Full weight-based dosing should be used for morbidly obese patients, and treatment-related toxicities in obese patients with cancer should be monitored and responded to similarly in obese and nonobese patients.
Dose reduction for side effects should be made consistently for all patients. Full dosing should resume once the cause of the toxicity has been resolved.
Established dosing limits on certain chemotherapies, such as vincristine, bleomycin, and carboplatin, should be used for all patients.
The complete guideline recommendations, as well as clinical tools and other resources, can be accessed at www.asco.org/guidelines/wbd. ■
Disclosure:Drs. Lyman and Griggs reported no potential conflicts of interest.
SIDEBAR: Obese Children with Cancer May Be at Greater Risk for Cancer Recurrence
References
1. Griggs JJ, Mangu PB, Anderson H, et al: Appropriate chemotherapy dosing for obese adult patients with cancer: American Society of Clinical Oncology clinical practice guideline. J Clin Oncol. April 2, 2012 (early release online).
2. Lyman GH: Weight-based chemotherapy dosing in obese patients with cancer: Back to the future. J Oncol Pract. April 3, 2012 (early release online).
---
Related Articles
A study published in the Journal of Clinical Oncologyin 2008 found that obesity is an important contributing factor to chemotherapy resistance and rising relapse rates in children with leukemia.1 According to the study, obese children diagnosed with leukemia have a 50% higher chance of relapsing...