Advances in Prostate Cancer Accompanied by Ongoing Debates

Scientific advances have markedly improved prostate cancer survival, but this clinical success story is not without its share of controversy. From screening through treatment, a growing array of options offer an admixture of promise and confusion for clinicians and patients. Moreover, today's heated debate over health-care costs brings another element of turmoil to prostate cancer management, which can involve among the highest-priced therapies in oncology. To clarify some of the new directions and existing challenges associated with this disease, The ASCO Post recently spoke with several experts in the field.
New Study Compares Three Modalities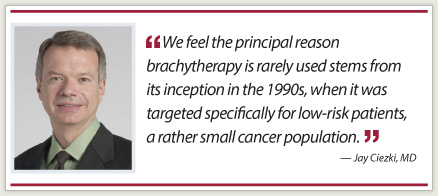 Determining which modality has the best outcome with the least toxicity and morbidity has long been a source of debate in the treatment of prostate cancer. A new study has shed light on this important issue.1 The study's lead author, Jay Ciezki, MD, Cleveland Clinic, Ohio, said, "Using billing codes associated with toxicity-related treatments, we looked at three major modalities: external-beam radiation therapy, prostatectomy, and brachytherapy. We then obtained information on the initial treatment and any toxicity-related treatments."
Using billing code data, the researchers computed cost per patient-year relative to each of the three modalities. "The cost per patient-year is determined by averaging the cost of initial treatment and the cost of treating side effects. External-beam radiation therapy was about $6,400 per year, radical prostatectomy about $3,200, and brachytherapy was the least expensive at around $2,500," said Dr. Ciezki. He added that cure rates for the three modalities are about the same.
Considering that brachytherapy had the lowest cost per patient-year and the lowest percentage of treatment-associated toxic effects, it begged the question: Why is brachytherapy the least used therapy in prostate cancer?
Dr. Ciezki responded, "One thought is that newer modalities are simply perceived to be better than older ones. However, we feel the principal reason brachytherapy is rarely used stems from its inception in the 1990s, when it was targeted specifically for low-risk patients, a rather small cancer population. We know now that brachytherapy is effective in a much broader clinical setting, but some of that earlier perception might still dissuade its use. Hopefully, this and other studies will add needed clarity to the choice issue."
Medical Arms Race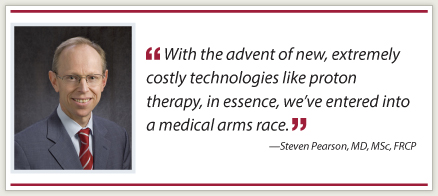 The phrase "trust but verify," became the mantra in the waning years of the Cold War; some health-care experts contend we are trusting expensive new therapies before verifying their clinical worth. None exemplifies that pattern more than a proton beam center, which houses some of the most expensive machinery ever built, costing about $200 million.
Despite theoretical advantages of proton beam therapy, no data have shown any benefit over less expensive radiation therapies, such as intensity-modulated radiotherapy. Even so, there are currently 10 proton centers operating in the United States, with 7 new centers in development. "We are moving ahead with proton therapy in a way that won't allow us to gather the critical information needed to guide proper decision-making," said Steven Pearson, MD, MSc, FRCP, Director of the Institute for Clinical and Economic Review.
Dr. Pearson commented that although proton beam services are much more expensive than other treatments, our system is not geared to incentivize comparative data collection. "With the advent of new, extremely costly technologies like proton therapy, in essence, we've entered into a medical arms race. This is a recurring theme in health care, and it may be too late in the proton beam story to step back and reassess the true value of this technology," said Dr. Pearson.
To prevent the continuation of employing technologies before they are fully vetted, Dr. Pearson suggests creating better dialogue with the clinical research and manufacturing community about the need for evidence before services are geared up for clinical practice. "There are ways that payers, such as Medicare, could adapt recently developed approaches, either by linking initial coverage with a requirement for further evidence or by not paying for new services until they demonstrate better effectiveness than existing services," said Dr. Pearson.
Photon vs Proton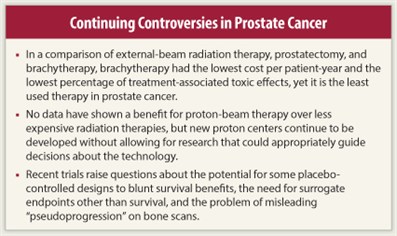 The debate as to whether proton therapy's benefit justifies its use over less expensive therapies such as intensity-modulated radiotherapy remains ongoing in lieu of definitive data. "We have more work to do to understand the differences between proton therapy and intensity-modulated radiotherapy. A limited amount of proton therapy trials are being developed. It will be challenging, but I'm supportive of any effort—including a registry to look at prospective data—to answer this question," said Howard M. Sandler, MD, MS, Professor and Chair of the Department of Radiation Oncology at Cedars Sinai Medical Center, Los Angeles.
A chief draw for men with prostate cancer is proton therapy's purported side-effect advantage, particularly with regard to incontinence and erectile dysfunction. "Whatever evidence exists is not level 1 quality, and in my opinion the toxicity profile between proton therapy and intensity-modulated radiotherapy is very similar," said Dr. Sandler. He added, "In general, proton beam is an excellent form of radiation therapy. My concern is that, in prostate cancer, I don't think superiority over other therapies has been demonstrated."
Asked whether the growing number of sophisticated technologies poses a quandary for doctor-patient conversations about less expensive treatment options, especially active surveillance, Dr. Sandler responded, "Over the past year, we've seen momentum that suggests an increase in thoughtful conversations between physicians and selected men regarding active surveillance. This discussion should take place with all men with localized prostate cancer, but especially for men with lower-risk disease, for whom other treatments might well be overtreatment."
Recent Study Yields Interesting Results

At the 2012 Genitourinary Cancers Symposium in San Francisco, Howard I. Scher, MD, Chief, Genitourinary Oncology Service, Memorial Sloan-Kettering Cancer Center, presented data from the phase III study, AFFIRM, which looked at the androgen receptor signaling inhibitor MDV3100 in advanced prostate cancer.2 The results showed a median improvement in survival of 4.8 months along with a 37% reduction in the risk of dying. Moreover, the proportions of patients reporting adverse events with MDV3100 and placebo were very similar. Fatigue was the most common adverse event seen more frequently with MDV3100 than with placebo treatment," said Dr. Scher.
During the time the study was conducted, cabazitaxel (Jevtana) and abiraterone (Zytiga) were shown to prolong life and were FDA-approved for this population. A review of the therapies received by AFFIRM study patients after discontinuing the study drug was performed. Even though a higher percentage of placebo patients than MDV3100 patients received cabazitaxel and/or abiraterone, the survival benefit of MDV3100 was still seen.
"When patients are enrolled on a placebo-controlled trial of an experimental drug and their disease progresses (on either arm of the study), they typically go on to receive additional treatment. If the additional treatment is in itself active—ie, it has been shown previously to prolong life—it is possible that its relative benefit will be greater for placebo-treated patients vs experimental drug–treated patients, such that the survival benefit of the experimental drug on the original study is lessened," said Dr. Scher. "That was not seen with the MDV3100 trial."
He continued, "The AFFIRM trial also provided further evidence that these tumors are not hormone refractory, a finding we have seen clinically for over a decade. This is not simply a semantic argument, because if you consider the disease to be refractory to hormones, you may be depriving a patient of a safe, life prolonging treatment," stressed Dr. Scher.
Researchers as Doctors
Another key issue is that the trial included the evaluation of several biomarkers, in particular those that might be used as clinical trial endpoints in place of overall survival. Dr. Scher explained that a current focus of the research is to qualify a surrogate biomarker that could be used to accelerate drug approvals. As a member of the Prostate Cancer Clinical Trials Working Group, Dr. Scher has spearheaded an effort to standardize the design of clinical trials that clearly demonstrate meaningful clinical benefits that can lead to drug approvals in their own right, in addition to a survival benefit.
"This requires a sequence of dedicated trials focused on the biomarker question, analogous to trials designed for drug approvals," Dr. Scher said.
Key Principle
A key principle of the Prostate Cancer Working Group guidelines was to better align clinical practice and clinical research by enabling physicians to continue treating patients on a trial as long as the patient was benefiting. A particular problem in prostate cancer is that the first bone scan obtained after a patient has started a new treatment may appear worse, when in fact it is a sign that the treatment is working. The Working Group guidelines account for this "pseudoprogression" by requiring confirmatory imaging that shows further worsening before discontinuing a drug.
"This approach helps to ensure that a drug is not stopped prematurely. Stopping a drug can be the fastest way to ensure it doesn't work," noted Dr. Scher.
It is unknown at this point whether drugs such as MDV3100 should be continued even after a patient has shown signs of disease progression. 
"Patients with breast cancer who are on trastuzumab (Herceptin) do not stop treatment; the next drug is simply added. MDV3100 may be in this same category, similar to what is done with gonadotropin-releasing hormone analogs used to maintain castrate levels of testosterone for patients enrolling on trials," Dr. Scher explained. "Often we see dramatic declines in [prostate-specific antigen] for several months, which are followed by slow increases. Should we stop treatment because of these small rises even though the patient feels well and there are no other signs that the treatment is not working? I would argue no." ■
Disclosure: Drs. Ciezki and Pearson reported no potential conflicts of interest. Dr. Sandler receives research support from RTOG. Dr. Scher is an uncompensated consultant to Medivation.
References
1. Ciezki J, Reddy CA, Angermeier K, et al: A SEER/Medicare database study. 2012 Genitourinary Cancers Symposium. Abstract 4. Presented February 2, 2012.
2. Scher HI, Fizazi K, Saad F, et al: Effect of MDV3100, an androgen receptor signaling inhibitor (ARSI) on overall survival in patients with prostate cancer postdocetaxel: Results from the phase III AFFIRM study. 2012 Genitourinary Cancers Symposium. Abstract LBA1. Presented February 2, 2012.
---