Virtual Meetings Are Here to Stay

In 2020, the 8th Annual Beirut Breast Cancer Conference (BBCC) was our last in-person meeting. The first cases of COVID-19 started in Lebanon around the end of February 2020, and the pandemic continues into its second year, with waves of rising cases following superspreader events and other likely causes. Like so many other professional meetings, the 9th Annual BBCC was held February 11–13, 2021, online.

"Our resilience in continuing our professional lives and our dedication to the advancement of science and patient care are clearly demonstrated by the extraordinary growth of online meetings…."

— —NAGI S. EL SAGHIR, MD, FACP, FASCO




Tweet this quote



As much as we miss in-person meetings and all the business and social networking that comes with them (like meeting old acquaintances and classmates; making new friends; having early morning, midday, and late evening research meetings; discussing new hypotheses and writing up new research projects; thinking big and going global; discovering new cities and new cultures), we have to acknowledge the useful development of what has taken their place. The COVID-19 pandemic has forced us to rely more on virtual conferencing to present and discuss new research, keep up with continuing medical education, and hold online multidisciplinary meetings.
Our resilience in continuing our professional lives and our dedication to the advancement of science and patient care are clearly demonstrated by the extraordinary growth of online meetings and innovative platforms that take advantage of the latest information technology advances. In addition to creating well-designed programs, many conferences make videotapes available for participants to review after the meeting. The best ones are those that both have a user-friendly search engine and make PDF and PowerPoint slides available after the meeting, as was done for the ASCO20 Virtual Scientific Program.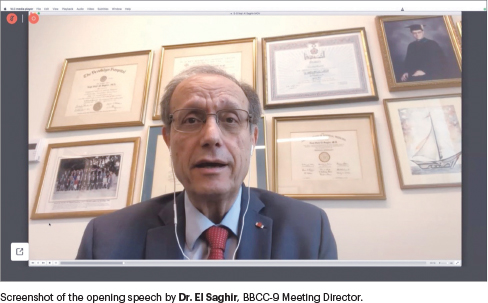 Holding the meeting online saves people travel time, lets people continue their usual work without interruption, saves attendees and organizers travel expenses, and makes scheduling rather easy and more accessible, even if people have busy schedules. My experience with holding BBCC-9 online makes me firmly believe that online virtual meetings are here to stay, even after we control the COVID-19 pandemic.
In-Person vs Virtual Faculty
Consider the wide range of prominent speakers who attended BBCC-9 virtually. I have been talking with Dr. Larry Norton for years about a trip to Beirut for an ASCO–Pan Arab Breast Cancer Conference, but circumstances were never suitable. While visiting Ann Arbor (where my son was studying at the University of Michigan), at a dinner with Dr. Dan Hayes, then ASCO President-Elect, I invited him to Beirut, but his schedule was so booked that the earliest date we could agree on was February 2021. When I connected with Dr. Julie Gralow, she was in the middle of moving from Fred Hutchinson Cancer Research Center in Seattle to assume her new role as Chief Medical Officer at ASCO in Virginia. They were all able to attend the Beirut meeting online.
Dr. Matti Aapro, who has been at every BBCC meeting since 2013, this year had to preside over a meeting of the European Society of Medical Oncology (ESMO). Dr. Fatima Cardoso was scheduled to give a lecture in Malaysia at the same time. Dr. Ruth O'Regan was moving from the University of Wisconsin to the University of Rochester. Dr. Nadia Harbeck's husband's birthday was on February 13. They all joined us online as well.
Dr. Frederique Penault-Llorca had a scheduled vacation in a rural area with no Internet; however, she had the option of recording her talk. Dr. Mahmoud El-Tamer had a full operating room schedule on February 12; from Memorial Sloan Kettering Cancer Center, our faculty also included Dr. Andrew Seidman, Dr. Atif Khan, Dr. Mark Robson, and Dr. Diana Lake, who, in addition to having full clinics, all had several business meetings that they could not miss. But through the miracle of modern technology, they were all able to speak at BBCC-9.
Dr. Ahmad Awada from the Free University of Brussels, Dr. Fedro Peccatori from the European School of Oncology, and Dr. Yen-Shen Lu from Taiwan were all with us, each from his own office and his own town. We were also joined by world-renowned colleagues from Arab countries, including Dr. Hamdy Azim, Dr. Alaa Kandil, and Dr. Hesham El Ghazali from Egypt; Dr. Hikmat Abdel-Razeq and Dr. Mahmoud Al-Masri from King Hussein Cancer Center in Jordan; Dr. Sana Al-Sukhun, current Chair-Elect of the ASCO International Affairs Committee; Dr. Omalkhair Abulkhair and Dr. Meteb Al Foheidi from Saudi Arabia; Dr. Humaid Al-Shamsi from Unted Arab Emirates and Dr. Hamouda Boussen from Tunisia; and more than 20 Lebanese speakers and panel members. Our next chapter might well be a combination of in-person plus virtual faculty and attendees, a so-called hybrid meeting.
BBCC-9 Program
With this distinguished faculty, the Division of Hematology and Oncology of the Department of Internal Medicine, and the Breast Cancer Center of Excellence at Naef K. Basile Cancer Institute at the American University of Beirut Medical Center (AUBMC, @AUBMC_Official on Twitter) held BBCC-9 with more than 350 participants. Great keynote lectures were delivered by Dr. Norton on the pathogenesis of cancer, Dr. Hayes on late recurrences in hormone receptor–positive breast cancer, and Dr. Aapro on COVID-19 and breast cancer, in addition to reviews of major new advances in accurate diagnosis; conservative surgery of the breast and axillary lymph nodes; radiation therapy; new systemic chemotherapy; and targeted, hormonal, and immune checkpoint inhibitor therapies.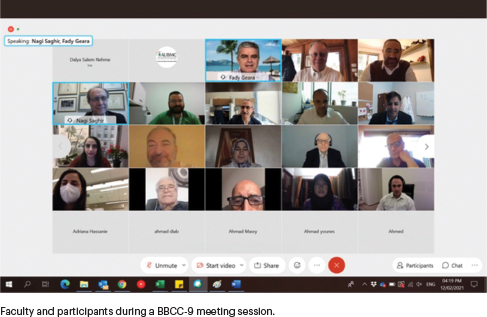 Additional talks covered oncofertility advances for women treated for early breast cancer in complete remission for 3 years, allowing them to become pregnant if they wish to and putting them back on hormonal therapy after delivery. The treatment of patients with cancer during the COVID-19 pandemic and screening of healthy women were emphasized, along with following precautions to protect patients and staff and advancing the capabilities of telemedicine.
Multidisciplinary tumor boards have become very popular at international oncology meetings. At BBCC-9, we held a tumor board session every day, providing an online expert panel, and cases were prepared by oncology fellows in training or spontaneously presented by participants, after which faculty discussed cases and made recommendations.
BBCC-9 also included new poster and "best abstract" oral presentations of new relevant local research by junior oncology research fellows. One such study by Dr. George Ayoub found that patients and families often look for information on YouTube and recommended that expert oncologists should use that platform to make sure accurate information is available to patients. Another important abstract by Dr. Tala Mobayed was related to the overutilization of positron-emission tomography/computed tomography (PET/CT) scans in patients with stage I breast cancer; this study found that disease stage was upgraded in less than 1% of cases after PET/CT.
The conference also included full sessions for nurses, pharmacists, and nongovernmental organizations, with a workshop organized by the Lebanese Breast Cancer Foundation to support patients and survivors. The online attendance of these participants was significantly increased, as compared to in-person meetings in earlier years.
Closing Remarks
In my closing remarks, I noted that the new advances in breast cancer diagnosis, pathology, staging, and patient management have all become available in Lebanon and many low- to middle-income countries, but that the current COVID-19 pandemic and economic crisis caused serious concerns about their continued availability. In addition to delays in screening and early detection, there is a real risk that survival and cure rates of patients with breast cancer might decline.
I emphasized the importance of the recommendations by ASCO, ESMO, and other oncology authorities to offer the coronavirus vaccine to patients with cancer, with the exception of those who have severe immunodeficiency and those on the bone marrow transplantation list for blood cancers, who should consult with their physicians first. Along with the Lebanese Breast Cancer Foundation and other nongovernmental organizations, Lebanon and many Arab countries are witnessing awareness campaigns and advocacy efforts to prioritize patients with cancer to receive coronavirus vaccines as soon as possible.
I concluded with a gesture that was greatly appreciated: "Out of great respect and appreciation for the efforts of our colleagues, physicians and nurses on the front lines against COVID-19, we have decided that the proceeds of this conference will go to support them in the emergency departments at the American University of Beirut Medical Center and Saint Georges University Hospital in Beirut. If it weren't for their daily sacrifices and efforts, we wouldn't have been able to hold our conferences and take care of our patients."
The closing ceremony featured a musical online performance by the Lebanese singer Aziza. The closing ceremony and concert were broadcast from the historic Assembly Hall of the American University of Beirut (@AUB_Lebanon on Twitter) by the satellite national television Télé Liban and transmitted live for conference participants in the United States, Europe, Arab countries, and Lebanon.
The Continuing Medical Education Office of AUBMC has ensured participants that BBCC-9 PDFs and videotapes of lectures, as agreed upon by presenters, would be made available to them on the BBCC website, www.beirutbcc.org. 
Dr. El Saghir is Professor and Head of the Division of Hematology-Oncology of the Department of Internal Medicine and Director of the Breast Center of Excellence at the American University of Beirut Medical Center. He is also Past-Chair of the ASCO International Affairs Committee. Find him on Twitter @NagiSaghir.
DISCLOSURE: Dr. El Saghir has received honoraria from AstraZeneca, Amgen, Lilly, MSD Oncology, Novartis, Pfizer, and Roche; has received institutional research funding from Roche; and has been reimbursed for travel, accommodations, or other expenses by MSD Oncology and Roche.
---