Scott Kopetz, MD, PhD, FACP: Breakthroughs in Combination Therapy for Colorectal Cancer

Scott Kopetz, MD, PhD, FACP, works to improve outcomes for patients with colorectal cancer at The University of Texas MD Anderson Cancer Center.

Dr. Kopetz received a Conquer Cancer Career Development Award in 2008.
The trial: Single drugs aimed at inhibiting the BRAF gene have not been effective against BRAF-mutated colorectal cancers. To explore the effectiveness of combing two or three drugs, more than 600 patients with BRAF V600E–mutant colorectal cancer were randomly assigned to one of three groups, each of which was treated with a different combination of drugs.
The results: Median overall survival was significantly improved for both the two-drug (8.4 months) and three-drug (9.0 months) groups compared with standard therapy (5.4 months).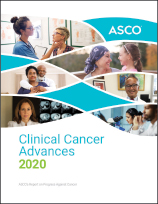 The work of nine researchers who have previously received funding from Conquer Cancer is featured in the 2020 ASCO Clinical Cancer Advances. Visit CONQUER.ORG for more details.
The impact: Median overall survival was significantly improved in patients who received combination therapy compared to patients who received standard therapy. 
© 2020. American Society of Clinical Oncology. All rights reserved.
---