Aria Vaishnavi, PhD, Receives NCI's Pathway to Independence Award

Aria Vaishnavi, PhD, a postdoctoral fellow at the Huntsman Cancer Institute at the University of Utah, has received the first annual National Cancer Institute (NCI) Pathway to Independence Award for Outstanding Early Stage Postdoctoral Researchers (K99/R00). The "Early K99" grant supports researchers who need just a short period of training and mentorship after their doctoral degrees and before they are hired into a faculty position.
"This award is a recognition of Dr. Vaishnavi's talents, abilities, and achievements, both as a graduate student at the University of Colorado and as a postdoctoral fellow at [Huntsman Cancer Institute]," said Martin McMahon, PhD, Dr. Vaishnavi's mentor at Huntsman, who is shown with her in the photo below. "I am delighted and proud that Dr. ­Vaishnavi is the recipient of this award and very much look forward to helping her develop a successful career as an independent cancer researcher."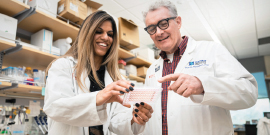 With this grant, Dr. Vaishnavi will research how cancer-promoting pathways allow a small number of lung cancer cells to remain in the body, better known as minimal residual disease, which Dr. ­Vaishnavi will study by treating mice with the same drugs that are used to treat lung cancer in the clinic. This type of analysis will increase scientists' understanding of how to target and eliminate minimal residual disease in patients during and after treatment.
"Receiving this award is such an honor," said Dr. Vaishnavi. "I have been so fortunate in my career with having excellent mentors and training opportunities at each step, and I wouldn't have been competitive without the help from all of those mentors, especially Dr. McMahon. This award will significantly help me to transition into a faculty position and get started [on] the research I proposed in this application."
---