American Cancer Society Awards New Research, Training Grants

The American Cancer Society (ACS) has approved funding for 79 research and training grants, totaling $36,165,100 in the first of two grant cycles for 2020. Grant applications were reviewed and approved remotely in light of the coronavirus epidemic. The grants will fund investigators at 59 institutions across the United States; 73 are new grants, and 6 are renewals of previous grants. The grant starting date was moved from July 1 to September 1, 2020, to accommodate institutions that are partially shut down due to the coronavirus epidemic.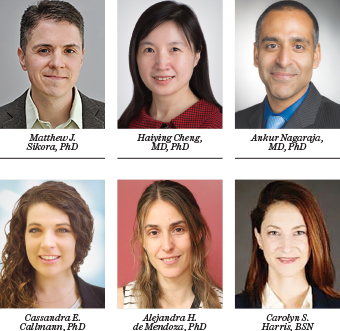 Recipients of Grant Renewals
Matthew J. Sikora, PhD, University of Colorado, Denver: Dr. Sikora and his team will work to identify strategies and potential drugs to undermine estrogen receptor activity in invasive lobular carcinoma, which affects more than 44,000 women in the United States every year.
Haiying Cheng, MD, PhD, Albert Einstein College of Medicine: Dr. Cheng and colleagues will focus on metastatic lung cancer, specifically how a particular gene (RICTOR) may contribute to the spread and survival of cancer cells in distant metastatic sites.
Ankur Nagaraja, MD, PhD, Dana-Farber Cancer Institute: This research aims to address what Dr. Nagaraja believes is a fundamental cause of most stomach and esophageal cancers: a catastrophic disruption of the genome, where the cancer cell acquires extra copies of many chromosomes.
Cassandra E. Callmann, PhD, Northwestern University: Dr. Callman's lab hopes to harness the power of nanotechnology to accelerate the development of a cancer vaccine for triple-negative breast cancer.
Alejandra H. de Mendoza, PhD, Georgetown University: Dr. de Mendoza will evaluate whether a culturally targeted video can increase genetic testing and counseling in Latina women, who have double the risk of having a BRCA1 or BRCA2 mutation compared with the general population yet have lower awareness and use of genetic counseling and testing.
Carolyn S. Harris, BSN, University of California, San Francisco: Ms. Harris' research shows that it is common for patients with cancer and survivors to report having 10 symptoms simultaneously, with those symptoms having a negative impact on patients' and survivors' ability to function and overall quality of life.
---