David Polsky, MD, Chair of The Skin Cancer Foundation's Research Grants Committee, led the research grant awards presentation. The grants program provides research funding to support dermatology department research and clinical studies related to skin cancer.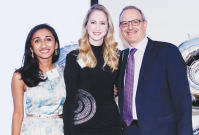 Stephanie Savory, MD (middle), the 2019 Ashley Trenner Research Grant Award recipient, with Dr. David Polsky, Chair of The Skin Cancer Foundation Research Committee, and research fellow Smriti Prasad.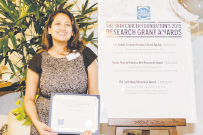 Shruti Naik, PhD, the 2019 Dr. ­Marcia Robbins-Wilf Research Award ­recipient.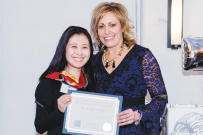 Rie Takahashi, MD, PhD (left), the 2019 Todd Nagel Memorial Award recipient, and Linda Nagel (right).