Conquer Cancer and Swim Across America: Making Waves to Fight Cancer

ASCO and ASCO's Conquer Cancer Foundation have a new partner in supporting innovative cancer research. For over 30 years, Swim Across America (SAA) has been hosting charity swims, with the proceeds being granted to fund high-risk, high-reward cancer research. SAA is among the newest organizations to support Conquer Cancer's Young Investigator Award program.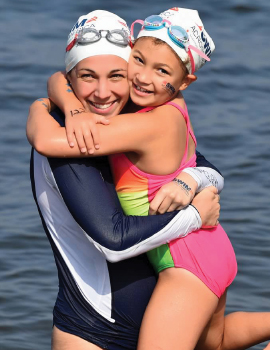 Photo courtesy of Swim Across America.
SAA was founded in 1987 with a charity swim across the Long Island Sound. The inaugural charity swim was loosely organized, with fewer than 50 participants. Although it raised $5,000, during the event, a support boat accidentally sank—costing $50,000! While this was not a good start for a charity model, SAA's founders were undeterred in their mission to give hope to families fighting cancer.
From those humble beginnings, SAA has grown to 20 annual charity swims that have enabled the organization to grant over $80 million in funding for cancer research. SAA grants have played a major role in the clinical trial funding of U.S. Food and Drug Administration–approved immunotherapies—such as ipilimumab, nivolumab, pembrolizumab, and atezolizumab—and also helped to pioneer personalized medicine.
A hallmark value that has led to sustainability and growth for SAA is that money raised in a community stays in that community. For example, SAA's Baltimore charity swim benefits the Sidney Kimmel Comprehensive Cancer Center at Johns Hopkins, and its San Francisco charity swim benefits the University of California, San Francisco Benioff Children's Hospital. By design, SAA charity swims typically have less than 1,000 total attendees, fostering a sense of community between SAA-funded investigators and participants.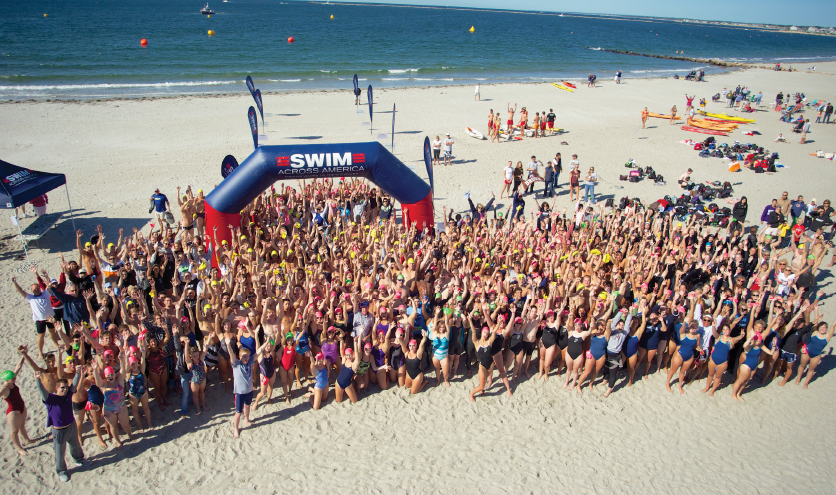 Photo courtesy of Swim Across America.
SAA's model is built on a peer-to-peer fundraising program. Participants pay a nominal registration fee and then ask family, friends, and colleagues to donate to their charitable swim. Most of SAA's 20,000 participants and volunteers are not competitive swimmers—their inspiration is the cause and the opportunity to be part of the community—but more than 100 Olympians have attended SAA charity swims.
Charitable organizations like SAA are vital to the cancer research ecosystem. In 2019, SAA is funding over $5.5 million in research projects. It was the oncologists who benefitted from SAA's grant funding who encouraged SAA to fund a 2019 Conquer Cancer Foundation of ASCO/Swim Across America Young Investigator Award.
"This partnership will provide an opportunity for Swim Across America to increase its influence as it develops new relationships and to expand its impact," said SAA Chief Executive Officer Rob Butcher.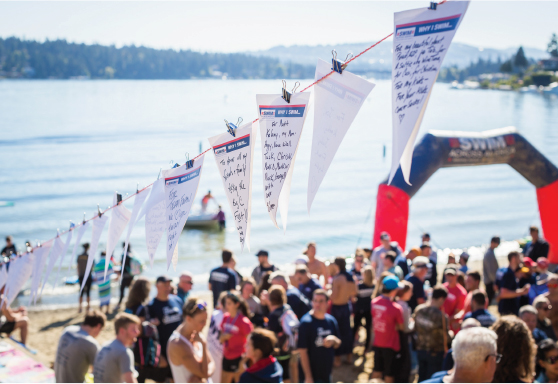 Photo courtesy of Swim Across America.
"If you ever attend an SAA charity swim, you will likely hear me share this message: the three words everyone wants to hear are, 'I love you.' The three words no one wants to hear are, 'You have cancer.' If you do hear those words, you want to hear, 'There is hope.' SAA provides an avenue of hope for participants and volunteers to be part of a meaningful experience where they can give back and see a direct impact."
"Conquer Cancer greatly values its new partnership with Swim Across America," said Nancy R. Daly, MS, MPH, Conquer Cancer's Chief Philanthropic Officer. "This organization bridges the swim and oncology communities to make a tremendous impact in cancer research. We are honored to be a part of it." ■
© 2019. American Society of Clinical Oncology. All rights reserved.
---