Multiple Myeloma Research Foundation Awards $7M to Advance Immunotherapy Research

The Multiple Myeloma Research Foundation announced that, as part of its $15M Immunotherapy Initiative, it has awarded $7 million to fund three research programs led by myeloma researchers. The Immunotherapy Initiative, through the formation of highly collaborative, multidisciplinary Immune Networks of Excellence, will advance our understanding of the immune system in myeloma progression; identify and characterize changes in a patient's immune system that occur during disease progression and therapy; and develop novel immune therapies for multiple myeloma treatment. In total, the Multiple Myeloma Research Foundation is investing $15 million over 3 years to the initiative.
The principal investigators and their projects, each of which will include several additional sites in the United States and internationally, follow:
David Avigan, MD, Professor of Medicine and Section Chief of Bone Marrow Transplantation and Hematologic Malignancies at Beth Israel Deaconess Medical Center. Dr. Avigan's project, titled "Combined Chimeric Antigen Receptor (CAR) Therapy and Active Immunization," will focus on the development and advancement of novel immune therapy combinations of CAR T-cell therapy and personalized vaccines into clinical trials and the identification of factors that predict patient response or resistance to immune therapy. 
Ivan Borrello, MD, Associate Professor of Cellular and Molecular Medicine at John Hopkins University School of Medicine and Medical Director of the Cell Therapy Laboratory at Johns Hopkins Kimmel Cancer Center, will be leading a study called, "Dissecting Immune Regulation and Dysfunction Within the Bone Marrow Microenvironment." It seeks to understand the role a patient's immune system and tumor bone marrow microenvironment play in disease progression, especially in high-risk myeloma and resistance to immunotherapy. The data will be used to develop an immune cell scoring system to predict patient response to immune therapies.
Ola Landgren, MD, Chief Attending Physician of the Myeloma Service at Memorial Sloan Kettering Cancer Center, is heading a project title, "Defining Optimal Tumor and Host Signatures for Immunotherapy of Myeloma." It is a detailed characterization of the genetic, protein, and serologic features in patients and their tumors to identify factors predictive of their response to immune therapy and to identify new therapeutic targets.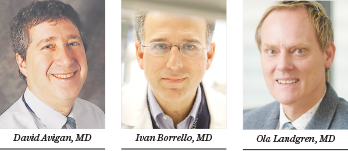 Each proposal addresses different, yet equally critical, questions in myeloma biology. The winning proposals were selected after peer review by recognized experts in immunology and myeloma research. Pending a successful completion of this first phase of funding, the second phase of this initiative will translate the findings from these projects into novel immune clinical trials. ■
---