Donor Spotlight: Conquering Cancer With Kelly Cares Foundation

Kelly Cares Foundation recently became one of the newest supporters of the Conquer Cancer Foundation of ASCO Young Investigator Awards, the flagship program begun in 1984 to support early-career cancer researchers. The mission of Kelly Cares Foundation is to inspire hope by investing resources to improve health and education. Brian and ­Paqui Kelly founded the organization in 2006, while Ms. Kelly was undergoing treatment for breast cancer.
Without the research, there is no hope to eradicate the disease.... We are passionate that research cures cancer!

— Paqui Kelly




Tweet this quote



Ms. Kelly was diagnosed with breast cancer in 2003, after a lumpectomy to remove suspicious cysts, despite being told there was a "one in a million chance" the cysts would be cancerous. Her faith, family, and friends supported her through several months of surgery, chemotherapy, and radiation treatments, which thankfully yielded positive results.
A few years later, the Kelly family relocated to Michigan, where Mr. ­Kelly became Head Coach of the Central Michigan University football team, and later to Ohio, when he accepted a position as Head Coach at the University of Cincinnati. In 2007, Ms. Kelly was diagnosed with a second, more aggressive breast cancer and began another round of treatment, which included a lumpectomy and chemotherapy. Buoyed by medical and family support, she subsequently opted to have a double mastectomy and reconstructive surgery. She has been cancer-free ever since.
In December 2009, Mr. Kelly became Head Coach of the University of Notre Dame football team, which has provided a unique platform for the Kelly Cares Foundation to make a difference in their community and the lives of those affected by cancer. The foundation hosts multiple events throughout the year to bring attention to the health and educational needs in their community and communities all over the world.
Philanthropic Support
To date, Kelly Cares Foundation has generously provided more than $3.5 million in financial support to a multitude of causes. Beneficiaries of its philanthropy have included the Ronald McDonald House; Memorial Children's Hospital; a mobile medical unit in South Bend, Indiana; patient transportation with Riverbend Cancer Center; Harper Cancer Research Institute; the Breast Cancer Research Foundation; LIVESTRONG at the YMCA program; and the Boys & Girls Club. The Kelly Cares Foundation is especially proud of the opening of the Paqui and Brian Kelly Comprehensive Breast Center at Saint Joseph Hospital.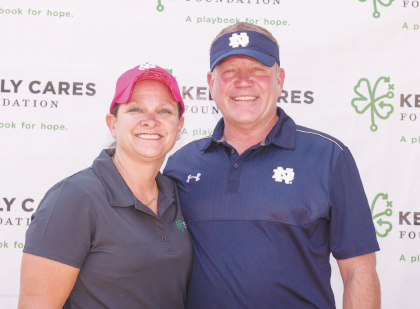 Paqui and Brian Kelly
Ms. Kelly has chosen to focus on the many blessings she received during her fight with breast cancer. The source of her strength was the strong support system provided by her friends and family, which sadly is not the case for all patients enduring an illness. Ms. Kelly is a strong patient advocate and hopes to pay it forward to others needing that same support.
The Kelly Cares Foundation is generously supporting a 2017 Young Investigator Award through the Conquer Cancer Foundation. This grant will advance cancer research, nurture the career of a promising young scientist, and hopefully lead to improved treatments for patients.
"Without the research, there is no hope to eradicate the disease. The Kelly Cares Foundation is honored to be in a position to help the Conquer Cancer Foundation fund a young investigator. We are passionate that research cures cancer!" said Ms. Kelly.

"The Conquer Cancer Foundation is delighted and honored to partner with the Kelly Cares Foundation to support a Young Investigator Award. We share Brian and Paqui's passion for supporting cutting-edge research that has the potential to save lives and make progress against cancer," said Nancy R. Daly, MS, MPH, Conquer Cancer Foundation Executive Vice President and Chief Philanthropic Officer.
Learn more about the Kelly Cares Foundation and the Conquer Cancer Foundation at kellycaresfoundation.org and conquer.org, respectively. ■
© 2017. American Society of Clinical Oncology. All rights reserved.
---
Related Articles
Lace Up to Conquer Cancer
The ASCO Annual Meeting involves a lot of walking—wear comfortable shoes and show your support for cancer research by participating in the Conquer Cancer Foundation (CCF) Laces campaign. Make a donation to CCF when you register for the 2017 Annual Meeting, and you will...