A New Book Deals With an Age-Old Crisis: Cancer Patients and Mortality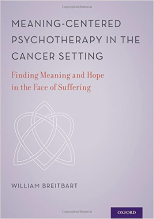 Bookmark
Title: Meaning-Centered Psychotherapy in the Cancer Setting: Finding Meaning and Hope in the Face of Suffering
Editor: William Breitbart, MD
Publisher: Oxford University Press
Publication date: January 2017
Price: $115, hardcover, 424 pages
The field of psycho-oncology began to take hold in the mid-1970s, when the "C" word was beginning to lose its long-held stigmatization, and patients with cancer could finally begin to openly reveal their diagnosis and express their feelings about their life-threatening disease. Despite that social breakthrough, psycho-oncology, as well as its sister discipline, palliative care, struggled for decades to gain acceptance as a vital subspecialty in the care of patients with cancer, especially those with advanced disease, whose existential needs are embedded in their uncertain foothold on life.
A recently published textbook edited by renowned psycho-oncologist ­William Breitbart, MD, Meaning-Centered Psychotherapy in the Cancer Setting: Finding Meaning and Hope in the Face of Suffering, explores and delineates a promising way forward in this most difficult clinical setting. The book's foreword is written by oncology luminary Jimmie Holland, MD, who is glad to accept the sobriquet "mother of psycho-oncology" from her peers in this tight-knit community of highly specialized clinicians.
Dr. Holland recalled a conversation with Dr. Breitbart in which he told her about a book by an academic psychiatrist, Viktor Frankl, who chronicled his survival in Auschwitz and other Nazi death camps; and Dr. Breitbart felt that Dr. Frankl's ideas would be helpful in talking to patients with advanced cancer. Dr. Holland writes: "Bill has devoted the past 10 years to using Frankl's concepts to develop a model applicable for cancer patients, called meaning-centered psychotherapy. At last, there is a validated therapeutic approach based on helping patients find meaning in their life."
Genesis of Meaning-Centered Psychotherapy
Meaning-Centered Psychotherapy in the Cancer Setting is organized into 14 chapters, with 2 appendices of doctor-patient transcripts covering meaning-centered psychotherapy encounters. In Chapter 1, Dr. Breitbart explains the underpinning of meaning-centered psychotherapy in the context of the advanced cancer setting, in which many patients struggle with hopelessness and a loss of meaning in a life "limited" by time.
Meaning-centered psychotherapy was developed over a 15-year period by the Psychotherapy Laboratory of the Department of Psychiatry and Behavioral Sciences at Memorial Sloan Kettering Cancer Center, which Dr. Breitbart leads. He deftly describes the genesis of meaning-centered psychotherapy as seen through the psycho-philosophical filter of Dr. Frankl, Dr. Irvin Yalom, and others, immediately connecting the reader to the deeper spiritual core of this type of therapy.
Integrating Science and Spirituality
To that end, we are treated to a terrific section called, "What We Can Learn From Carl Sagan About Existential Isolation." Carl Sagan, the famous astrophysicist and biologist, who died at age 62 from myelodysplastic syndrome, left behind a trove of lectures on natural theology—a must read, according to Dr. Breitbart, for "anyone interested in the integration of science and spiritualty." Carl Sagan had written a science fiction novel called Contact; it was made into a feature film about a young female scientist's search for extraterrestrial life in the universe, which becomes an inner search for her own spiritual answers.
Bill [Breitbart] has devoted the past 10 years to using [Viktor] Frankl's concepts to develop a model applicable for cancer patients, called meaning-centered psychotherapy. At last, there is a validated therapeutic approach based on helping patients find meaning in their life.

— Jimmie Holland, MD




Tweet this quote



Dr. Breitbart, an accomplished writer, uses the movie's plot to peel back the onion layers that lead to a cancer patient's soul-crushing sense of isolation. He writes: "Simply stated, the challenge of life is to learn how to balance hope and despair, to learn how to live with the inevitability of death and suffering. Hope is inextricably bound to both the future and the possibility of experiencing meaning. Hope is the act of creating an uncertain future."
A Must-Read Chapter
Each chapter is dedicated to a certain patient-specific setting within cancer care. For instance, Chapter 8 focuses on "Adapting Meaning-Centered Psychotherapy for Adolescents and Young Adults With Cancer: Issues of Meaning and Identity." The editors of this excellent chapter point out that approximately 70,000 adolescents and young adults are diagnosed with cancer each year—6 times the number of children diagnosed between birth and 14 years of age. This group also has poorer survival rates and unique identity issues, adding to the clinical ­challenges.
Here we see real-life case studies in which the dialogue is tailored to the needs of the young adult cancer patient, a totally different psychologic state from that of the older patient, who has a past in which certain life goals may have been met. This is difficult emotional terrain, making it one of the book's most powerful chapters: a must read for the oncology community.
Transcending the Clinical Experience
The book's appendices are transcripts of a full course of an eight-session meaning-centered psychotherapy group intervention conducted as part of a randomized trial. And in this section, the reader becomes a fly on the wall to the intimate stories of people with advanced cancer. Parts of this section run long, but readers should stick with it and keep a highlighter handy, as there are gems of the human condition here that transcend the clinical experience.
Dr. Breitbart and his contributing editors have given the oncology community and other professionals who care for vulnerable humans facing uncertainty and hopelessness a book grounded in science and human transformation—the kind of guide that helps clinicians help their cancer patients "preserve the idea that there is still life to be lived, still time to become, so that one can die with a sense of peace, equanimity, and acceptance of the life one lived."
Meaning-Centered Psychotherapy in the Cancer Setting is highly recommended for the readers of The ASCO Post. ■
---