Inspirational Stories for Cancer Survivors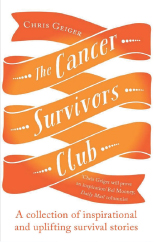 Bookmark
Title: The Cancer Survivors Club: A Collection of Inspirational and Uplifting Survival Stories
Author: Chris Geiger
Publisher: Oneworld Publications
Publication date: August 2015
Price: $15.99; paperback, 272 pages
Surveys indicate that cancer survivors have varying desires regarding the kind of support they want. Some patients find support groups very helpful as they deal with the host of issues in survivorship. Others want to distance themselves from the "world of cancer." Studies also show that enrollment in cancer support groups improved quality of life for selected patients. Women tend to enroll at higher numbers than men. Enrollment also varies widely among different cancers, with breast cancer the highest. Then there are the cultural and religious aspects that affect patient perspectives on sharing their stories with others.
Thus, writing a book that captures the attention of this heterogeneous population of cancer patients is tricky. British journalist and cancer survivor Chris Geiger has taken the challenge and penned a book directed at survivors called, The Cancer Survivors Club: A Collection of Inspirational and Uplifting Survival Stories.
In the survivorship genre, a compilation of stories is not the usual route to publication. Mr. Geiger found that out first hand, when multiple publishers rejected his manuscript. Undaunted, he turned to self-publishing, a time-consuming and laborious task, that more often than not has dismal results. However, Mr. Geiger proved the exception. His self-published book did well enough to catch the eye of a small independent British publisher. And Mr. Geiger says that his book is reaching a broader audience of cancer survivors than would have been possible in self-publishing. That's a good thing.
According to Mr. Geiger, when he was diagnosed with non-Hodgkin lymphoma, he went on a desperate search for books written by people who had fought and survived cancer, but most of the books he found had been ghost written for film stars who spent more time name-dropping then describing their treatments and survivorship. To that point, Mr. Geiger's desperate search must not have included the public library, where the shelves are sagging under the weight of books authored by noncelebrity cancer survivors.
Whimsical Format
The Cancer Survivors Club consists of 30 survival stories and a wrap-up coda, including an update on the contributing cancer survivors. Each chapter begins with a membership number. Number one is the author's story of his battle with non-Hodgkin lymphoma. His approach is rather inane, in that the whole chapter is an open letter to his tumor, beginning thus: "Dear Tumour, I feel compelled after all these years to write to you and tell you how I feel…. I guess you know that I never smoked and only drank moderately at the weekend. So why did you pick me? Why?"
Only Mr. Geiger can explain why he chose this rather whimsical format to tell his survivorship story. However, a book's first chapter is crucial, for readers tend to be charmed by a book's cover, title, and opening. Anthropomorphizing a tumor in the first chapter risks turning off some cancer survivors.
Mr. Geiger took a chance in format and style, and although his book suffers from too much misplaced jocularity and lack of specifics, certain stories have merit in both writing and messaging.

—




Tweet this quote



Also, the author's story tends to skirt important specifics about treatments and their side effects. Mr. Geiger writes: "Another operation was scheduled, as more chemotherapy was needed and my poor veins had all but given up. So I had a Hickman line fitted, not the most attractive of accessories admittedly." But he never explains that a Hickman line is a central venous catheter.
Here is where he veers off the cliff and loses serious readers: "Your [the tumor] arrival had actually done me a few favours on the girlfriend front. While we spent every minute of every day fighting, I was having the luxury of beautiful nurses supporting and listening to me. Some kindly gave up their weekends to support and help me, others became lifelong friends and most of them were gorgeous too; so I should thank you for that!" That passage is not only silly guy talk, it is an insult to oncology nurses, the bright and dedicated backbone of cancer care.
Mr. Geiger inserts random excerpts from a newspaper column he writes, which gives his contribution to the book certain ballast, and the book would have benefited from more.
Some Stories Better Than Others
These stories are highly personal accounts of people being diagnosed with cancer and their subsequent road to survivorship. Some are better than others. And to Mr. Geiger's credit, he has assembled a broad spectrum of patients and cancer sites, all of which give the book a textured narrative.
Probably the best story is membership number 19, called "How It Was," about a 51-year-old woman diagnosed with breast cancer. She tells her tale in an episode-by-episode structure that captures the emotion and the actual clinical challenges of battling cancer, giving a real-time feel to the narrative that draws the reader into the world of cancer.
Mr. Geiger took a chance in format and style, and although his book suffers from too much misplaced jocularity and lack of specifics, certain stories have merit in both writing and messaging. The author endured 2 years of cancer treatment for non-Hodgkin lymphoma, which included surgeries, radiotherapy, chemotherapy, and a bone marrow transplant, before he was finally in remission.
Like all the other survivorship stories in his book, his story is not only a testament to the grit and determination of patients with cancer, it is living proof of the advances the oncology community has made in cancer care over the past several decades. Although this book may inspire the lay reader and certain cancer survivors, for whom the book is intended, it is not recommended
for readers of The ASCO Post. ■
---