Corporate Angel Network's 50,000th Patient Flight Benefits Young Retinoblastoma Patient

On April 14, 2016, an 18-month-old patient with cancer named Baron Yerby flew home to Atlanta after receiving treatment at Memorial Sloan Kettering Cancer Center. However, instead of flying on a crowded commercial plane with the potential for immune deficiency issues, he and his parents flew on a corporate jet, belonging to NCR, a Fortune 500 Company headquartered in Atlanta.
Moreover, the flight was free of charge, arranged by Corporate Angel Network, the only charitable organization in the United States whose sole mission is to help cancer patients access the best possible treatment for their specific type of cancer by arranging free travel in the empty seats of corporate jets. It was their 50,000th patient flight.
Patient History
When Baron was 3 months old, his parents became concerned about an odd glow in his right eye. He was soon diagnosed with retinoblastoma. He was doing well after receiving treatment in Atlanta, but 30 new tumors quickly grew in Baron's left eye.
The family was told that all treatment options had been exhausted, except for one that was performed only at Memorial Sloan Kettering. The procedure directs a high dose of chemotherapy directly to the ocular tumor by going up through Baron's groin and prevents the effects of systemic ­chemotherapy.
Baron has already lost sight in his right eye, but currently the tumors have stopped growing. However, due to his age and his high risk of recurrence, trips to New York will go on for the foreseeable future. The Yerbys discovered Corporate Angel Network through a social media community of parents facing similar diseases.
"We hope that by commemorating our 50,000th flight, we can bring renewed attention to our organization," said Executive Director Emeritus of Corporate Angel Network, Peter H. Fleiss. "Our goal is to let cancer patients know that they have an option to travel to the best possible treatment for their specific type of cancer while at the same time making their lives, and the lives of their families, considerably less stressful during a very difficult time. In addition, we hope to bring new corporate partners into the fold to expand our ability to help more people."
About the Organization
Based in White Plains, New York, and founded in 1981, the Corporate Angel Network works with patients, physicians, corporate flight departments, and leading treatment centers to arrange more than 2,500 patient flights per year. This is accomplished with the participation of more than 500 major corporations, a staff of 6, and 30 volunteers.
Patients must register with Corporate Angel Network within 3 weeks of an appointment with, or discharge from, their cancer treatment center. Eligibility to participate in the program is open to all cancer patients, bone marrow donors, and bone marrow recipients who are ambulatory and not in need of medical support while traveling. Furthermore, eligibility is not based on financial need, and patients may travel as often as ­necessary.
Corporate Angel Network will check with the physician to confirm that the patient is well enough to fly and will then begin looking for a corporate flight matching the patient's requested travel route. To fly with Corporate Angel Network, patients must be able to walk unassisted up aircraft stairs and sit during the flight and must not be in need of oxygen, intravenous, or onboard medical assistance. Patients may travel with an adult companion, and a child may travel with two adults.
To register for the program, patients and their families can call the Corporate Angel Network at 914-328-1313 or e-mail the organization at info@corpangelnetwork.org. ■
Baron Yerby and his parents, Jonathan and Casey.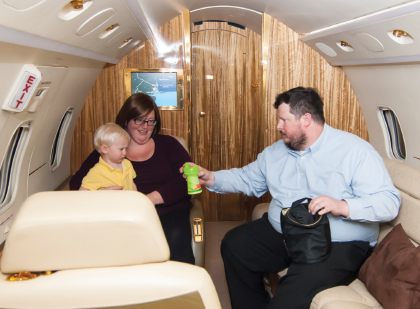 The Yerbys aboard their jet.
---