Combination Immunotherapy Better Than Monotherapy in Advanced Melanoma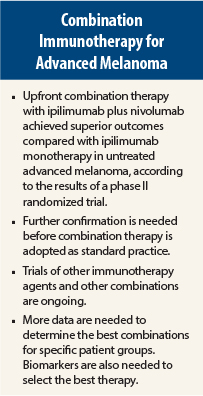 Combination Immunotherapy for Advanced Melanoma

F. Stephen Hodi, MD
The combination of ipilimumab and nivolumab achieved durable responses and a substantially higher response rate, longer progression-free survival, and higher rates of complete response than ipilimumab monotherapy in patients with both wild-type BRAF and BRAF mutation–positive tumors.

—F. Stephen Hodi, MD
As clinical research struggles to keep up with the pace of new immunotherapies, one of the burning questions is how best to combine the new drugs. A new study found that the combination of nivolumab (Opdivo) and ipilimumab (Yervoy) is superior to ipilimumab alone as front-line therapy for untreated metastatic melanoma.1
"The combination of ipilimumab and nivolumab achieved durable responses and a substantially higher response rate, longer progression-free survival, and higher rates of complete response than ipilimumab monotherapy in patients with both wild-type BRAF and BRAF mutation–positive tumors," said lead author F. Stephen Hodi, MD, Director of the Melanoma Center at Dana-Farber Cancer Institute in Boston. "It's very encouraging to see this pattern in previously untreated patients."
Dr. Hodi presented these study findings at the 2015 Annual Meeting of the American Association for Cancer Research, and the study was published online in The New England Journal of Medicine to coincide with his presentation.1,2
Ipilimumab, an anti–CTLA-4 (cytotoxic T-lymphocyte–associated antigen) antibody, has been approved by the U.S. Food and Drug Administration (FDA) for the first-line treatment of advanced melanoma. Nivolumab, an anti–PD-1 (programmed cell death protein 1) monoclonal antibody, has been approved by the FDA for patients with metastatic melanoma whose disease has progressed after treatment with ipilimumab or a BRAF inhibitor.
After a phase I study showed high overall response rates for the combination, a randomized phase II study was mounted to compare the combination of ipilimumab plus nivolumab vs ipilimumab alone in 142 previously untreated patients with advanced melanoma. Patients were stratified according to BRAF-mutation status (wild-type or mutation-positive).
Patients were randomized 2:1 to receive ipilimumab every 3 weeks for 4 cycles followed by nivolumab alone every 2 weeks vs ipilimumab monotherapy followed by placebo. Patients were treated until disease progression or unacceptable toxicity.
Response Rates
The investigator-assessed, confirmed overall response rate was 61% for the combination vs 11% for ipilimumab in patients with BRAF wild-type tumors (P < .001). The complete response rate was 22% for the combination therapy vs 0% for ipilimumab for both wild-type and BRAF-mutated patients.
Among the patients with BRAF wild-type tumors, the median duration of response was not reached in either treatment arm, with an ongoing response in 82% in the combination group and 75% in the ipilimumab-monotherapy group.
Among BRAF mutation-positive patients, the overall response rate was 52% for the combination group, with a similar 22% complete response rate compared with the BRAF wild-type tumor group.
Median progression-free survival was not reached in the BRAF wild-type group for the combination and was 4.4 months for ipilimumab monotherapy (P < .001). Among BRAF mutation–positive tumors, median progression-free survival was 8.5 months for the combination group and 2.7 months for ipilimumab monotherapy.
Among patients who discontinued treatment due to toxicity, the overall response rate was 68% in the combination arm vs 10% in the ipilimumab-alone arm.
Safety and Tolerability
The rate of investigator-assessed treatment-related adverse events was 91% for combination therapy compared with 93% for ipilimumab monotherapy. Treatment-related events leading to discontinuation of therapy were reported in 47% of the combination arm and 17% of the ipilimumab-alone arm.
Grade 3 or 4 adverse events were reported in 54% of the combination arm vs 24% of the ipilimumab-alone arm. The most common grade 3 or 4 drug-related events in the combination arm were colitis (17%), diarrhea (11%), and an elevated alanine aminotransferase level (11%). For ipilimumab, the most frequently reported grade 3 or 4 adverse events were diarrhea (11%) and colitis (7%). Treatment with steroids resolved most of the adverse events, Dr. Hodi said.
Interestingly, 69% of those in the combination arm who discontinued therapy continued to experience complete response or partial response, Dr. Hodi noted.
Other studies have shown that patients whose tumors express the PD-1 ligand, PD-L1, are more likely to respond to single-agent nivolumab. In this study, response in the combination arm was not related to PD-L1 status. "These data suggest that PD-L1 should not be used as a biomarker for selecting patients for combination treatment," Dr. Hodi stated. ■
Disclosure: Dr. Hodi has been an unpaid consultant for Bristol-Myers Squib and his institution has received grant and clinical research support.
References
1. Hodi FS, Postow MA, Chesney J, et al: Improved clinical response in patients with advanced melanoma treated with nivolumab combined with ipilimumab compared to ipilimumab alone. 2015 AACR Annual Meeting. Abstract 2860. Presented April 20, 2015.
2. Postow MA, Chesney J, Pavlick AC, et al: Nivolumab and ipilimumab versus ipilimumab in untreated melanoma. N Engl J Med. April 20, 2015 (early release online).
---
Related Articles
In the past 10 years, we have begun to unlock the keys to the puzzle of the body's immune system. The study presented here drives home the important point that we can elicit immune responses with unusual durability," said Louis Weiner, MD, Director of the Georgetown Lombardi Cancer Center in...