Novel Multikinase Inhibitor Improves Survival in Metastatic Colorectal Cancer

The novel tyrosine kinase inhibitor regorafenib, given as a single agent to patients with treatment-refractory metastatic colorectal cancer, significantly improved overall survival and delayed disease progression in an international phase III trial presented at the 2012 Gastrointestinal Cancers Symposium.1

"Regorafenib is the first small-molecule kinase inhibitor showing proof of efficacy in colorectal cancer, and identifies itself as a potential new standard of care" in metastatic patients who have progressed on other treatments, said lead investigator Axel Grothey, MD, of the Mayo Clinic, Rochester, Minnesota.
Regorafenib is an oral multikinase inhibitor of a broad range of angiogenic, oncogenic, and stromal kinases. It has been shown that several compensatory pathways are activated during therapy with bevacizumab (Avastin) and FOLFIRI (leucovorin, fluorouracil, irinotecan).2 According to Dr. Grothey, this provides a rationale for using a multitargeted agent following progression.
CORRECT Trial
Dr. Grothey presented the results of the global ­CORRECT trial, which enrolled 760 patients from 105 centers, randomly assigning them 2:1 to best supportive care plus either regorafenib (160 mg/d for 3 weeks on, 1 week off) or placebo. The primary endpoint was overall survival.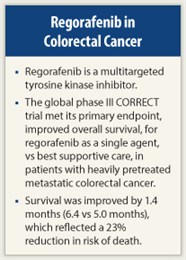 Sixty percent of the patients had received at least four prior treatment regimens, which had to include a fluoropyrimidine, oxaliplatin, irinotecan, bevacizumab, and if KRAS wild-type, cetuximab (Erbitux) or panitumumab (Vectibix).
"Regorafenib was tested in a setting [treatment-refractory] that many companies shy away from in drug development. There is no standard salvage therapy, although many patients long retain good performance status. There is a high unmet clinical need for active salvage therapy for this population," he emphasized. 
At the second interim data analysis, the median overall survival was 6.4 months in the regorafenib arm and 5.0 months in the placebo arm, for a hazard ratio of 0.77 (95% CI = 0.64–0.94, P = .0052).
"The P value is highly significant," Dr. Grothey emphasized. "For patients who are running out of treatment options, who have a very poor prognosis, this added 1.4 months of benefit, a 29% improvement in survival."
Since the prespecified overall survival efficacy boundary was crossed, the Data Monitoring Committee recommended the study be unblinded and patients be allowed to cross over to regorafenib.
Disease Progression
Median progression-free survival was 1.9 months for regorafenib and 1.7 months for placebo, for a hazard ratio of 0.49 (95% CI = 0.42–0.58, P < .000001). He noted that the 0.2 months difference does not reflect the full benefit of regorafenib. "The median difference of only 0.2 months demonstrates that medians are not the best way to show efficacy. The curves, on the other hand, separate nicely," Dr. Grothey said.
"The main emphasis," he added, "is that the drug delayed disease progression. While response rates were low in both arms (1.6% with regorafenib and 0.4% with placebo), regorafenib produced a much higher rate of disease control (44% vs 15%), he pointed out. "This drove the efficacy of the drug," Dr. Grothey maintained. 
"I personally have treated 35 patients within the trial. I have had one patient on the drug for almost 12 months, with excellent performance status, and virtually no side effects after dose-adjustment," he offered.
The most frequent grade 3 or higher adverse events with regorafenib were hand-foot skin reaction (17%) and fatigue (15%). No new or unexpected safety signals, above and beyond what has been seen with other multikinase inhibitors, were observed. 
Small Molecules in Colorectal Cancer
Dr. Grothey acknowledged that, up to now, small-molecule tyrosine kinase inhibitors have not made an impact in colorectal cancer. "So far, in drug development, sorafenib (Nexavar), cediranib, and PTZ/ZK, which were all added to first-line or second-line chemotherapy, have not produced the desired result," he said in a press briefing.
Regorafenib, on the other hand, was evaluated as a single agent, which Dr. Grothey credits with providing the treatment effect.
"I think regorafenib can produce an effect because we used it as a single agent and not with chemotherapy, and in a patient population that had gone through many lines of treatment. We know that tumors change over time, and activate multiple pathways and resistance mechanisms. It could be that we need more promiscuous multikinase inhibitors [such as regorafenib] in later lines of therapy," he suggested.
Phase II studies evaluating regorafenib in combination with standard chemotherapy backbones are planned, "moving the drug into earlier lines of therapy," he said, but it remains to be seen whether the combination will be as beneficial as the single agent, he added. ■
Disclosure: Dr. Grothey reported no potential conflicts of interest.
Expert Point of View: Novel Multikinase Inhibitor Improves Survival in Metastatic Colorectal Cancer
References
1. Grothey A, Sobrero A, Siena S, et al: Results of a phase III randomized, double-blind, placebo-controlled, multicenter trial (CORRECT) of regorafenib plus best supportive care versus placebo plus BSC in patients with metastatic colorectal cancer who have progressed after standard therapies. 2012 Gastrointestinal Cancers Symposium. Abstract LBA385. Presented January 21, 2012.
2. Kopetz S, Hoff PM, Morris JS, et al: Phase II trial of infusional fluorouracil, irinotecan, and bevacizumab for metastatic colorectal cancer: Efficacy and circulating angiogenic biomarkers associated with therapeutic resistance. J Clin Oncol 28:453-459, 2010.
---
Related Articles

The results of the CORRECT trial created some degree of "buzz" at the 2012 Gastrointestinal Cancers Symposium, with experts predicting that regorafenib will become FDA-approved and have strong clinical utility. While numerically, the benefit appeared small, "There is a real difference with this...