New Guidelines Recommend Less Frequent Screening for Cervical Cancer, but That Doesn't Mean Screening Is Less Important

In the News focuses on media reports that your patients may have questions about at their next visit. This continuing column will provide summaries of articles in the popular press that may prompt such questions, as well as comments from colleagues in the field.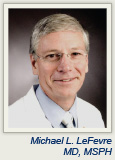 In March 2012, the U.S. Preventive Services Task Force (USPSTF) released updated recommendations about cervical cancer screening. The guideline revisions chiefly entail lengthening the intervals between cervical cancer screening tests to every 3 years for women aged 21 to 65 who are screened with cytology, or every 5 years for women aged 30 to 65 who are screened with a combination of cytology and human papillomavirus (HPV) testing, and waiting until a woman is 21 to start screening, regardless of sexual history. Reduced frequency of screening tests, however, does not equate with reduced importance.
"Just because we have lengthened the interval does not mean that this is not an important test to have. We strongly encourage women to continue to be screened at the appropriate interval and not to think this means that they can ignore this problem," Michael L. LeFevre, MD, MSPH, Co-Vice Chair of the U.S. Preventive Services Task Force, stated in an interview with The ASCO Post.
"The major reason for cervical cancer in the United States today is not a failure of screening; it is a failure to be screened and get appropriate follow-up," Dr. LeFevre added. "At least half of the cases of invasive cervical cancer in the United States occur because women have not been screened or have not had adequate follow-up to a positive test." Dr. LeFevre is Professor and Vice Chair in the Department of Family and Community Medicine at the University of Missouri School of Medicine, Columbia.
Annual Pap: A 'Thing of the Past'
The demise of the annual Papanicolaou test after decades as a trusted early detection strategy was mentioned in news reports about the updated cervical cancer screening guidelines. "The annual Pap smear, a cornerstone of women's health for at least 60 years, is now officially a thing of the past, as new national guidelines recommend cervical cancer screening no more often than every 3 years," reported The New York Times.2
In a statement announcing the updated guidelines, USPSTF Chair Virginia Moyer, MD, MPH, Professor of Pediatrics at Baylor College of Medicine in Houston, commented, "This is good news for women because evidence shows that an annual Pap smear is not necessary to prevent deaths from cervical cancer. Screening every 3 years starting at age 21 saves the same number of lives as annual screening, but with half the number of colposcopies and fewer false-positive tests," she noted.
"Many individuals and clinicians have used the annual [Pap] smear screening visit as an opportunity to discuss other health problems and preventive measures," the Task Force noted in its report. New opportunities for these discussions may need to be created to supplement those that already exist, such as other screening examinations recommended by the USPSTF, which have varying intervals, or annual or periodic checkups, Dr. LeFevre said.
"In the primary care community, we know that if we only tie preventive services to an annual checkup, we will fail to get the necessary services to people because not everybody comes in for that. As a health system, we have to try to achieve the necessary preventive services at a variety of intervals, and we have to capitalize on periodic health exams as well as visits for other reasons to make sure that happens. We don't want to discourage people from engaging in necessary health services just because they don't need a Pap smear," he continued.
HPV Infections Can Clear by Themselves
"It is well established that HPV infection is associated with nearly all cases of cervical cancer," the guidelines note, but many HPV infections clear by themselves and do not lead to cervical cancer. "There is nothing that we can do to make it go away. A woman's own body takes care of it and rids her of the HPV infection," Dr. LeFevre noted.
"We recommend against using HPV as a screen for cervical cancer or precancerous lesions for women under 30 because the prevalence of HPV in that age range is still fairly high and most of those cases are going to go away by themselves. So we would be detecting a lot of HPV that doesn't need to be detected." In women over age 30, however, HPV "is decreased in incidence, and we are picking up enough infections that are going to persist rather than go away spontaneously," Dr. LeFevre explained. "That's the point at which HPV testing may be helpful."
In addition, HPV testing is more sensitive but less specific than cytology, leading to more false-positives.
Harms of Screening and Treatment
Screening with cervical cytology or HPV testing and treatment of screening-detected disease can lead to harm, according to the updated guidelines. "Abnormal test results can lead to more frequent testing and invasive diagnostic procedures, such as colposcopy and cervical biopsy. Evidence from randomized, controlled trials and observational studies indicates that harms from these diagnostic procedures include vaginal bleeding, pain, infection, and failure to diagnose (due to inadequate sampling). Abnormal screening test results are also associated with mild psychological harms; short-term increases in anxiety, distress, and concern about health have been reported with cytology and HPV testing," the Task Force stated.
"Summary evidence from observational studies indicates that some treatments for precancerous lesions (such as cold-knife conization and loop excision) are associated with adverse pregnancy outcomes, such as preterm delivery, that can lead to low birthweight in infants and perinatal death," the Task Force continued. "Evidence is convincing that many precancerous cervical lesions will regress and that other lesions are so indolent and slow-growing that they will not become clinically important over a woman's lifetime; identification and treatment of these lesions constitute overdiagnosis. It is difficult to estimate the precise magnitude of overdiagnosis associated with any screening or treatment strategy, but it is of concern because it confers no benefit and leads to unnecessary surveillance, diagnostic tests, and treatments with the associated harms."
According to Dr. LeFevre, "The more you screen, the more likely it is that you are going to detect abnormalities of the cervix that even in the absence of treatment would go away by themselves." He estimated that 90% of women with acute HPV infection "will clear that infection within 2 years." Even among those who don't clear the infection within 2 years but go on to develop cervical intraepithelial neoplasia (CIN) grade 2 or 3, "a significant percentage of those will go away also," Dr. LeFevre said. "It is standard practice in the United States, certainly at the CIN2 level, to go ahead and treat to prevent further progression. So we end up treating people whose conditions would have gone away without treatment. The treatment of CIN2+ has been associated in some circumstances with pregnancy complications. It is not the screening test itself; it is the treatment for cervical changes," Dr. LeFevre explained.
In a key statement from its recommendations, the Task Force noted, "Maintaining the comparability of the benefits and harms of co-testing and cytology alone demands that patients, clinicians, and health-care organizations adhere to currently recommended screening intervals, protocols for repeat testing, cytologic thresholds for further diagnostic testing (that is, colposcopy) and treatments, and extended surveillance as recommended by current American Cancer Society/American Society for Colposcopy and Cervical Pathology/American Society for Clinical Pathology (ACS/ASCCP/ASCP) guidelines." ■
Disclosure: Dr. LeFevre reported no potential conflicts of interest.
SIDEBAR: Could HPV Testing Be Used Alone?
SIDEBAR: Women Who Received HPV Vaccine Still Need Cervical Cancer Screening
SIDEBAR: Expect Questions from Your Patients: Cervical Cancer Screening Guidelines
References
1. Moyer VA, on behalf of the U.S. Preventive Services Task Force: Screening for Cervical Cancer: U.S. Preventive Services Task Force Recommendation Statement. Ann Intern Med. March 14, 2012 (early release online).
2. Parker-Pope T: New guidelines advise less frequent Pap smears. New York Times, March 14, 2012.
---
Related Articles