NCCN Clinical Practice Guidelines: Important Updates for 2012

The National Comprehensive Cancer Network (NCCN) Clinical Practice Guidelines in Oncology have become the most widely used guidelines in oncology practice. The Guidelines cover 97% of all patients with cancer and are continually updated by expert panels.
The 2012 Guidelines include some completely new recommendations with regard to screening for lung cancer, treating adolescents and young adults, and managing acute lymphoblastic leukemia. The following is a synopsis of these and other updates and key points made by Panel representatives at the NCCN 17th Annual Conference.
Lung Cancer Screening
"Screening with low-dose chest computed tomography conclusively reduces mortality from lung cancer in high-risk patients."
—Douglas E. Wood, MD, University of Washington/Seattle Cancer Care
Alliance, Seattle
NCCN established a new Lung Cancer Screening Panel.
The Panel recommends low-dose helical CT screening of persons at risk for lung cancer.
The recommendations are largely based on results from the National Lung Screening Trial, which showed a 20% relative risk reduction in mortality with screening.
The cost-effectiveness of routine screening still needs to be established.
The NCCN Guidelines:
describe the risk factors for lung cancer
recommend criteria for selecting high-risk persons for screening
provide recommendations for evaluation and follow-up of nodules found during screening
discuss the accuracy of low-dose chest CT screening protocols and imaging modalities
discuss the benefits and risks of screening
Non–Small Cell Lung Cancer
"We need close collaboration among all providers, and the pathologist has a role at all levels. The more involved the pathologist, the greater the likelihood that you will come up with the right answers."
—Richard T. Cheney, MD, Roswell Park Cancer Institute, Buffalo, New York
The Principles of Pathologic Review and Principles of Radiation Therapy were extensively revised in the Guidelines, to reflect the growing role of pathology and molecular profiling in the management of  non–small cell lung cancer.
The adenocarcinoma classification was updated to include and define adenocarcinoma in situ, minimally invasive adenocarcinoma, invasive adenocarcinoma, and invasive adenocarcinoma variants. The use of the term "bronchioloalveolar" was eliminated.
Molecularly targeted agents are not recommended for adjuvant therapy, but their importance in advanced disease is growing.
Crizotinib (Xalkori) was added as a systemic therapy option for patients with advanced or metastatic disease and ALK mutations.
Acute Lymphoblastic Leukemia
"On the pediatric side, there has been a significant advance in cure rates for acute lymphoblastic leukemia (ALL) over the past decades, yet the story has not been near as rosy on the adult side."
—Patrick A. Brown, MD, The Sidney Kimmel Comprehensive Cancer Center at Johns Hopkins, Baltimore
The NCCN introduced new guidelines for ALL.
Two main features that distinguish the different treatment paradigms in ALL are the primacy of Philadelphia chromosome (Ph) status and age.
The NCCN Guidelines recommend the incorporation of tyrosine kinase inhibitors for Ph+ ALL, as virtually every study has shown improved outcomes.
The NCCN Guidelines recommend the use of risk stratification in ALL (including minimal residual disease testing).
Melanoma

 "BRAF is drawing the most attention recently because about half of patients with metastatic melanoma will have a mutation in BRAF, usually V600E. Some degree of tumor shrinkage with vemurafenib (Zelboraf) was achieved by 80% of these patients."
—John A. Thompson, MD, University of Washington/Seattle Cancer Care
Alliance, Seattle
Ipilimumab (Yervoy) and vemurafenib were added to the Guidelines as category 1 options (based upon high-level evidence, there is uniform NCCN consensus that the intervention is appropriate) for first-line systemic treatment of advanced or metastatic melanoma.
Ipilimumab may be associated with a delayed response and potentially prolonged survival, whereas vemurafenib is indicated for patients who have the BRAF mutation.
Patients with metastatic melanoma should be screened for the BRAF mutation.
For clinical stage IIA melanoma, in the absence of specific signs and symptoms, routine imaging and screening blood work are not recommended.
Breast Cancer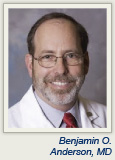 "We are moving away from the concept that the patient with early-stage disease should routinely get a battery of tests."
—Benjamin O. Anderson, MD, University of Washington/
Seattle Cancer Care Alliance, Seattle
Routine systemic staging is not indicated for early breast cancer (clinical stages 0, 1, or 2) in the absence of signs or symptoms of possible metastatic disease.
The use of fluoride PET/CT to identify bone lesions is an addition to the Guidelines; FDG PET/CT remains optional.
Patients fitting the American College of Surgeons Oncology Group (ACOSOG) Z0011 enrollment criteria may forgo complete axillary lymph node dissection despite the potential for residual nodal disease: T1-T2 clinically node-negative disease with only one or two involved sentinel lymph nodes who are undergoing breast-conserving surgery and whole-breast radiation.
Recurrent tumors should be retested for estrogen receptor, progesterone receptor, and HER2 status.
Guidelines for monitoring metastatic disease were updated.
The Panel noted that addition of everolimus (Afinitor) to exemestane in endocrine-sensitive advanced disease may be effective, but this is not a recommendation.
The Panel noted that evidence supports the addition of everolimus to exemestane in women who fulfill the criteria for the BOLERO-2 trial (endocrine-sensitive, previously treated advanced disease) but this is not a recommendation.
Non-Hodgkin Lymphoma

"Most patients with T-cell prolymphocytic leukemia are symptomatic with fairly aggressive disease and need treatment."
—Leo I. Gordon, MD, Robert H. Lurie Comprehensive Cancer Center of
Northwestern University, Chicago
New Guidelines for the rare but aggressive disorder of mature T cells known as T-cell prolymphocytic leukemia (T-PLL) were introduced.
The treatment pathway centers on the presence or absence of symptoms. If the patient is asymptomatic, observation until disease progression or occurrence of symptoms is reasonable.
In symptomatic patients with T-PLL, alemtuzumab (Campath) is the treatment of choice for previously untreated disease.
Testing for MYC positivity is advised for all diffuse large B-cell and related lymphomas, due to the poor prognostic impact related to this finding.
Adolescent and Young Adult Oncology

"Compared with younger and older patients, there has been dismal progress in treating adolescents and young adults with cancer."
—Peter F. Coccia, MD, University of Nebraska Eppley Cancer Center at the Nebraska Medical Center, Omaha
In 2012, the NCCN established new Guidelines for adolescents and young adults; they are supportive care guidelines, not treatment guidelines.
The new Panel was instituted in light of the limited progress that has been made in managing cancer in this age group.
Reasons for poor outcomes in AYAs include low participation in clinical trials, unaddressed psychosocial issues, poor treatment adherence, and lack of a consistent treatment approach.
Hodgkin Lymphoma
"Stanford V is an acceptable regimen, particularly for patients who may have some underlying cardiac disease."
—Leo I. Gordon, MD, Robert H. Lurie Comprehensive Cancer Center of
Northwestern University, Chicago
As initial treatment for favorable stage IA or IIA Hodgkin lymphoma, the Panel gave category 1 recommendations to both the ABVD regimen (doxorubicin, bleomycin, vinblastine, dacarbazine) and Stanford V regimen (doxorubicin, vinblastine, mechlorethamine [Mustargen], etoposide, bleomycin, vincristine, prednisone), given along with involved-field radiotherapy.
Use of the ABVD regimen alone for stage IIA disease carries a category 2B recommendation (ie, based upon lower-level evidence, there is NCCN consensus that the intervention is appropriate).
The NCCN does not recommend routine PET surveillance after treatment of early disease unless relapse is suspected, nor bone marrow biopsy for favorable disease.
Renal Cell Carcinoma

"I have yet to see, in other solid tumors, the approval of seven drugs in just 6 or so years, as we have seen in renal cell carcinoma."
—Toni K. Choueiri, MD, Dana-Farber/Brigham and Women's Cancer Center, Boston
Axitinib (Inlyta), a multi–tyrosine kinase inhibitor, was added to the NCCN Guidelines as a second-line option for advanced renal cell carcinoma.
Cytoreductive nephrectomy remains beneficial in the era of targeted agents. ■
Disclosure: Comprehensive disclosure information relevant to the complete NCCN Clinical Practice Guidelines is available at nccn.org. The following NCCN panel members reported no potential conflicts of interest with the manufacturer(s) of product(s) mentioned in this report: Drs. Douglas E. Wood, Patrick A. Brown, Peter F. Coccia, Leo I. Gordon, John A. Thompson, Benjamin O. Anderson. Other NCCN panel members reported potential conflicts of interest as follows: Dr. Richard T. Cheney serves on an expert panel for OptumHealth to evaluate Centers of Excellence. Dr. Toni K. Choueiri serves on advisory boards for Pfizer, Novartis, GlaxoSmithKline, Genentech, Bayer/Onyx, and Aveo Pharmaceuticals.
---