Three MD Anderson Researchers Elected AAAS Fellows

Three researchers at The University of Texas MD Anderson Cancer Center have been named Fellows of the American Association for the Advancement of Science (AAAS) for their notable contributions to the field of cancer research. This distinction is one of the highest honors in the scientific research community.
Stephen Lai, MD, PhD; Cullen Taniguchi, MD, PhD; and Apostolia Tsimberidou, MD, PhD, have joined this distinguished group of scientists, engineers, and inventors. In a tradition that began in 1874, all AAAS Fellows are elected by their peers to recognize invaluable contributions to science and technology.
The Fellows
Dr. Lai, Professor of Head and Neck Surgery, was selected for developing novel therapies and imaging technologies from bench to bedside that have improved treatments for solid tumors. His seminal contributions have particularly impacted the treatment of patients with head and neck squamous cell carcinoma, the sixth most common cancer globally. Dr. Lai pioneered the use of multiparametric magnetic resonance imaging (MRI) to predict treatment effects to maximize antitumor activity and minimize treatment side effects, including first-in-human hyperpolarized MRI studies for patients with head and neck cancer.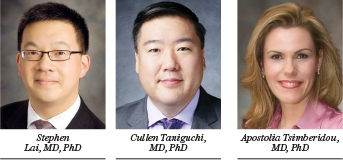 Dr. Taniguchi, Associate Professor of Radiation Oncology, was selected for impactful research that revealed the role of HIF2 in hypoxia-mediated cellular communication within tumors and normal tissues, leading to translational breakthroughs in regenerative medicine and cancer biology. His findings on hypoxia signaling helped build an independent radiation biology and cancer laboratory at MD Anderson that has earned a number of grants. Work from his laboratory soon will be brought to clinical trials at MD Anderson to improve outcomes in cancers of the gastrointestinal tract.
Dr. Tsimberidou, Professor of Investigational Cancer Therapeutics, was elected for her seminal contributions to instantiating and implementing precision oncology through innovative therapeutic approaches, patient care, and education aimed at improving clinical outcomes across tumor types. Her pioneering work on the Initiative for Molecular Profiling and Advanced Cancer Therapy (IMPACT) personalized medicine program at MD Anderson helped demonstrate the importance of personalized medicine and use of targeted therapy against tumor alterations for patients with solid tumors. 
---