Early Exposure to Health-Care Inequities Sets the Stage for a Leadership Role in Global Oncology for Satish Gopal, MD, MPH

In this installment of The ASCO Post's Global Oncology series, guest editor, Chandrakanth Are, MBBS, MBA, FRCS, FACS, spoke with Satish Gopal, MD, MPH, Director of the Center for Global Health at the National Cancer Institute (NCI). In this role, he oversees the development of initiatives and collaborations with other NCI and National Institutes of Health (NIH) partners, NCI-designated cancer centers, and other governmental and nongovernmental organizations to support cancer research, promote cancer control, and build capacity in low- and middle-income countries.
The Immigrant Experience
Please tell us a bit about your personal history.
I grew up in North Carolina, but my parents are from India. They came to the United States to study. My dad came here for graduate school in the immigration wave of the late 1960s. It's interesting to note that the immigration opportunity was directly a result of the Civil Rights movement, which actually relaxed the immigration policy in the United States. It allowed for greater immigration from what we now call the Global South, in a way that had not occurred before, and my parents, along with many others, were beneficiaries of that development. So, my dad came to study engineering as a graduate student, then went back to India and got married; my mom came over to the United States and earned her MBA, and they settled here, where my sister and I were born.

"I think we have to acknowledge that there have been amazing successes as a result of the cancer research and control enterprise over many decades, but it has been largely focused on a fairly small subset of the world's population."

— Satish Gopal, MD, MPH




Tweet this quote



I grew up mostly in North Carolina, and I think it was a fairly typical kind of first-generation Indian immigrant experience. My parents were academically pretty successful and educated. They ended up having a degree of career success that they would've never anticipated for themselves in India. But we also grew up in the largely White suburbs, and so we had this tension of trying to succeed in America while staying connected to our Indian identities. Learning how to navigate that tension at various stages in your life was a prototypical kind of immigrant experience for many families.
Tanzania
Please share a bit about your education and how your experience in Tanzania helped shape your career in oncology.
I did my undergraduate work at the University of North Carolina at Chapel Hill, the oldest public university in the United States, with a very strong global health footprint. Then I earned my medical degree at Duke University and did my residency training in internal medicine and pediatrics at the University of Michigan.
I always had a broad interest in global health. When I was growing up, we traveled every couple of years to visit family in India, so I had a strong connection to a part of the world that was halfway around the globe. It gave me a clear understanding of the many people in the world who had a lot less than I did. And I remember being in India as a young middle-class American kid, going for walks in economically depressed areas and thinking, these kids who look just like me have so much less opportunity than I have. That early experience sparked my interest in health equity and global health.
Ironically, I became interested in cancer not while working at an NCI-designated cancer center, where cutting-edge research was occurring, but while living and working in Africa. My wife—who had been in Africa as a Peace Corp volunteer—and I shared an interest in global health, and so, after my residency training in internal medicine and pediatrics, we looked for opportunities abroad. A global health position opened in Tanzania, and we moved there with our 6-month-old daughter, where I worked from 2007 to 2009, doing mostly programmatic work in HIV, which was largely supported by PEPFAR [President's Emergency Plan for AIDS Relief] and the Global Fund. During that time, I thought I might pursue a career as an HIV researcher and clinician.
I have a classical biomedical brain, so I'm really interested in clinical translational research from bench to bedside. Not that the economic, implementation, and policy questions aren't critically important; it's just not where my skill set is oriented. In some ways, while I was living in Africa, all the clinical questions related to HIV, tuberculosis, and other diseases were either largely answered or were being addressed by much more established and famous people.
Paradoxically, as infectious causes of mortality decrease and life span increases, populations are able to develop more cancer. As a young physician contemplating a career in global health, I saw exciting career opportunities in trying to address the rapidly increasing cancer burden, along with really interesting intellectual challenges arising from the complexity of tackling cancer in very low-resource environments. Ironically, it was in Tanzania that I developed an interest in cancer, and I returned to the United States for my subspecialty training in medical oncology and infectious disease, from 2009 to 2012.
Malawi
Please describe your work in Malawi.
In 2012, I joined the faculty of the University of North Carolina. They had a long-standing clinical research program focused on HIV and infectious diseases in Malawi. So, upon completion of my training, they hired me to join the faculty, and shortly after, I moved to Malawi with my wife and two daughters. The idea was I would join the clinical research program that was focused on HIV and try to establish a cancer research program, piggybacking on some of the HIV-related investments and infrastructure that already existed. Of course, many of the cancers in that environment were HIV-associated, and my dual training made me well suited to that work. That's what I did during the 7 years I was in Malawi.
It was different from the Tanzania experience, where I was still in a more formative stage. In Malawi, I was trying to build a career and a program, which required generating funding through grants, attracting collaborators from around the world, attracting fellows, and mentoring early-career scientists, both from Africa and the United States. We had remarkable success over that 7-year period—probably much more than I would've anticipated when I moved there.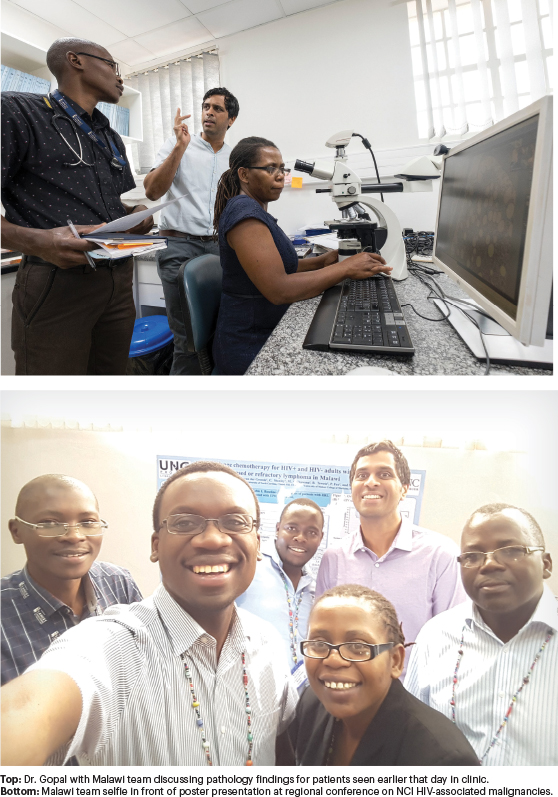 Looking back, I think my main contribution was helping to create the conditions by which Malawians felt they could participate in the cancer research enterprise. We have to acknowledge that there have been amazing successes as a result of the cancer research and control enterprise over many decades, but it has been largely focused on a fairly small subset of the world's population. When I got to Malawi, most people thought cancer was a death sentence and cancer research was not for them—that there was no way in which they could meaningfully participate in nor benefit from cancer research. In fairness, I think that collective opinion was actually a highly logical conclusion, derived from many decades and even centuries of lived experience.
So, I believe our main success was demonstrating that Malawians could contribute and be engaged in clinical research that could deliver something of value back to their country and community. That sounds simple but really is not a trivial thing to accomplish. I think in some ways we have failed to do that for some communities in the United States. When you're able to create a more inclusive and equitable cancer research enterprise, as we attempted to do in Malawi, it can be broadly informative including for some of the work I now do at the NCI.
It's important to note that while in Malawi, I was the only certified medical oncologist in a country of about 18 million people. My colleagues and I treated patients with cancer in the public sector at the national teaching hospital in the capital. It was an incredible experience, and I believe when I left, the cancer care system was improved, in a modest way. Though there's still so much work ahead.
Current Work
Please tell the readers about your current leadership role at NCI and how that came about?
My wife and I were contemplating a transition back to the United States at the same time the NCI was conducting an international search for a new Director for its Center for Global Health, which was established in 2011 by then–NCI Director Harold Varmus, MD. I was encouraged to apply and ultimately recruited to help build on important NCI successes, and think about how to prioritize and evolve our global health agenda to meet future challenges. Dr. Varmus and other current NCI leaders have been amazing sources of wisdom and support for me personally. Back in 2011, he felt there was so much need and opportunity related to global health that the NCI, as the largest funder of cancer research in the world, really required a dedicated center.
Since the Center for Global Health was established, we've tried to specifically advance programs that are focused on applied research and control, especially in low- and middle-income countries, which are relatively underrepresented in the NCI portfolio overall. In addition, we serve in a kind of coordinating and support role for broader international engagement across the institute.
This kind of work has bidirectional applications. For example, while still living in Malawi, I was on service in North Carolina one summer, and the chief of our hematopathology department called me and said, "I just diagnosed a case of multicentric Castleman disease"—a very unusual disease in the United States but very common in -Malawi. He added: "I would've never recognized this if I hadn't seen your 10 cases from Malawi over the past few months." So, it's entirely bidirectional, and it illustrates the potential value of global collaboration for everyone involved.
Challenges
What do you see as the major challenges to your mission at the NCI?
I think the main challenge is just trying to be cognizant of what we can and cannot do. The NCI is the largest funder of cancer research in the world and probably the world's premier cancer research institution, so we have an enormous role and responsibility to play globally. At the same time, I don't think it's within our capacity to address every patient with cancer in every part of the world. We simply do not have the ability to do that. Even if we applied all of the NCI's resources globally, it still would not be enough.
So, in some ways, this is very similar to what we do domestically: We try to think about the ways in which we can be uniquely impactful and kind of catalytic around the global cancer agenda. I do believe the establishment of a Center for Global Health in 2011 was itself a very important event and signal. We've seen such an increase in engagement globally by other organizations around the world, as well as NCI-designated cancer centers.
"The NCI is the largest funder of cancer research in the world and probably the world's premier cancer research institution, so I think we have an enormous role and responsibility to play globally."

— Satish Gopal, MD, MPH




Tweet this quote



I always argue that many important scientific opportunities have been left on the table to not only address the needs of people affected by cancer in low- and middle-income countries, but also generate knowledge that is broadly informative to cancer control—even in the United States. And so, that's a unique role we can play in trying to build out an agenda that would take better advantage of some of those available scientific opportunities. Supporting research that is more directly informative to practice and policies is something we can do. And now we're doing a lot in trying to address implementation science globally. Sometimes, practitioners and policymakers feel the research the NCI supports doesn't always speak directly to the questions that are most pressing to them. So, our challenge is to articulate, prioritize, and define clear areas where we can have a real impact that is broader than the specific initiative.
This requires a certain amount of strategic planning, but also flexibility as new opportunities arise, and a real commitment to working with partners such as ASCO, and agencies like the World Health Organization, the International Agency for Research on Cancer, and so forth. If we take advantage of multiple collaborative opportunities, we will be better positioned to confront the challenges that lie ahead.
Priorities
Stretching that a bit, what do you see as the priorities for the NCI's global agenda in the next 5 years?
We have a new 5-year strategic plan that we launched in 2021. What we have tried to articulate in this strategic plan is trying to build out a fairly applied research and control agenda focused on low- and middle-income countries, which has been somewhat limited in the NCI portfolio historically. Again, I think that's critically important not only to address the needs of communities and patients where the greatest cancer burden is occurring worldwide, but also to realize unmet scientific opportunities. We are also focused on training that will support the next generation of cancer researchers who are working in low- and middle-income countries. Finally, we have a variety of partnership and dissemination activities that are designed to promote science-based cancer control globally to ensure that when the research is done and the results are available, they are taken up into global cancer control policies and practice.
In our research programs, we've tried to clearly define several thematic areas. We are very interested in supporting new technologies that are uniquely designed for low- and middle-income countries to support global cancer control. We've made a major push in implementation science over the past couple of years, taking this relatively young discipline that has received a lot of recent support from the NCI domestically and trying to apply some of those same methods and approaches in low- and middle-income countries.
We are really interested in how cancer health disparities play out in different contexts globally and what some of the underlying root causes are that could be addressed. The cancer clinical trial portfolio for the NCI is enormous, but the portfolio in low- and middle-income countries is quite limited, and we think there are some real opportunities to increase that. Finally, we continue to be committed to work with colleagues in other countries, to better understand the biology and etiology of cancer. They are broad thematic areas that frame most of the research we're supporting, and we have a lot of new programs in various stages of maturation and conceptualization that we're excited about developing over the next few years.
Opportunities for Change
You recently conducted a survey assessing the level of involvement of these NCI centers and global programs. Can you tell us briefly what you found and what you would like to change, based on the results of that survey?
That gets back to the point I was just making, which is the need to partner, knowing that we can't do everything, and this is analogous to the NCI Cancer Center's program domestically. The NCI accredits or awards this designation based on a critical mass of research activity, faculty, and infrastructure at designated cancer centers. We know that we provide relatively modest core funding, to be honest, but that catalyzes so much additional activity that cancer centers carry out in support of their catchment areas. They often recruit additional sources from state funding, philanthropy, and industry, in support of many things the NCI doesn't directly fund. So that's kind of the same approach we're taking globally.
Nearly all of the NCI-designated comprehensive cancer centers are doing at least some work globally, and often this involves a very strong interest among early career trainees and faculty. Most cancer center directors actually prioritize global oncology at least at a moderate level, and many of them are prioritizing this as signature initiatives at their cancer centers. So, we've really tried to work with the cancer centers to better understand what they're doing and how that has changed over time. In many respects, what the cancer centers do without direct NCI support is very complementary to the things that we directly fund.
The international portfolio of the NCI tends to be better concentrated in high-income countries because applying successfully for NIH grants is hard and often relies on a research infrastructure that tends to favor high-income countries. On the other hand, much of what the cancer centers are doing without direct NCI support is in low- and middle-income countries. Overall, global health activity and engagement has steadily increased over time at the cancer centers, and I think this is reflected most of all among new trainees and early-career researchers.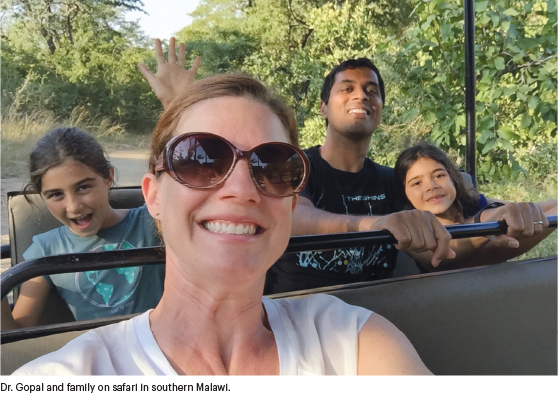 On some level, I think we're trying to respond to that at NCI by creating funding opportunities to support early career researchers and training—opportunities that would support collaborations beyond what the cancer centers are able to do with their own resources. One good example is a new institutional training program we have initiated at the NCI. In our last survey, we heard from cancer centers that a lot of their young faculty and trainees are interested in global cancer, but they didn't have dedicated global cancer training programs. And so we've sought to partially address this, because I think this is critically important if you're trying to build a discipline. Without dedicated training and substantive expertise, it's a hobby and not a discipline.
We've therefore tried to provide funding to low- and middle-income institutions that already have strong relationships with NCI-designated cancer centers, to support cohorts of trainees embedded within their ongoing research activity, and to develop the next generation of cancer researchers who can ask and answer the questions that are most important in their local environments. We know the scientific workforce in cancer research is not as diverse as it should be, and global health programs are not the entire solution to that larger problem, but they are intimately associated with that larger problem, and we've created some new programs to try to address that.
Parting Thoughts
Is there anything else you'd like to share with The ASCO Post about this crucial work?
I think we are still reckoning with cancer as a public health emergency. It doesn't come on quickly in the way that COVID does, and so marshaling the interest, attention, political will, resources, and investment is more challenging. But we're just beginning to seriously reckon with how big a problem this is and its broader societal fallout. I firmly believe that despite its amazing successes, the cancer research and control enterprise has largely benefited a relatively small segment of the world's population. I think many communities around the world, including in some pockets of the United States, feel forgotten by that enterprise. We all have to think about how substantively we want to address this.
My plea to everyone is to think seriously about what we are willing to do as a community to address this massive public health emergency worldwide. I always say we have to do that in a way that is global, with a big, inclusive, and equitable 'G,' rather than a small, exclusive, and inequitable 'g.' Collaborations between the United States and Europe are incredibly important, but they are one version of global and not what many people would consider to be global. I think we can and must do better going forward, if we want to engage communities around the world and give them the opportunity both to contribute to and benefit from cancer research. I believe this is the main thing we accomplished in Malawi. Doing this is not trivial, but it's also not that hard—it just requires a sustained commitment over time. 
DISCLOSURE: Dr. Gopal reported no conflicts of interest.
---