Lydia Pace, MD, MPH: A Primary Care Physician on the Front Lines of Oncology, Both Nationally and Globally

Lydia Pace, MD, MPH, was inspired to a become a doctor by her grandfather, a general surgeon in New York City, who spoke effulgently of his career in medicine, and by her mother, a social worker who was equally passionate about her profession. A primary care physician, Dr. Pace developed an interest in oncology, which has informed her research and work in breast cancer screening policies and early detection strategies both in the United States and globally. Dr. Pace is currently Associate Physician in the Division of Women's Heath at Brigham and Women's Hospital and Director of Women's Health Policy and Advocacy in the Connors Center for Women's Health and Gender Biology at Brigham and Women's.

Lydia Pace, MD, MPH
Destined for Medicine
"I grew up in New York City, an identical twin. My sister is also a primary care doctor in Boston, working in addiction medicine. After graduating from high school, I went to Yale University, majoring in English. All throughout high school, I adored reading and writing, but it became clear that a career in English wouldn't satisfy my curiosity about people and my need to be engaged and help people, like medicine would," she said. 
So, after graduating Yale, Dr. Pace traveled to ­Nepal and South Africa as a medical volunteer. "During that period, I was trying to figure out exactly what I wanted to do. In my second year after college, I worked for the Soros Foundation in New York City on global reproductive health rights for women in Central and Eastern Europe and the former Soviet Union." These experiences nurtured her interest in global health, and she went to the University of California, San Francisco, School of Medicine.
Dr. Pace continued: "I wasn't as focused on cancer during medical school as I was on women's health issues, both globally and on the domestic front. I did most of my rotations at San Francisco General Hospital, caring for a large population of disenfranchised and marginalized patients, which was an inspirational experience. After earning my medical degree in 2008, I did my residency in internal medicine at Brigham and Women's Hospital in Boston. During this time, I did some rotations in Uganda and Rwanda, experiences that influenced my desire to spend time working in sub-Saharan Africa, which is where I became very interested in playing a role in cancer."
Global Health: Experiences in Rwanda
"In 2011, I began working at Butaro Hospital in Rwanda. For much of that year, I was the only internist working at the hospital, and we had a lot of young women with breast cancer coming in for treatment, many of whom already had stage 4 disease. I cared for many of those patients longitudinally; over time, I became close with many of them and was humbled by their resilience and hope in the face of hardship and determined to address the barriers they'd faced to timely diagnosis and treatment," said Dr. Pace. "That was the moment when I realized I wanted to help figure out how Rwanda could provide better services for these women."
In 2012, Rwanda's Ministry of Health opened the country's first public cancer facility at Butaro Hospital, collaborating with Partners In Health, Dana-­Farber Cancer Institute, and others. Dr. Pace noted that breast cancer expert, Lawrence ­Shulman, MD, who was at the forefront of the outreach efforts at Butaro Hospital, was a valued mentor.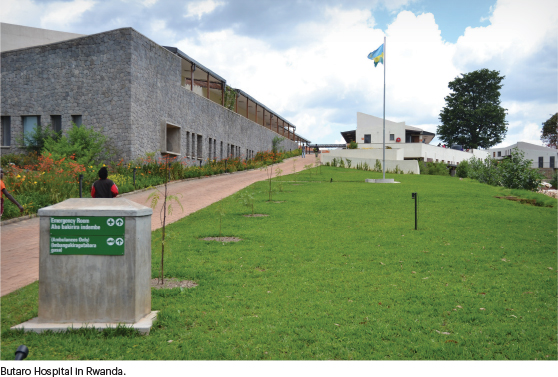 "Larry was absolutely instrumental in my maturation at Butaro, giving me the confidence and support to initiate my own project. I ultimately participated in the Global Women's Health Fellowship, a 2-year research fellowship supported by Brigham and Women's Hospital that allowed me to  be based in Rwanda. As a fellow, I connected with my other amazing mentor, Nancy Keating, MD, MPH, who is a primary care doctor and a professor of health- care policy at Harvard Medical School. Nancy's work really demonstrates the importance of bringing a primary care perspective to oncology research. She's an expert researcher in quality measures and outcomes in cancer care as well as decisions about screening. She is an incredibly generous mentor and has truly inspired my commitment to global health research, especially for underserved women with breast cancer," said Dr. Pace.
A Career-Shaping Experience
During her 3 years in Rwanda, Dr. Pace spent about 75% of her time in Rwanda, returning to the United States intermittently when necessary. "My time living in Rwanda enriched my career and life in many ways. My colleagues at Butaro Hospital couldn't have been more supportive of me and my work, teaching me about the challenges of caring for patients in a resource-limited environment and how to think creatively about overcoming those challenges, and teaching me about Rwanda's history and culture, which is necessary to be able to work and contribute within that context."
Dr. Pace shared more of her experiences in Rwanda: "We lived in a fairly rural area in the mountainous northwest of the country. My husband and I had our first child during those 3 years. We delivered her in Boston but brought her back to Rwanda, where she spent the first year of her life. There were cows grazing all around the house we lived in, and one of my daughter's first words was inká, Kinyarwanda for cow. Many of my colleagues in Rwanda have become lifelong friends. The experience certainly helped shape who I am as a doctor," said Dr. Pace.
Working in a Resource-Challenged Environment
Asked about the difficulties of delivering care in a resource-limited hospital, such as Butaro, Dr. Pace replied: "The decisions you have to make based upon how best to use the limited resources are oftentimes devastating for doctors who practice in these settings for a long period, and this can lead to burnout. We are able to give many women with breast cancer high-quality care, and a number of our patients with early-stage breast cancer have done very well. We therefore have a real opportunity to improve breast cancer outcomes in settings like Rwanda. I've focused much of my work so far on identifying feasible and effective strategies to facilitate earlier breast cancer diagnoses."
Fellowship Years in Rwanda
During her fellowship years, with Dr. Shulman's and Dr. Keating's mentorship, Dr. Pace surveyed Rwandan women about their experiences from their first presentation at a primary care facility with breast symptoms to their diagnosis of breast cancer. "We found that the delays women experienced up until diagnosis were very long. The median delay was about 15 months between the onset of symptoms until their ultimate diagnosis of breast cancer. At that time, it was the longest breast cancer diagnostic delay reported in the literature. Not surprisingly, longer delays were associated with greater likelihood of late-stage cancer at presentation. Our findings quantified this health-care challenge, which helped providers and policymakers in Rwanda begin to make the necessary changes."
The median delay was about 15 months between the onset of symptoms until their ultimate diagnosis of breast cancer.

— Lydia Pace, MD, MPH




Tweet this quote



According to Dr. Pace, Dr. Shulman was able to use their survey data to secure funding from the Breast Cancer Research Foundation to support their continued efforts in Rwanda. "We launched a pilot project that was a cluster randomized controlled trial of a training program for community health workers to educate women about detecting the signs and symptoms of breast cancer and encouraging them to go to their health center if they are symptomatic. We then trained health center nurses to perform high-quality clinical breast exams and identify who needed urgent referral to the hospital," she explained.
Dr. Pace continued: "We also developed a weekly clinic at the hospital that could promptly receive women who had an abnormality upon breast exam. Moreover, we worked with some terrific breast radiology colleagues from Brigham to train seven nurses and doctors at the hospitals to do diagnostic breast ultrasounds to refine the likelihood of a malignancy and identify who needed a biopsy. The early detection program was very effective; it increased the number of women coming to health facilities and also the number of early-detected breast cancers. Our philosophy has been to focus on facilitating early diagnosis of women with breast symptoms, before considering wider-scale screening of asymptomatic women. We're currently partnering with Rwanda's Ministry of Health to scale up the program in modified versions in other districts. It's great to see our research directly inform changes that will create better health outcomes for Rwandan women," commented Dr. Pace.
Work-Family Balance
Along with her global outreach research and work, Dr. Pace sees patients in her primary care clinic at Brigham and Women's Hospital and teaches internal medicine residents as they see their own primary care patients. "Once a month, I work in a specialized breast clinic at Brigham and Women's called the B-PREP program—Breast Cancer Personalized Risk Assessment, Education, and Prevention. This program serves women who are at high-risk for developing breast cancer, and we guide them through their available options for screening and risk reduction," she stated. "I have a very full schedule, but it is really rewarding."
How does a super-busy doctor decompress? "My kids are 5 and 7 now, and they are the light of my life. Despite the stressors of my career, being with them puts it all in perspective. I also try to exercise, though not as regularly as I should." 
DISCLOSURE: Dr. Pace holds stock or other ownership interests in Firefly Health and Johnson & Johnson and has received research funding from Bristol Myers Squibb.
---