Groundbreaking Cancer Researcher Brian J. Druker, MD, Shows No Signs of Slowing Down

For this installment of the Living a Full Life series, guest editor Jame Abraham, MD, spoke with physician-scientist Brian J. Druker, MD, Director of the Knight Cancer Institute at Oregon Health & Science University, Portland. In 2009, Dr. Druker won the Lasker-DeBakey Clinical Medical Research Award for his influential work in the development of imatinib in the treatment of chronic myeloid leukemia (CML).
Dr. Druker was born on April 30, 1955, in St. Paul, Minnesota, to parents who were first-generation immigrants from Eastern Europe. "My father was a chemist, so there's science in my lineage. My parents were the first in their families to attend college, and they impressed the importance of higher education as a way to a better, more productive life. I was the youngest of four, and there was a not-so-subtle expectation that one of us was going to become a doctor," said Dr. Druker. "I filled the slot. However, when I was a boy, I really wanted to be a baseball player."
Dr. Druker continued: "I had a natural ability for math and the sciences, and my first chemistry set was put under lock and key by my father, who was worried, with good reason, that I'd blow up the house! Looking back, my family precepts of a strong work ethic and a commitment to give back to the community at large shaped my overall philosophy in the lab and in the clinic."
BRIAN J. DRUKER, MD

On his professional philosophy: "My family precepts of a strong work ethic and a commitment to give back to the community shaped my overall philosophy in the lab and in the clinic."
On the development of imatinib: "We were taking the driving molecular abnormality of a cancer [CML] and targeting it with a specific drug, which was opening up a whole new paradigm."
On the legacy of his work: "At least once a month, an e-mail shows up from a patient with CML saying: 'I just want to thank you for saving my life.' What could be more satisfying for a scientist-clinician than that?"
Pursuing His Passion
Following a Series of rejections from Harvard, Stanford, Princeton, Yale, and Dartmouth, "my brother told me about a brand-new school in southern California, University of California (UC) San Diego, which had an amazing premed program. So, I applied and was accepted," said Dr. Druker.
UC San Diego met all of Dr. Druker's expectations and more, offering the close-encounter benefits of a small institution along with access to world-class scientists doing novel research. "Pretty soon, I found my way into John Abelson's laboratory, where I spent my summers purifying restriction enzymes. I was good at it and realized I had a natural talent for biochemistry. That's a lesson I tell my students: Pursue your passion," said Dr. Druker.
An Eye-Opening Class
After earning his BS degree in chemistry, Dr. Druker remained at UC San Diego to pursue his medical degree. Asked why he decided on a career in oncology, Dr. Druker responded: "I took a class on the history of chemotherapy, which included the cure of childhood leukemia, and I remember thinking, 'this is remarkable.' In the 1950s, the average life expectancy of children with leukemia was 6 weeks; by the 1970s, it was 70% to 80% curable. In the final paper I wrote for that class I said: 'Only through a complete understanding of what distinguishes a cancer cell from a normal cell can we make tangible progress.' Seeing the progress made in childhood leukemia opened my eyes to the possibilities ahead in oncology research."
After receiving his MD from UC San Diego, Dr. Druker did his internal medicine residency at Barnes Hospital, Washington University School of Medicine, working 110 hours a week, which he recalled as "one of the richest learning experiences of my education." In 1984, Dr. Druker began his medical oncology fellowship at Dana-Farber Cancer Institute, where he would spend 9 fruitful years.
GUEST EDITOR

Jame Abraham, MD, FACP
Dr. Abraham is Professor of Medicine, Lerner College of Medicine, and Chair of the Hematology and Medical Oncology Department at Taussig Cancer Institute, Cleveland Clinic.
"One of the beauties of Dana-Farber was that I got to spend 90% of my time doing research. I started in the lab headed by Tom Roberts, PhD, training with an amazing group of other young investigators, such as Helen Piwnica-Worms, PhD, who's at MD Anderson now; Deborah Morrison, PhD, who's at the National Cancer Institute; David Kaplan, PhD; Myles Brown, MD; and Nobel Laureate Bill Kaelin, MD. It was quite exciting," he shared.
Dr. Druker also began working with Dr. James Griffin's laboratory, which proved to be a seminal experience in his career. "Jim and I started collaborating on BCR-ABL to learn what proteins are tyrosine phosphorylated by the BCR-ABL protein. That was the beginning of a long and productive association on identifying substrates of an activated tyrosine kinase, but also on gathering all the materials to think about what a kinase inhibitor would look like. We wrote an internal grant that outlined how you would develop such an inhibitor, which became the blueprint for the development of imatinib," he related.
However, the head of medical oncology at the time did not see a future for his research at Dana-
Farber. "I saw my career going flat, but it did force me to ramp up my self-belief and look for a situation where my dedication and resolve could make a difference in oncology," he explained.
Research Opportunity in Oregon
Dr. Druker eventually found the right connection for his research ambitions in Grover Bagby, Jr, MD, Director of the Oregon Health & Science University (OHSU). "Dr. Bagby metaphorically put his arm over my shoulder and said: 'Brian, I think your vision of targeted therapy is the way forward. I'd really like you to come to Oregon and set up your lab, and I'll help you do that.' So, I set out to Oregon in 1993," he said.
When Dr. Druker joined OHSU, he contacted Nick Lydon, PhD, an expert in the field of kinase drug development, working with Ciba-Geigy at the time. "I asked Nick if he had anything that might inhibit the ABL tyrosine kinase. He said: 'As a matter of fact we do.' So, within 6 weeks of arriving in Oregon, I had this compound in my lab; within 3 months, I had data showing we could kill leukemia cells without harming normal cells. Then, it took me 5 years to convince Novartis to go into clinical trials. Frankly, I don't fault Novartis for their lack of  interest in CML. Their cost was upward of a billion dollars to develop a drug that had a 1 in 10 chance of success, and their estimates were that even if it was successful, the market size was too small to recoup their costs," explained Dr. Druker.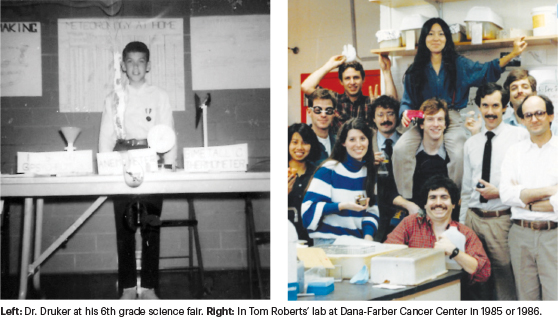 Changing the World of Oncology
Dr. Druker reflected on the Herculean struggle to bring imatinib to market, a success story embedded in the history of oncology. "We were taking the driving molecular abnormality of a cancer and targeting it with a specific drug, which was opening up a whole new paradigm. When I presented the imatinib data at the ASH conference in New Orleans, it changed my life in ways I couldn't have imagined. It was a bit overwhelming, to say the least," recalled Dr. Druker.
In 2001, the U.S. Food and Drug Administration approved imatinib (Gleevec) as an oral therapy for patients with CML. That same year, Gleevec was on the cover of TIME magazine; several years later, he was awarded the prestigious Lasker-DeBakey Award for Clinical Medical Research. According to Dr. Druker, however, the most amazing legacy of his work is still with him in the clinic.
"The longest surviving patient with CML on imatinib reaches back to 1999, and I still see her regularly in my clinic. At least once a month, an e-mail shows up from a patient with CML saying: 'I just want to thank you for saving my life.' What could be more satisfying for a scientist-clinician than that?"
Research Fire Still Burns Brightly
Despite the acclaim and success, Dr. Druker remains as committed to the lab as he was at the onset of his career. When Dr. Abraham asked him how he avoids burnout, Dr. Druker replied with an amusing anecdote. "In 2000, I was interviewed for People magazine by an attractive female journalist who asked how I balanced my work and personal life. I said, 'Well, my typical daily routine is I work, I work out, I eat, and I sleep. That's the balance.' She looked at me and said: 'You're pathetic.'
"After the article was published, I recognized that we actually worked out at the same gym. I got the courage to ask her out on a date, and about a year and a half later, we were married. We now have three wonderful children, and I'm still pathetic. But I have this amazing balance and a great opportunity to live a much richer and fuller life. So, now my daily routine is running back and forth to work, when I'm not stuck at home during a pandemic."
Dr. Druker continued: "Over the years, I've found ways to focus intensely on my work and intensely on my family. If I want to bring in a third thing into the mix, something is going to suffer. Even just balancing two things is really hard and requires an enormous amount of discipline. It took me almost 45 years to figure out how to do that; I still know I haven't perfected it, but I think I've got it well enough in hand that I can manage."
Looking Forward
Asked to share a closing thought on oncology moving forward, Dr. Druker replied: "It's a remarkable time for cancer research. Just think about the tools we have, including DNA and RNA sequencing, single cell sequencing, proteomics, and tumor immune profiling. Given the clinical tools we have with targeted therapies and immunotherapeutics, it's an opportunity to make an impact for our patients like we've never had before. That's why I think oncology research is an incredible career choice for someone passionate about truly making a difference. Even in the past decade of my career, I'm as excited as ever to see where we are heading and what we can do with the opportunities we've been given. It's the most exciting time ever to be engaged in research that will ultimately extend and save lives of patients with cancer." 
DISCLOSURE: Dr. Druker has served in a leadership role for Amgen and Vincerx Pharma; holds stock or other ownership interests in Amgen, Blueprint Medicines, Enliven Therapeutics, GRAIL, MolecularMD, Third Coast Therapeutics, and Vincerx Pharma; has received honoraria from Aptose Biosciences and Cepheid; has served as a consultant or advisor to Aileron Therapeutics, Aptose Biosciences, Blueprint Medicines, Celgene, Cepheid, Enliven Therapeutics, Gilead Sciences, GRAIL, Iterion Therapeutics, MolecularMD, Nemucore Medical Innovations, Novartis, Patient True Talk, The RUNX1 Research Program, Therapy Architects, Third Coast Therapeutics, VB Therapeutics, Vincerx Pharma, and Vivid Biosciences; has received institutional research funding from Bristol Myers Squibb, Enliven Therapeutics, Novartis, and Pfizer; holds patents or other intellectual property in Merck & Co, Oregon Health & Science University, and and Dana-Farber Cancer Institute; has been reimbursed for travel, accommodations, or other expenses by Amgen; and has held uncompensated relationships with Beat AML, Burroughs Wellcome Fund, and CureOne.
---