Prepare Your Patients for Potential Side Effects With ASCO Answers Fact Sheets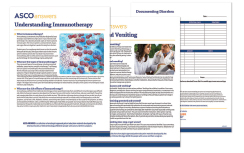 Help patients with cancer identify, manage, and cope with side effects by giving them in-depth information from ASCO Answers. Direct, easy to understand, and in a convenient single-page format, ASCO Answers fact sheets are the ideal take-home resource for your patients. Popular titles include:  
Anxiety and Depression
Appetite Loss
Cancer-Related Fatigue
Chemobrain
Constipation
Diarrhea
Lymphedema
Managing Pain
Nausea and Vomiting
Neutropenia
Sexual Side Effects of Cancer
Side Effects of Immunotherapy
When Cancer Spreads to the Bone.
Each fact sheet includes an overview of the topic, methods for management and coping, words to know, and questions to ask the health-care team.  
Find a library of titles in PDF format at cancer.net/factsheets or visit cancer.net/estore to order high-quality copies for your practice. Free domestic shipping, and ASCO members save 20%. 
© 2020. American Society of Clinical Oncology. All rights reserved.
---