Leaving 'No Stone Unturned' in Research to Cure a Rare Kidney Cancer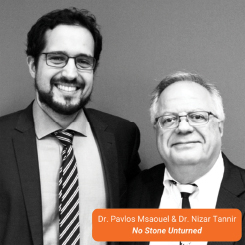 It is devasting for a doctor to tell a patient there is nothing that can be done to help him. For Nizar Tannir, MD, FACP, the words of a young father still ring in his ears: "I was trying to tell him that, unfortunately, despite all our efforts, I didn't have any more treatments to offer him. And he said, 'What do you mean you have no more therapies to offer me?'"
Feeling defeated, Dr. Tannir committed his life's work to finding a cure for renal medullary carcinoma, which most often affects African American patients. He recruited the brightest young scientists, like Conquer Cancer researcher Pavlos Msaouel, MD, PhD, to help him accelerate discoveries.
"I realized that if anybody is going to do something, it's us," Dr. Tannir said. "We will have to do it."
Dr. Tannir found a partner in Dr. Msaouel. Together, they are raising awareness about this uncommon cancer and encouraging others to support their research.
"We gain fundamental insights by studying rare cancers," said Dr. Msaouel, who believes their studies will serve as a model for discovery to benefit other rare tumors.
In this episode of Your Stories, the friends and colleagues share the stories of patients who inspire their work and discuss why their dedication to a cure for renal medullary carcinoma is relentless.
Listen to the full episode on iTunes or Google Play. 
© 2020. American Society of Clinical Oncology. All rights reserved.
---