How Exercise Oncology Can Improve Cancer Outcome and Survivorship
A Conversation With Kathryn Schmitz, PhD, MPH

Researchers from the American College of Sports Medicine (ACSM) recently reviewed hundreds of epidemiologic studies on the link between physical activity and both cancer risk and cancer mortality. A subsequent analysis of the findings by a panel of experts representing 17 partner organizations, including ASCO, the American Cancer Society, and the National Cancer Institute, has resulted in new exercise recommendations from the ACSM for cancer prevention and improved quality of life for cancer survivors. The ASCO Post spoke recently with Kathryn Schmitz, PhD, MPH, Immediate Past President of the ACSM. According to the ACSM report, there is strong evidence for an association between highest vs lowest physical activity levels and a relative-risk reduction of between 10% and 20% for seven malignancies (bladder, breast, colon, endometrial, ­esophageal, renal, and gastric cancers).

Kathryn Schmitz, PhD, MPH
In addition, the report found that greater amounts of physical activity, including vigorous aerobic exercise for 75 to 150 minutes per week, were associated with a relative-risk reduction of between 40% and 50% in mortality from breast and colorectal cancers (two cancers diagnosed in adolescents and young adults, in addition to older adults), and in prostate cancer.1
The report found that evidence connecting physical activity and a reduced risk for other cancers often diagnosed in adolescents and young adults (such as hematologic and brain cancers) was limited because of a lack of research on these cancers. However, all individuals, regardless of age, can benefit from physical activity to reduce the risk of cancer development and to improve prognosis and quality of life after a cancer diagnosis, according to Dr. Schmitz, who is also Co-Chair of the ACSM Roundtable Report on Cancer Prevention and Control, and Professor in the Department of Public Health Sciences at Penn State Cancer Institute in Hershey, Pennsylvania.
In an interview with Dr. Schmitz, she spoke about findings from the ACSM report and their potential impact on care for cancer survivors, especially adolescents and young adults, and how the practice of exercise oncology can help young survivors regain control after a cancer diagnosis.
Prescription for Physical Activity in Cancer Care
Please talk about the scientific evidence showing the benefits of exercise for the prevention, treatment, and recovery from cancer, and how it may improve survivors' quality of life.
The evidence regarding cancer prevention and physical activity is from observational research. We will probably never have a randomized controlled intervention trial to show that exercise prevents cancer, but the observational evidence tells us that if people meet the current ACSM guidelines for physical activity, which include 150 minutes of moderate aerobic exercise per week and strength training twice a week, we can substantially decrease disease onset for seven types of cancer (bladder, breast, colon, endometrial, renal, gastric, and esophageal)—and that is fantastic news.
"It is our mission to ensure that the practice of exercise oncology becomes standard of care."

— Kathryn Schmitz, PhD, MPH




Tweet this quote



The epidemiologic evidence on the association between physical activity and survival after cancer is still emerging. But preliminary results show that engaging in moderate to vigorous aerobic exercise of at least 75 to 150 minutes a week, plus resistance exercise twice a week, reduces the risk of mortality from breast, colon, and prostate cancers by between 40% and 50%, which is significant.
At the point of a cancer diagnosis and throughout treatment, the focus of what you can accomplish with physical activity shifts to quality-of-life issues and alleviating side effects from cancer and its treatment. After reviewing the latest scientific evidence, the ACSM panel of experts found that even moderate-intensity aerobic exercise for up to 30 minutes three times a week and 20 to 30 minutes of resistance exercise twice a week can mitigate cancer-­related fatigue, anxiety, depression, and lymphedema, while improving quality of life, physical function, sleep, and bone health in cancer survivors.
This is good news for patients who might find an exercise routine of 150 minutes per week too daunting. These recommendations can help oncologists be more specific when they are advising and encouraging their patients to become more physically active—what we are calling the practice of exercise oncology.
To make it easy for clinicians to "prescribe" and personalize an exercise plan for individual patients, we developed "Moving Through Cancer: Exercise for People Living With and Beyond Cancer" (see infographic). The plan is similar to figuring out the correct type of chemotherapy and dosage for individual patients with cancer to achieve a specific outcome.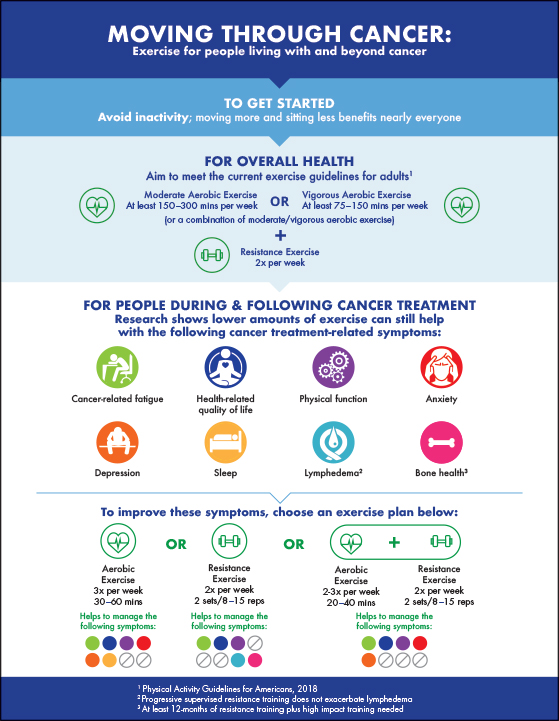 Using Exercise to Reduce Cancer Risk
How does physical activity reduce cancer risk and improve cancer outcome and survivorship?
The question of what the physiologic mechanisms might be in influencing the development of cancer is an area of active investigation. The majority of work so far has been done in animal models, and it appears that exercise has the ­potential to alter chronic inflammation that can cause damage to DNA and lead to cancer.
We also know from observational studies that exercise has many biologic effects on the body, which may reduce the risk of certain cancers. For example, exercise can help lower the levels of sex hormones, such as estrogen, and prevent high blood levels of insulin, which is linked to the development of breast and colon cancers.
The systematic review of observational studies by the ACSM and its multidisciplinary panel of experts found that physical activity may have survival benefits for patients with breast, colorectal, and prostate cancers, but how exercise may impact prognosis is unknown. We do know that physical activity has a biopsychosocial effect on the body that can alter mood; reduce levels of anxiety and depression; and improve immune system function, cognition, sleep, and overall quality of life.
Reaping the Health Benefits of Maintaining an Active Lifestyle
The physical activity recommendations from the ACSM are for people of all ages. Please talk about how maintaining a regular exercise routine is especially important for adolescent and young adult cancer survivors.
Adolescents and young adults experience cancer much differently from older adults. Unlike many older adults diagnosed with cancer who may be well established in their family life and career or may be in retirement, young adults are often diagnosed at crucial stages in their education or career trajectory. They may be dating or newly married, and a cancer diagnosis can derail their future plans.
Although we believe that physical activity during and after cancer treatment could be beneficial to adolescent and young adult cancer survivors, this patient population has received little scientific attention, so we do not have information on exercise interventions that are specific for this age group. What physical activity can do for cancer survivors—and this might be especially true for adolescent and young adult survivors—is give them a sense of mastery and empowerment over their physical body, enhancing their resilience and ability to cope with a cancer diagnosis.
GUEST EDITOR

Brandon Hayes-Lattin, MD, FACP
Adolescent and Young Adult Oncology
explores the unique physical, psychosocial, social, emotional, sexual, and financial challenges adolescents and young adults with cancer face. The column is guest edited by
Brandon Hayes-Lattin, MD, FACP,
Professor of Medicine and Medical Director of the Adolescent and Young Adult Oncology Program at the Knight Cancer Institute at Oregon Health and Science University in Portland, Oregon.
There is scientific evidence showing that adult survivors of childhood cancer who engage in vigorous exercise during early adulthood and increase their exercise level over 8 years have a 40% reduction in all-cause mortality compared with survivors who maintain a low-level exercise routine.2
Making Exercise Oncology Standard of Care
How can oncologists encourage their young patients to maintain a regular exercise routine while undergoing treatment and throughout survivorship?
We have developed the Moving Through Cancer initiative (www.exerciseismedicine.org/support_page.php/moving-through-cancer), which helps clinicians assess patients for their appropriate exercise level and advise them on the benefits of physical activity. Just saying to patients, "I expect you to be exercising," has an enormous impact on them.
I know that lack of time during an office visit can make it difficult to start a conversation about exercise with patients, but the potential benefits from maintaining or starting even a moderate exercise routine at the time of cancer diagnosis and treatment and during survivorship are so important to prognosis and long-term quality of life. It is our mission to ensure that the practice of exercise oncology becomes standard of care. 
DISCLOSURE: Dr. Schmitz has received fees from an educational program that she developed and is offered through Klose Training and Consulting.
REFERENCES
1. McTiernan A, et al: Physical activity in cancer prevention and survival: A systematic review. Med Sci Sports Exerc 51:1252-1261, 2019.
---