AML Pioneer and Giant, Clara D. Bloomfield, MD, FASCO, Dies at 77

Physicians and scientists interested in acute myeloid leukemia (AML) have lost one of the community's shining lights with the death of Clara D. Bloomfield, MD, FASCO, on March 1, 2020, at age 77 years.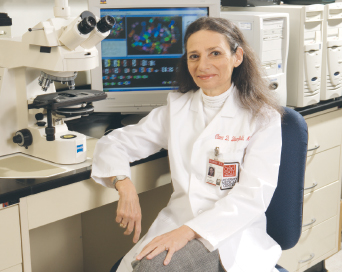 Clara D. Bloomfield, MD, FASCO
Dr. Bloomfield is well known for her more than 50 years of groundbreaking research in blood cancers, especially AML. She helped revolutionize treatment for people with AML by identifying diverse risk cohorts. Her work with that of many others like Janet Rowley and Avery Sandberg in the arena of cytogenetics, and with Hartmunt and Konstanze Dohner and others in the arena of mutation topography, resulted in the current World Health Organization (WHO) and European LeukemiaNet (ELN) AML classifications.
A Boolean search of MEDLINE with the terms "Bloomfield CD" and "AML" identified 198 citations—more than the number of people with AML most hematologists see in a lifetime. Her last AML typescript was published February 25, 2020, 5 days before she died. That's called "dying with your boots on."
Dreams of Medicine Led to a Stellar Career
Clara Bloomfield was born on May 15, 1942, in New York. During World War II, her family moved to Washington, DC, and after the war, to Champaign-Urbana, Illinois, where her parents were faculty members at the University of Illinois. Her mother, Zelda Derber, was a feminist and lawyer, and her father, Milton Derber, was a labor and industrial relations expert.
In recollections Dr. Bloomfield shared over the years, she said as a child she dreamed of Florence Nightingale, and at the age of 4 years informed her mother she wanted to become a nurse. "My mother said, 'Well dear, that's very nice. But if you want to become a nurse, you might as well become a doctor.'" She also recalled that while in grade school, she had classmates who developed leukemia and, because there was no effective therapy at that time, died.
Dr. Bloomfield began her studies at the University of Wisconsin in Madison but transferred to San Diego to be with her husband. She graduated from San Diego State College in 1964 summa cum laude in biology and went on to study medicine at the University of Chicago, graduating in 1968. Her postgraduate training in internal medicine and hematology was at the University of Minnesota, where she became the first woman to become a full Professor of Medicine in 1980. In 1989, she moved to Buffalo, where she became Professor of Medicine and Chief of the Division of Oncology at the State University of New York at Buffalo and Chair of the Division of Medicine at Roswell Park Cancer Institute, where she worked with another AML giant, Geoffrey Herzig.
In 1997, she moved to Columbus, Ohio, to assume the role of Director of the Division of Hematology-Oncology in the College of Medicine, advancing to become Director of The Ohio State University Comprehensive Cancer Center, a position she held until 2003. Dr. Bloomfield was a Distinguished University Professor and Senior Advisor at Ohio State. She was also a member of the Molecular Biology and Cancer Genetics Program, Professor of Internal Medicine, and held an endowed Chair in Cancer Research.
Seeking a Cure for AML
As the French would say, Dr. Bloomfield was a force de frappe. She claimed to have been influenced by an editorial written by Dr. William H. Crosby, a pioneering hematologist who opined that without effective therapies, treating AML was akin to malpractice because people had no hope of a benefit. She said: "After reading Dr. Crosby's editorial, I decided that it would be a good project to attempt to find a cure for AML. And that's what I set about to do."
"[Dr. Bloomfield] was considered by many to be the world's authority on how chromosome changes influence treatment and outcome in AML. It was a challenge to absorb more than 10% of the information she presented in a 30-minute lecture."

— Robert Peter Gale, MD, PhD, DSc(hc), FACP, FRCP, FRCPI(hon), FRSM; Rüdiger Hehlmann, MD, PhD; and Andreas Hochhaus, MD




Tweet this quote



She was considered by many to be the world's authority on how chromosome changes influence treatment and outcome in AML. It was a challenge to absorb more than 10% of the information she presented in a 30-minute lecture. Most of us would need a few hours to cover the same material. To say she was a "fireball" is a huge ­understatement.
Dr. Bloomfield authored many review articles and chapters in leading hematology textbooks and more than 600 peer-reviewed articles in major scientific journals. She frequently lectured at national and international meetings.
Many junior and senior scientists and physicians spent time or took sabbaticals in Dr. Bloomfield's laboratory at Ohio State. Among them are some of the most prominent and successful people in leukemia research today. This is perhaps an academician's most important legacy.
A Giant in Cancer Research and Care
Dr. Bloomfield made extensive contributions to many professional organizations. She served on the Board of Directors of the American Association for Cancer Research (AACR) and ASCO and chaired the National Cancer Institute (NCI) Division of Cancer Treatment Board of Scientific Counselors. She was Chair of the NCI Progress Review Group, responsible for defining the national research agenda for leukemia, lymphoma, and myeloma. She was a key member of the AML subcommittee of Cancer and Leukemia Group B (CALGB) for much of her professional career. She also had a special interest in international hematology and was deeply involved with the ELN and the International Association for Comparative Research on Leukemia and Related Diseases.
Dr. Bloomfield received many honors—too many to mention here—but included membership in the Institute of Medicine of the National Academy of Sciences (now the National Academy of Medicine) and the American Academy of Arts and Sciences, as well as a Fellow of the AACR Academy. She won many awards, including the ­Henry M. Stratton Medal from the American Society of Hematology and the David A. Karnofsky Memorial Award from ASCO. Most recently, she received the ELN Merit Award for contributions to the international integration of leukemia research.
Following in her mother's footsteps, Dr. ­Bloomfield was an ardent feminist, relentlessly advancing women in science and medicine through her active mentorship. She mentored more than 100 men and women who have served as professors at prestigious universities or as scientists in leadership positions at the NCI or in industry.
Dr. Bloomfield was of small stature, but she was a giant, reminiscent of Franco Mandelli and ­Napoleon. Converted to energy per unit mass, she would probably outshine the sun. We shall miss her.
She is survived by her husband of 36 years, Professor Albert de la Chapelle, a geneticist and Professor at Ohio State. 
Dr. Gale is Visiting Professor of Haematology at the Imperial College London, and he is on the medical staff at the University of California, Los Angeles. Dr. Hehlmann is Professor of Medicine at the University of Heidelberg and the ELN Foundation, Germany. Dr. Hochhaus is Professor of Internal Medicine, Hematology and Oncology and interim Head of the Department of Hematology and Medical Oncology at the University Medical Center Jena in Germany.
This piece is adapted from an article in Leukemia (in press).
---