WebMD Recognizes Seven Cancer Innovators With Its Health Heroes Award
The honorees cross the oncology care spectrum from physician, researcher, caregiver, and advocate to survivor.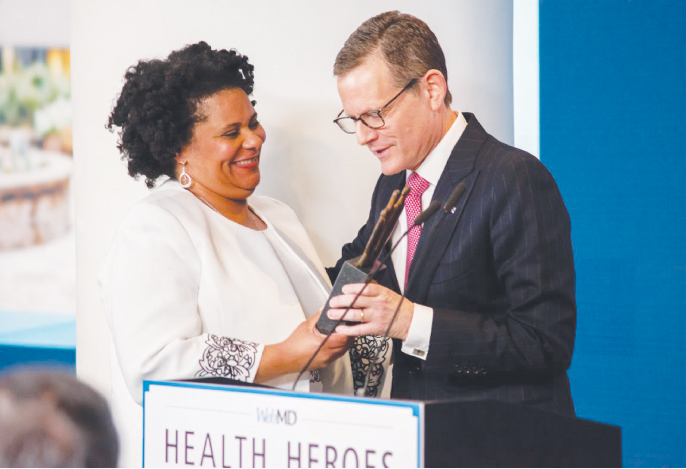 Karen M. Winkfield, MD, PhD, receives Health Heroes Award from Clifford A. ­Hudis, MD, FACP, FASCO. Credit for all photos: WebMD
On January 15, 2019, WebMD, an online and print health-care resource for consumers, presented its 2018 Health Heroes Award in New York City to 7 people who are making a difference in oncology care. The honorees include Karen M. Winkfield, MD, PhD, Associate Professor of Radiation Oncology at Wake Forest University School of Medicine; Director of the Office of Health Equity at Wake Forest Baptist Comprehensive Cancer Center in Winston Salem, North Carolina; and Chair of ASCO's Workforce Diversity Task Force, for her advocacy in patient care and in eliminating racial disparities that prevent minority patients from receiving the benefits of high-quality cancer care.
The award was presented by ASCO Chief Executive Officer Clifford A. Hudis, MD, FACP, FASCO, who praised Dr. Winkfield's efforts in providing care to underserved rural communities and for her work on the development of ASCO's Strategic Plan for Increasing Racial and Ethnic Diversity in the Oncology Workforce during her time as Chair of ASCO's Health Disparities Committee.1
"The advances that we celebrate, that we are so excited about, that delight us, that make us proud, are only as good as their applications, their applications all around the world, in all communities who need those therapies," Dr. Hudis told the audience. "And the only way to make sure that everyone can access them is to make them broadly available. Our honoree, Dr. Karen Winkfield, is doing more than almost anybody to make that a reality. She has chosen to dedicate her career to the mission of giving equal access to everyone. She wants everyone to have the same chance to survive cancer, as do we all. For all this and so much more, I'm deeply honored to present the 2018 WebMD Health Heroes Advocate Award to Dr. Karen Winkfield."
In addition to Dr. Winkfield, the WebMD 2018 Health Heroes honorees include James P. Allison, PhD, Chair of the Department of Immunology, Executive Director of the Immunotherapy Platform at The University of Texas MD Anderson Cancer Center, and co-recipient of the 2018 Nobel Prize in Physiology or Medicine; actress and cancer survivor Kathy Bates; radiologist and author Margaret I. Cuomo, MD; Elizabeth M. Jaffee, MD, FAACR, Deputy Director of the Sidney Kimmel Comprehensive Cancer Center at Johns Hopkins and President of the American Association for Cancer Research; Lillie D. Shockney, RN, University Distinguished Service Professor of Breast Cancer and Professor of Surgery at the Johns Hopkins University School of Medicine; and singer, songwriter, and composer Rufus Wainwright.
Lifetime Achievement Award: James P. Allison, PhD
Dr. Allison's pioneering research in immunotherapy has led to the identification of the receptor on T cells that recognizes and binds antigens; the recognition that the molecule CD28 is the "gas pedal" that T cells need for activation; the identification of the cytotoxic T-lymphocyte–associated protein 4 (CTLA-4) as an inhibitory
James P. Allison, PhD
checkpoint molecule; and the discovery that blocking CTLA-4 enhances the activation of T-cell responses against cancer. His research has resulted in the development and subsequent U.S. Food and Drug Administration approval of ipilimumab, the first of the new class of drugs known as immune checkpoint inhibitors, in the treatment of metastatic melanoma. Ipilimumab is now approved alone or in combination with other immunotherapies for certain types of colorectal cancer, melanoma, and renal cell carcinoma.
During Dr. Allison's acceptance speech, he spoke about the impact this research is having on patients with cancer.
"I've been blessed to see my research translated into a powerful new strategy for cancer therapy. For example, in 2006, I met a 24-year-old patient named Sharon, a newlywed [and] recent college graduate, who more than a year earlier doctors had told her she had stage IV melanoma and only a few months left to live. She received multiple prior therapies, but her cancers continued to grow. She had brain metastases, lung metastases, and liver metastases, and you could tell she had little time left. As a last resort, she joined a clinical trial of the drug ipilimumab that we had been developing, and within 3 months, her tumors shrank and disappeared. A year later, she was told she was completely tumor-free.
"After her first child was born a few years after that treatment, she sent me a photo. And after her second child was born, she did the same thing. She is now 14 years out after a single round of treatment in her battle with cancer, enjoying life, and has a vibrant family. Of course, we still have a lot of work to do. We've not been as successful in treating some cancers; notably, we don't do very well in pancreatic cancer or glioblastoma. But Pam -(Padmanee Sharma, MD, PhD, Professor, Department of Genitourinary Medical Oncology at The University of Texas MD Anderson Cancer Center, and Dr. Allison's wife) and I will work together to continue our efforts."
Game Changer Award: Kathy Bates
Academy Award–winning actress Kathy Bates is a two-time cancer survivor. In 2003, she was diagnosed with ovarian cancer and in 2012, with breast cancer. Ms. Bates chose to have a contralateral prophylactic mastectomy, which cured her breast cancer. However, removal of 22 lymph nodes from her armpits during the surgery resulted in severe lymphedema in both her arms. The complication convinced her to become active in raising awareness of this chronic lymphatic disease.

Kathy Bates
She is now the national spokesperson for the Lymphatic Education & Research Network (LE&RN) and advocates for increased federal funding for research in the disease and legislation that would mandate Medicare coverage for medically necessary compression garments for patients with the condition. During the award ceremony, Ms. Bates spoke about her experience with lymphedema and how the condition has changed her life.
"Four years ago, when I became the national spokesperson [for LE&RN], it was like climbing Mount Everest. Now thanks to you, and other publications and other shows I've been able to be on, we really are starting to make a difference. And that is from someone who doesn't have a medical degree; I only have my voice. Like all of us, we only have our voices, but by sharing our stories and advocating for each other and raising awareness, then we are all making a difference."
Trailblazer Award: Margaret I. Cuomo, MD

Margaret I. Cuomo, MD
Although shegrew up in a political family—her father is the late Mario Cuomo, the 52nd governor of New York, and her brother is Andrew Cuomo, the current governor of New York—Dr. Cuomo's lifelong passion has been medicine. She is a diagnostic radiology specialist in New York and the author of the book A World Without Cancer: The Making of a New Cure and the Real Promise of Prevention (Rodale Books; October 2013). Dr. Cuomo spoke about the steps all people can take to reduce their risk of cancer and other life-threatening diseases through smoking cessation, healthier eating, and exercise.
"I'd like to encourage you all to become your own health heroes. We can all reduce our risk for cancer, diabetes, and heart disease by eating healthier food, being physically active, protecting our skin from the sun, avoiding cigarettes and alcohol, managing stress, and avoiding harmful chemicals in many personal care products. Whether we are adults or children, members of the media or medical community, government, industry, or advocacy groups, we can all create a world that is healthier and a more vibrant society and, ultimately, a world without cancer, without diabetes, and without heart disease."
Scientist Award: Elizabeth M. Jaffee, MD, FAACR
Dr. Jaffee is a well-known oncology physician and scientist who played a role in the development of immune-based therapies, including vaccines for pancreatic, colon, and breast cancers. Dr. Jaffee's research is focused on the development of novel vaccine approaches that can overcome immune tolerance to cancers. She currently holds six vaccine patents. At the award ceremony, Dr. Jaffee talked about her commitment to developing cancer therapies that are both effective and provide patients with a high-quality life.

Elizabeth M. Jaffee, MD, FAACR
"I have dedicated my life to fighting cancer, but more than that, my life's goal is to convert deadly cancers like pancreatic cancer into chronic diseases, first, and then to prevent all cancer in the future. But treating and preventing cancer are not enough. It is critical that our treatments do no harm.
"For the past 25 years, I have worked on therapies that activate the patient's own immune system, so that we can fight cancer. I'm also working on vaccines that, hopefully, in the future will prevent cancer. We now have immunotherapies that can turn about 20% of deadly cancers into chronic diseases. I am promising all of you today that I will not stop working on this until we have turned 100% of deadly cancers into chronic diseases and all patients can have a long and high-quality life."
Caregiver Award: Lillie D. Shockney, RN
This past fall, Ms. Shockney retired from Johns Hopkins Medicine after a 36-year career as patient educator, advocate, and Administrative Director of the Johns Hopkins Breast Center. A two-time breast cancer survivor, Ms. Shockney continues to teach part-time at the Johns Hopkins University School of Medicine and

Lillie D. Shockney, RN
participate in several patient care programs she has launched, including the semi-annual Johns Hopkins weekend retreats for patients with metastatic breast cancer and their spouses/partners, friends, and family members. In her acceptance address, Ms. Shockney discussed how giving terminally ill patients a venue to discuss their fears about death helps them regain a sense of control over their lives.
"Many people go through their lives not knowing their purpose. I learned my purpose early on when I chose to be in the oncology field and then ended up diagnosed myself with breast cancer in my 30s. I'm passionate about taking care of patients with metastatic breast cancer…. I want their quality of life preserved and not forfeited. I want them not to postpone joy. I want them to find something to laugh about every day. I want them to know they are not alone on this journey filled with uncertainty. And when their time comes to leave this world, I want them to experience a peaceful death, having achieved full closure with their family, friends, and, most important, themselves."
Ambassador Award: Rufus Wainwright
In 2010, Mr. Wainwright lost his mother, Canadian folk singer Kate McGarrigle, to clear cell sarcoma. Before her death, Ms. McGarrigle began raising money for sarcoma research, an effort that Mr. Wainwright, along with his sister, Martha, are continuing today with the launch in 2012 of the Kate -McGarrigle Foundation. In accepting his award, Mr. -Wainwright spoke about the impact his mother's death has had on his life.

Rufus Wainwright
"The most profound statement I've heard during her illness was this: Your mother gives birth to you twice. First, when you are born, and then when she dies. I cannot [overestimate] the wisdom of this concept. When faced with mortality, her searing spirit intensified so profoundly that for everyone in her life, even distant acquaintances, a sense of honor prevailed in witnessing her bravery, even in the face of death.
"I want a cure for cancer…. The celebration of everything is what keeps me wanting to fight: the triumphs, the tragedies, the hopes, and fears, basically the gifts my mother gave me after she died. The gift of manhood."
Advocate Award: Karen M. Winkfield, MD, PhD
Dr. Winkfield's focus on health-care equity and patient access to high-quality oncology care took root during her training in the Harvard Radiation Oncology Residency Program, when she became aware of the health disparities in underserved populations, especially in African American communities. Dr. Winkfield became Chair of -ASCO's Health Disparities Committee to address these disparities and currently serves as Chair of ASCO's Workforce Diversity Task Force, with the goal of increasing racial and gender diversity in the field of oncology to reduce disparities in access to cancer prevention, diagnosis, and treatment as well as to improve outcomes.
Dr. Winkfield spoke about the need to ensure that every patient with cancer has an equal chance at survival and a high quality of life throughout survivorship.

Karen M. Winkfield, MD, PhD
"Over the past 2 decades, we have made tremendous progress and are, in fact, curing cancers that before we would think [were] incurable. However, not everyone benefits equally from those advances. Black Americans in particular have the highest cancer incidences and along with the American Indian population, they have the highest mortality rates of every racial and ethnic group in this country. My work aims to understand and address the barriers along the cancer continuum from prevention through survivorship.
The 2018 Health Heroes Awards were presented January 15, 2019, in New York.
"The work is time-consuming and labor-intensive. I was warned early in my career when I started at Harvard that my focus and my desired focus on health disparities would impede my [career] and restrict my academic promotion, and it has. So, it is an absolute thrill to have my advocacy work recognized and celebrated. Thank you, WebMD, for this amazing award." ■
REFERENCE
1. Winfield KM, et al: ASCO strategic plan for increasing … diversity in the oncology workforce. J Clin Oncol 35:2576-2579, 2017.
---