Conquer Cancer Honors Researchers With Merit Awards

ASCO'S CONQUER CANCER FOUNDATION is pleased to announce the recipients of the Gastrointestinal Cancers, Genitourinary Cancers, and Clinical Immuno-Oncology Symposium Merit Awards. Conquer Cancer Merit Awards recognize oncology fellows' and trainees' high-quality research submitted in abstracts to an ASCO-sponsored or cosponsored meeting. The selected early-career researchers of these Conquer Cancer Merit Awards presented their findings at the 2019 Gastrointestinal Cancers Symposium, 2019 Genitourinary Cancers Symposium, and 2019 Clinical Immuno-Oncology Symposium.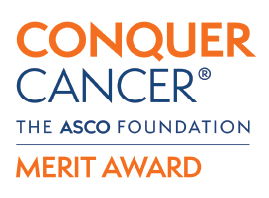 The following individuals are 2019 Gastrointestinal Cancers Symposium Merit Award recipients:
Francesca Battaglin, MD, University of Southern California (USC) Norris Comprehensive Cancer Center, Keck School of Medicine
Genetic variants in the lipopolysaccharide receptor complex and TLR4 expression levels to predict efficacy of cetuximab in patients with metastatic colorectal cancer: data from the FIRE-3 phase III trial (Abstract 564)
Charalampos Floudas, MD, DMSc, MS, National Cancer Institute
Combined immune checkpoint inhibition with tremelimumab and durvalumab in patients with advanced hepatocellular carcinoma or biliary tract carcinomas (Abstract 336)
Elisa Fontana, MD, The Institute of Cancer Research and The Royal Marsden Hospital
Characterization of chemoradiation-induced changes in immune cells and targets for personalized therapy in locally advanced rectal cancer (Abstract 589)
Adriana Gamboa, MD, Winship Cancer Institute, Emory University
Duodenal neuroendocrine tumors: somewhere between the pancreas and small bowel? (Abstract 377)
Uqba Khan, MD, Weill Cornell Medical College
Impact of antibiotic use on response to treatment with immune checkpoint inhibitors (Abstract 143)
Jwa Hoon Kim, MD, Asan Medical Center, University of Ulsan College of Medicine
Predictive biomarkers for the efficacy of nivolumab as ≥ third-line therapy in patients with advanced gastric cancer: from a subset analysis of ATTRACTION-2 phase III trial (Abstract 152)
Michael Kuan-Ching Lee, FRACP, MBChB, British Columbia Cancer Agency
Comprehensive genomic analysis of metastatic pancreatic ductal adenocarcinoma reveals a significant proportion of clinical actionable aberrations (Abstract 273)
Sashidhar Manthravadi, MD, University of Kansas Medical Center
Total neoadjuvant therapy compared with standard therapy in locally advanced rectal cancer: a systematic review and meta-analysis (Abstract 709)
Laura Musselwhite, MD, Duke Cancer Institute, Duke University Medical Center
Validation of the National Cancer Institute Colorectal Cancer Risk Assessment Tool for baseline advanced neoplasia in a veterans cohort (Abstract 521)
Madiha Naseem, MD, USC Norris Comprehensive Cancer Center, Keck School of Medicine
Characteristics of colorectal cancer patients with BRCA1 and BRCA2 mutations (Abstract 606)
Alberto Puccini, MD, USC Norris Comprehensive Cancer Center, Keck School of Medicine
Comprehensive molecular profiling of signet ring cell carcinoma from the stomach and colon (Abstract 63)
Astrid Slagter, MSc, Antoni van Leeuwenhoek/ Netherlands Cancer Institute
A comparison of elderly vs nonelderly patients in the CRITICS gastric cancer trial (Abstract 81)
The following individuals are 2019 Genitourinary Cancers Symposium Merit Award recipients:
Jad Chahoud, MD, The University of Texas MD Anderson Cancer Center
Penile squamous cell carcinoma is genomically similar to other HPV-driven tumors (Abstract 505)
Manon de Vries-Brilland, MSc, Integrated Centers of Oncology Paul Papin, Angers, France
Are immune checkpoint inhibitors a valid option for papillary renal cell carcinoma? A multicenter retrospective study (Abstract 582)
Shaan Dudani, MBChB, Tom Baker Cancer Centre, University of Calgary
First-line immuno-oncology combination therapies in metastatic renal cell carcinoma: preliminary results from the International Metastatic Renal Cell Carcinoma Database Consortium (Abstract 584)
Stefanie Christine Fischer, MD, University of Manchester and The Christie Manchester
Outcome of men with relapses after adjuvant BEP for clinical stage I nonseminoma (Abstract 510)
Yesser Ged, MBBS, MRCP, Memorial Sloan Kettering Cancer Center
Alterations in DNA damage repair genes and outcomes to systemic therapy in 225 immune-oncology– vs tyrosine kinase inhibitor–treated metastatic clear cell renal cell carcinoma patients (Abstract 551)
Melissa J. Huynh, MD, Brigham and Women's Hospital
Associations of cell-cycle genetic variants with aggressive prostate cancer in the Prostate, Lung, Colorectal, and Ovarian Cancer Screening Trial (Abstract 175)
Jean-Michel Lavoie, MD, BC Cancer
Whole-genome and transcriptome analysis of metastatic adrenocortical carcinoma (Abstract 509)
Rebeca Lozano Mejorada, MD, Spanish National Cancer Research Centre
Impact of treatment sequence in metastatic castration-resistant prostate cancer on outcome in a prospective cohort study (Abstract 264)
Tim Nestler, MD, University Hospital of Cologne
Seminomatous germ cell tumors are heterogenic and metastasis can be predicted based on a gene signature of the tumor-invasive front (Abstract 528)
Adam Sharp, MD, PhD, The Institute of Cancer Research and The Royal Marsden NHS Foundation Trust
Measurement science of the androgen receptor splice variant-7 protein in primary and castration-resistant prostate cancer tissue (Abstract 151)
Yee Pei Song, MRCP, FRCR, The University of Manchester
Long-term outcomes of hypoxia modification in bladder preservation: update from BCON trial (Abstract 356)
The following individuals are 2019 Clinical Immuno-Oncology Symposium Merit Award recipients:
Filiz Oezkan, MD, The Ohio State University
Neoadjuvant atezolizumab in resectable non–small cell lung cancer patients: updated clinical and immunophenotyping results from a multicenter trial (Abstract 99) 
David James Pinato, MD, PhD, MRCP, Imperial College London
Antibiotic treatment prior to immune checkpoint inhibitor therapy as a tumor-agnostic predictive correlate of response in routine clinical practice (Abstract 147)
Arnav Mehta, MD, PhD, Massachusetts General Hospital
Liquid biopsy using plasma proteomic profiling to reveal predictors of immunotherapy response (Abstract 130)
Abdul Rafeh Naqash, MBBS, East Carolina University
Immune pneumonitis-related treatment discontinuations and outcomes in metastatic non–small cell lung cancer treated with nivolumab: a pooled analysis from a multi-institutional international collaboration (Abstract 118)
Ziad Bakouny, MD, MSc, Dana-Farber Cancer Institute
Efficacy of first-line immune checkpoint inhibitors in patients with sarcomatoid and/or rhabdoid metastatic renal cell carcinoma (Abstract 66)
Yuanquan Yang, MD, PhD, Roswell Park Comprehensive Cancer Center
Differences in immune tumor microenvironment between primary and metastatic castration-resistant prostate cancer (Abstract 58)
Sanjay Chandrasekaran, MD, University of Washington
PTEN/PI3K signaling in cancer and the response to cytokines: from growth factors to immune actors (Abstract 35)
Sophie Feng, MBBS, Princess Margaret Cancer Centre
Evaluating the value of checkpoint inhibitor therapy using the ASCO and ESMO frameworks (Abstract 17)
Sunyoung S. Lee, MD, PhD, Roswell Park Comprehensive Cancer Center
Modeling of prognostication based on genomic expression in the tumor microenvironment of muscle-invasive urothelial carcinoma via machine learning (Abstract 64)
Kartik Anand, MBBS, Houston Methodist Cancer Center
T-cell lymphoma secondary to checkpoint inhibitor used for other malignancies (Abstract 88)
The 2019 Conquer Cancer Foundation of ASCO Merit Awards in clinical immuno-oncology are supported by anonymous; Agios Pharmaceuticals, Inc; ASCO employees; AstraZeneca; Friends and Family of Dr. and Mrs. Ronald Beller; Dr. and Mrs. Douglas W. Blayney; Breast Cancer Research Foundation; Bristol-Myers Squibb; Jonathan K. and Cora Y. Cho Charitable Fund; Eisai Inc; Estate of Darla C. Ellis; G1 Therapeutics; GlaxoSmithKline Oncology; Dr. Arti Hurria and Dr. Hyman B. Muss; Ipsen Biopharmaceuticals Inc; Dr. Michael Kelley and Dr. Elise Hoffman; Kidney Cancer Association; Lilly; Loxo Oncology; Friends and Family of Dr. James B. Nachman; Northern New England Clinical Oncology Society; Dr. Kathleen Pritchard Medicine Professional Corporation; Sarah Cannon Research Institute; Dr. Frances A. Shepherd; Dr. Stephen A. Sherwin; Drs. Rachna and Puneet Shroff; Dr. Nizar M. Tannir; Tesaro; and Dr. Michael and Mrs. Deborah Troner.
For more information on the Merit Awards program or instructions on how to apply, visit CONQUER.ORG/merit-award. ■
© 2019. American Society of Clinical Oncology. All rights reserved.
---