ASCO President-Elect Howard A. Burris III, MD, FACP, FASCO, Gained Leadership Skills From His Experience at West Point

GUEST EDITOR

Jame Abraham, MD, FACP
Dr. Abraham is the Director of the Breast Oncology Program at Taussig Cancer Institute, and Professor of Medicine, Lerner College of Medicine, Cleveland Clinic.
In this installment of Living a Full Life, guest editor Jame Abraham, MD, spoke with Howard A. "Skip" Burris III, MD, FACP, FASCO, Chief Medical Officer and Executive Director of the Drug Development Program at Sarah Cannon Research Institute, Nashville. Among other notable contributions, Dr. Burris has led the first-in-human studies for many now-approved agents that have changed the standard of care for several types of cancers. Dr. Burris was elected ASCO President for the 2019–2020 term.

Howard A. "Skip" Burris III, MD, FACP, FASCO
On medical school: "It was an intense hands-on experience that amplified my desire to become a clinical research physician."
On Sarah Cannon's drug development program:"From day 1, we understood that our research mission was a collaboration with and investment in our patients."
On physician burnout: "We need to understand what burnout is and be able to recognize symptoms before serious problems arise. Simple things like stress-management tips help, along with making self-care a habit."
Early Exposure to the Military and Medicine
Dr. Burris was born and reared in the Washington, DC, area. "I was born on the Maryland side of the Potomac River and grew up on the Virginia side. My father was a career officer in the Navy, and that early exposure to the military informed my decision to attend the U.S. Military Academy at West Point for my undergraduate education," said Dr. Burris.
He continued, "Although I spent most of my childhood in the DC area, I graduated from high school in Montgomery, Alabama, where my dad had been transferred. Being in Alabama in the 1970s offered me a rare perspective on the diverse challenges in life. Several of my friends' fathers were physicians, and my interactions with them is what first triggered an interest in medicine." Dr. Burris's faculty sponsor at West Point was also a physician, which offered yet another positive experience with the medical profession.
Dr. Abraham asked how the U.S. Military Academy helped shape his career. Dr. Burris noted that when he attended West Point, it was known predominantly for its engineering program. "West Point didn't offer advantages in the sciences, which were integral in medicine, but it gave me an opportunity to develop leadership skills. I was taught the importance of putting the people in my charge first. These skills translated to my leadership roles in oncology, where I've remembered to lead with humility and put my care team and patients first."
Heavy Patient Experience
After graduating from the U.S. Military Academy, Dr. Burris entered the University of South Alabama College of Medicine in Mobile. "I chose South Alabama largely because it offered an innovative program where you moved into the clinic during your second year of med school, which was very forward-thinking at the time. It was an intense hands-on experience that amplified my desire to become a clinical research physician."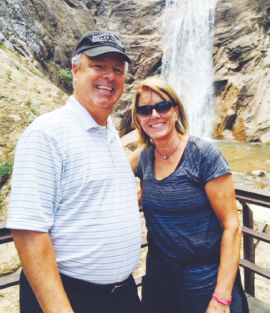 Dr. Burris and his wife, Karen, hiking in Colorado.
As a graduate of West Point, Dr. Burris still had to fulfill his military obligation. "I was a lieutenant during medical school and was eventually promoted to captain. To complete my military service, I went to Brooke Army Medical Center in San Antonio, Texas, which turned out to be the right decision. I went out there with the intention of practicing cardiology, largely because Brooke Army Medical Center was one of the first places in the world to implant cardiac stents and to do cardiac cauterization. However, San Antonio also had a strong history of oncology, which I wasn't aware of at the time. During my rotations, I was very impressed by the oncology attendings and their patients, who were grateful for whatever we could do for them. It's important to note that the 1980s were the dark ages of oncology; we certainly didn't have a vast number of effective therapies."
One of Dr. Burris' attendings was Daniel Von Hoff, MD, FACP, FASCO, a physician-scientist who explained the importance of doing phase I clinical trials. "Dan opened my eyes about the possibilities of cancer therapies. The very first investigational agents I tested were the drugs that "grew up" to be paclitaxel and docetaxel. Seeing these drugs shrink tumors was really what solidified my decision to become an oncologist."
Journey to Sara Cannon and a Brief Detour
Dr. Burris' obligation to the U.S. Military Academy ended in 1997. "After leaving Brooke Army Medical Center, I was seeking opportunities to continue doing clinical research. I was very interested in early-phase drug development. [F. Anthony "Tony" Greco, MD, and John D. Hainsworth, MD] had left Vanderbilt University and started the Sarah Cannon Research Institute, which was one of the first programs to conduct clinical research outside of the university setting. Tony and John expressed interest in adding a phase I drug development program to the clinical research program. We talked, and I felt it was a good fit."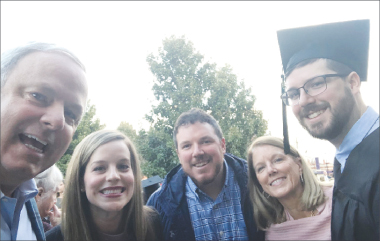 Graduation day for son Marc, with wife Karen, son Stephen, and ­daughter-in-law Caroline.
Just before leaving the Army, Dr. Burris received a phone call that delayed his transition to Sarah Cannon. "I was sent to Bosnia for 6 weeks to be part of Operation Joint Endeavor; however, that 6 weeks extended to more than 6 months. It was an enriching experience. Seeing the destruction and absolute waste of war and the tragedies that took place in the Balkans added one more layer to my maturation as a compassionate physician. In 1997, after finishing my tour of duty in Bosnia and my military obligation, I moved to Nashville and joined Sarah Cannon and have been here ever since."
Unlikely Setting for a Researcher
Given that serious clinical research is generally funded and conducted in the academic setting, Dr. Abraham asked Dr. Burris if he had any trepidation about joining Sarah Cannon. "Quite honestly, friends of mine thought I was crazy for thinking about doing investigational drug research outside of a university setting. However, it turned out to be a great decision. The vast majority of patients with cancer are still treated in the community setting, and at Sarah Cannon we believe that getting treatment as close to home as possible is an important part of a patient's journey."
Dr. Burris continued, "Building the infrastructure of a successful phase I program is really about the nurses and technicians and all the assistants and data managers. The team I was able to establish at Sarah Cannon is largely the reason for our success. From day 1, we understood that our research mission was a collaboration with and investment in our patients. One of the things I take pride in is that some of our original employees are still with us 20 years later. That's been a real blessing."
Thoughts About ASCO
Dr. Burris became an ASCO member in 1990, while serving as Director of Clinical Research at the Institute of Drug Development at the Cancer Center in San Antonio. "I worked with Charles A. Coltman, Jr, MD, the Cancer Center's Director, who was also ASCO President at the time, so I had an early introduction into the benefits of the Society."
He added, "A number of us at San Antonio were also leaders and participants in ASCO over the next 10 to 15 years. I served on the ASCO Board in 2006 and then had the opportunity to chair the Nominating Committee in 2011. ASCO serves as a critical voice and advocate for oncology professionals across the globe, which gives you an idea of the Society's scope and influence."
I've tried throughout my career to be an empathetic physician, keeping my patients at the center of my thoughts.

— Howard A. "Skip" Burris III, MD, FACP, FASCO




Tweet this quote



Asked to share his goal as ASCO President, Dr. Burris replied, "I'll use my background of diverse leadership roles to galvanize the various stakeholders—including payers and industry—in a common mission to further advance the therapies that will ultimately improve the lives of our patients with cancer. That, I hope, will be my legacy."
Despite remarkable advances, the global cancer burden is growing, particularly in the developing world. Asked to comment on this challenge, Dr. Burris said, "Since many nations are faced with limited resources, progress in the global battle against cancer is going to unfold incrementally. To that end, ASCO is going to have its first global meeting in Thailand in October 2019. We're also establishing councils around the world that will bring forward issues and possible solutions to regional challenges. We see growing opportunities in international clinical trial collaborations. The main objective is to make cancer care more accessible and equitable around the world. There's a lot of work to be done, but I'm optimistic about the challenge."
Burnout: Facing the Issue
According to an ASCO-sponsored study of burnout and career satisfaction among U.S. oncologists, 44.7% of surveyed oncologists reported feeling symptoms of burnout.1 Dr. Burris stressed that today's busy oncologists also have to deal with time-consuming regulatory and reimbursement issues, adding many hours to their workload.
"We need to acknowledge the issue of burnout and find ways to lessen unnecessary stress on our doctors," he said. "At Sarah Cannon, we have invested in appropriate resources to lessen the administrative load on our oncology teams. It's also important for oncologists to take better care of themselves. We need to understand what burnout is and be able to recognize symptoms before serious problems arise. Simple things like stress-management tips help, along with making self-care a habit."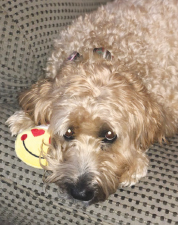 The Burrises' Wheaten Terrier, Olivia J.
What does ASCO's President-Elect do to decompress? "Karen and I have been married for 37 years. We have two boys, and spending quality family time is at the top of my decompression list. We tend to vacation at the seaside, which I find very relaxing. I'm also an avid golfer, and playing for a few hours in the peace and quiet of the course forces me to concentrate and be in the moment. And I'm sort of famous in our neighborhood for taking long walks with my dog, a Wheaten Terrier named Olivia. When you think about unconditional love and loyalty, there's just nothing like a dog."
Closing Thought
"I've tried throughout my career to be an empathetic physician, keeping my patients at the center of my thoughts. I've never been shy about getting close to my patients and fully understanding their particular challenges. That approach has always paid dividends for me. I would tell any young medical student thinking about entering oncology that taking care of a patient with cancer is special. I have learned from all my patients, and they have helped make me a better person." ■
DISCLOSURE: Dr. Burris is a consultant/advisor with Mersana, AstraZeneca, Forma Therapeutics, Janssen, Novartis, Roche/Genentech, MedImmune, Bristol-Myers Squibb, Celgene, Incyte, Boehringer Ingelheim, Eisai, and Tolero Phartmaceuticals, with honoraria going to his institution; has received institutional research funding from Roche/Genentech, Bristol-Myers Squibb, Incyte, AstraZeneca, MedImmune, Macrogenics, Novartis, Boehringer Ingelheim, Lilly, Seattle Genetics, Merck, Celgene, Agios, Jounce Therapeutics, Moderna Therapeutics, CytomX Therapeutics, GlaxoSmithKline, Verastem, Tesaro, Immunocore, Takeda, Millennium, BioMed Valley Discoveries, TG Therapeutics, Loxo, Vertex, eFFECTOR Therapeutics, Janssen, Gilead Sciences, -BioAtla, CicloMed, Harpoon Therapeutics, Jiangsu Hengriu Medicine, Arch, Kyocera, Arvinas, and Revolution Medicines; and has given expert testimony for Novartis.
REFERENCE
1. Shanafelt TD, Gradishar WJ, Kosty M, et al: Burnout and career satisfaction among US oncologists. J Clin Oncol 32:678-686, 2014.
Living a Full Life: Let Us Hear From You
We encourage you to contact us if you would like to be interviewed about your own experiences and interests or would like to nominate a candidate. We are seeking to learn what motivates and inspires you and how you manage to achieve balance in your own life.
Write to editor@ASCOPost.com and reference Living a Full Life.
---