We Need to Fill the Gap Between Pediatric and Adult Oncology Care

When I was 15, and just 6 weeks into my sophomore year in high school, I heard a loud sound similar to a gunshot in my head and minutes later I was engulfed in a grand mal seizure, now called tonic-clonic seizure, and rushed to the hospital. A magnetic resonance imaging (MRI) scan found a small (about 1 cm) tumor in the left temporal lobe of my brain. Because of the size and position of the tumor, I was told the mass was most likely a benign, slow-growing dysembryoplastic neuroepithelial tumor. The main concern, said my doctor, was to prevent more seizures from occurring. Although I didn't realize it at the time, I had been having frequent localized or partial seizures for about 2 years prior to the grand mal seizure, and my doctor wanted to get them under control.
He prescribed several types of antiepileptic medications, which caused such severe side effects they kept me out of school for nearly a year. When the medications failed to stop the seizures, my doctor recommended surgery to remove the tumor. A biopsy of the mass later showed I actually had cancer, a stage I ganglioglioma. 
Ensuring Continuity of Care for Young Adult Survivors 
MY SURGEON recommended I see an oncologist, but the experience left me bewildered. I was cancer-free, the oncologist assured me after looking at my test results, and since the cancer was unlikely to recur, there was no need for adjuvant treatment, he said. I was released from his care, and now, 8 years later, I'm still unsure who should be monitoring me for long-term side effects and possible cancer recurrence. My pediatric neurologist and neurosurgeon also released me from their care after I became a young adult, and I've had to find a neurologist who treats adults to monitor my health.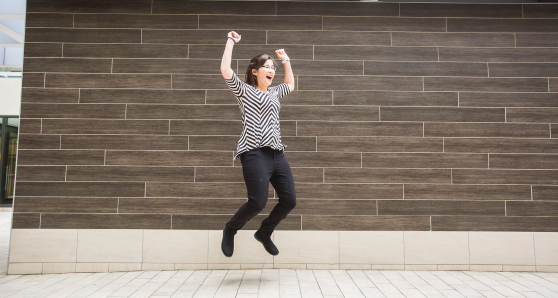 Sarah Stream, an ambassador for Teen Cancer America, an organization that develops survivorship services for young adults with cancer, jumps for joy during her attendance at the Global Adolescent & Young Adult Cancer Congress held this past December in Atlanta. Photo credit Bass Photography.
Every 2 to 3 years, my neurologist sends me for an MRI of my brain to make sure there are no new signs of cancer, but is that enough? Should I be followed more closely? Should I occasionally see an oncologist? I just don't know. And the uncertainty has only heightened the level of stress I feel since my cancer diagnosis. 
It would have been helpful if someone on my medical team had given me a survivorship care plan after I was declared cancer-free and advised me as to what I needed to do to transition from pediatric to adult oncology care. We need more systems in place to ensure the continuity of care for young cancer survivors. 
Coping With Aftershocks of Cancer 
ALTHOUGH NOW 24, I'm still coping with the aftershocks of being diagnosed with a serious disease when I was so young. Soon after my cancer diagnosis, I had a panic attack, and to this day I struggle with bouts of anxiety and fear that my cancer will come back. I'm learning to manage those emotions through cognitive behavioral therapy, but it's difficult. I also have to contend with the fact that missing a year of high school—and the isolation I experienced being separated from friends—has blunted the development of important social skills, which have impaired my adult relationships. 
Becoming Empowered 
TO HELP BRIDGE the gap between pediatric and adult oncology and to meet other young adult cancer survivors, I've become an ambassador for Teen Cancer America (https://www.teencanceramerica.org), an organization that partners with hospitals across the United States to develop services for teens and young adults with cancer. The experience has been humbling. Because my cancer was detected and surgically removed at such an early stage, I sometimes have trouble identifying as a cancer survivor, especially when I meet other young adults who are struggling with much more advanced disease. But I also recognize the impact of having cancer on a person's life is far-reaching—and long-lasting—no matter what its stage at diagnosis. 
After nearly 10 years since my cancer diagnosis, I'm finally able to begin to evaluate just how deep an imprint cancer has on my life and how to use that experience to become less fearful and more empowered. I'm hoping to use the lessons I'm learning to help other adolescents and young adults diagnosed with cancer become less fearful and more empowered, too. 
Through my advocacy work with Teen Cancer America, I'm also hoping to raise awareness of the unique physical and emotional needs of young adults with cancer and to make a contribution to improving not just their survival, but the quality of their survival as well. 
Ms. Stream is a middle school teacher in Flowery Branch, Georgia. 
Editor's Note: Columns in the Patient's Corner are based solely on information The ASCO Post received from the survivors interviewed and should be considered anecdotal. 
---