Support, Inform Patients With ASCO Resources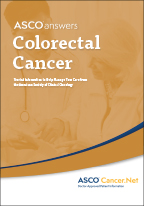 Stock your practice with ASCO resources for your patients. Visit ASCO's patient information website, Cancer.Net, for a newly updated comprehensive guide to colorectal cancer at cancer.net/colorectal and a shorter, one-page colorectal cancer fact sheet. Copies can be purchased from the ASCO University Bookstore at cancer.net/eStore—ASCO members save 20%.
You will also find specialized resources on caregiving, survivorship, palliative care, managing pain, and much more at cancer.net/ascoanswers. ■
© 2018. American Society of Clinical Oncology. All rights reserved.
---