ASCO International: 2017 Year in Review

In late 2016, ASCO announced further expansion of its robust portfolio of international programs, and significant progress toward this expansion was achieved in 2017. 
All of these accomplishments reflect the hard work and commitment of many ASCO member volunteers, ASCO staff, and organizations around the world. We are truly a global community, working together to improve cancer care around the world. 
Our Mission
ASCO International is designed to harness ASCO's core strengths in education and oncology practice to deliver programs with impact in the following areas:
Improving quality of care: working with organizations and hospitals to extend oncology skills and knowledge
Accelerating innovation and research: deepening the skills of investigators, particularly in low- to middle-income countries
Supporting professional development: mentoring future leaders in oncology and providing career development for early-career oncologists in low- to middle-income countries.
The past year saw real accomplishment in each of these areas.
Improving Quality of Care
Education and training are at the core of ASCO's efforts to improve the quality of cancer care around the world. In 2017, ASCO International organized 11 courses around the world, training hundreds of physicians, nurses, and other health-care professionals in multidisciplinary cancer management; palliative care; cancer prevention and screening; and clinical research.
Our education and training efforts are also done at the hospital level through our International Cancer Corps program with Health Volunteer Overseas, in which teams of volunteers work with colleagues at hospitals in low- and middle-income countries (LMICs) to strengthen cancer care at those institutions. In 2017, we began activity at Bir Hospital in Kathmandu, Nepal, and continued to send teams to Honduras and Bhutan, with plans to start activity in Ghana and Uganda in 2018. 
Taking this winning model to an even more ambitious level, in 2017 ASCO joined the Union for International Cancer Control (UICC) in the City Cancer Challenge (C/Can), focusing on improving access to care in select cities in LMICs. The first four cities that have committed to C/Can are Asunción, Paraguay; Cali, Colombia; Kumasi, Ghana; and Yangon, Myanmar. ASCO and its member volunteers have contributed technical assistance to the program, as C/Can conducts needs assessments with municipal authorities in each of the cities, with plans to apply ASCO International programs to help address priority needs that are identified.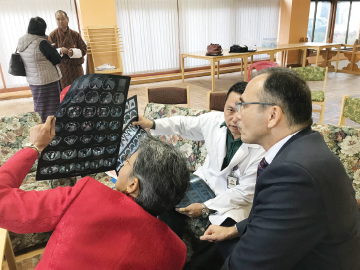 Dr. Anees Chagpar and local organizers review an x-ray at the 2017 Cancer Control in Primary Care course in Bhutan.
Improving quality of care starts with measuring quality of care, and in 2017 ASCO made significant progress in making its quality programs more accessible to practices outside the United States. By the end of 2017, 15 new international practices registered in ASCO's Quality Oncology Practice Initiative (QOPI®), with over 50 international practices registered. QOPI Certification was awarded to one practice in Brazil and three practices in Spain in 2017. 
The ASCO Medical Oncology In-Training Exam effectively identifies areas of strength and weakness in individual oncology training programs, establishes educational standards across training programs, and provides feedback to individual trainees regarding their strengths and weaknesses. In 2017, ASCO continued to see strong participation internationally, with 27 countries and 194 trainees participating outside the United States. 
Guidelines are another important tool in the delivery of quality cancer care, and in 2017 ASCO published its third resource-stratified guideline on cervical cancer in the Journal of Global Oncology (JGO), on the primary prevention of cervical cancer. In addition, ASCO is developing three new resource-stratified guidelines on palliative care, early detection of colorectal cancer, and the treatment of patients with early colorectal cancer. 
Lastly, in 2017 ASCO expanded the existing Global Oncology Symposium at the Annual Meeting to an entire 15-session Global Health education track. Topics are still under development for 2018, but a preview of sessions includes International Perspectives on Breast Cancer, Global Access to Essential Cancer Medicine, and International Translation of Quality Oncology Care Measures and Standards. 
If we can't see you in Chicago, we try to bring the science of the Annual Meeting to you. In 2017 we held 28 Best of ASCO® meetings internationally, and we also held several licensed live meetings covering the Annual Meeting and the Genitourinary Cancers Symposium in Austria, Belgium, Brazil, Germany, Japan, Netherlands, Switzerland, United Arab Emirates, Turkey, and Saudi Arabia. 
For more information, visit asco.org/international-programs. 
Accelerating Innovation and Research
ASCO's Conquer Cancer Foundation has been instrumental in providing research grants to recipients in low- and middle-resource countries. 
ASCO and Conquer Cancer were pleased to announce a new grant in 2017—the Global Oncology Young Investigator Award. This award is a 1-year grant that provides research funding to early-career investigators to encourage and promote quality research in global oncology and to develop the next generation of researchers to address global health needs. The inaugural recipients will be announced at the 2018 ASCO Annual Meeting. 
In 2017, Conquer Cancer awarded four International Innovation Grants to the following investigators:
Saul Campos Gomez, MD, MSx, Centro Oncológico Estatal ISSEMYM, Mexico 
Remote management of oral chemotherapy: Development and assessment of an e-tool for adherence and management of toxicities for a Mexican Public Health System
Tonia Onyeka, MBBS, University of Nigeria Enugu Campus
Enhancing palliative care in rural southeast Nigeria: Use of an app for symptom management
Raya Saab, MD, American University of Beirut Medical Center, Lebanon
Targeted education for general practitioners with development and application of a workflow for rapid second opinion, to promote early diagnosis and referral of children with suspected solid tumors
Liliana Vasquez, MD, AMEROM, Peru
ONCO-PEDS (Pediatric Early Diagnosis System): A novel mobile application for early diagnosis and referral in childhood cancer.
ASCO's support for research in these settings is significantly enhanced by JGO, an online, open-access journal focused on cancer care, research, and care-delivery issues unique to countries and settings with limited health-care resources. In 2017, JGO received 250 submissions from over 50 countries. In addition, all manuscripts published in JGO are deposited to PubMed Central and are discoverable on PubMed and MEDLINE via the PubMed Central repository.
ASCO's first clinical trial, the Targeted Agent and Profiling Utilization Registry (TAPUR™) Study, has been very successful, with over 100 U.S. sites participating and over 600 patients on study, and attracted significant interest internationally. The Netherlands Cancer Institute (DRUP) and Canadian Cancer Trials Group (CAPTUR) are conducting simultaneous global trials, and the WIN Consortium is also developing a version of TAPUR. In addition, in 2017, ASCO launched the Center for Research and Analytics (CENTRA), through which requests can now be made for data from a variety of ASCO sources such as quality programs, the annual census of oncology practices, scientific meeting abstracts, and the TAPUR Study (following initial publication).
Professional Development
Supporting the professional development of future oncology leaders, particularly in parts of the world where such opportunities are limited, is a key component of ASCO International programs. 
In 2017, ASCO had its first group of ASCO Virtual Mentors and Mentees participate in this exciting new educational program. The program pairs early-career ASCO members with mentors who then communicate via e-mail, phone, and video conferencing. We had 12 mentee/mentor pairs representing participants from 11 countries in 2017. Applications for our 2019 Virtual Mentor Program will open later this year. 
In 2017, ASCO and Conquer Cancer celebrated the 15th anniversary of the International Development and Education Award (IDEA)—pairing young oncologists in LMICs with senior ASCO member mentors. The IDEA program remains a cornerstone of our portfolio, not only in terms of achieving its own goals but also in terms of supporting each of our other programs; past recipients of the IDEA award are now organizing ASCO courses, advising us on other international programs, and serving on committees and working groups. 
The Long-term International Fellowship (LIFe) enables a mentee from an LMIC to spend a year at the mentor's institution conducting a shared research project. In 2017, the LIFe recipient was Susmita Sharma, MD, of Bir Hospital, Kathmandu, Nepal. She was also a 2016 IDEA recipient. 
International participation in ASCO's prestigious Leadership Development Program (LDP) remains strong. In 2017, Shaheenah Dawood, MBBS, FACP, FRCP, of the United Arab Emirates, was accepted to the program. 
In Conclusion
ASCO continues to grow and evolve as a society with a global mission, sustained by a global community. We hope this overview of the highlights of 2017 helps to illustrate how this evolution is taking shape and the real impact it is having on the worldwide oncology community. Thank you once again for your support and interest in ASCO International and our work together. ■
Originally published in ASCO Connection. © American Society of Clinical Oncology. "ASCO International: 2017 Year in Review." ASCO Connection, February 1, 2018. All rights reserved.
---