Conquer Cancer Foundation Conquerors Circle Donors

The Conquerors Circle is the Conquer Cancer Foundation's first-ever donor appreciation society. Donors who contribute $1,000 annually are members of the Conquerors Circle.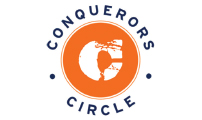 In appreciation for their generous and loyal support of the Conquer Cancer Foundation, Conquerors Circle members receive exclusive benefits based on their giving level, such as special recognition in donor listings; access to the Donor Lounge at the ASCO Annual Meeting; express registration at the Annual Meeting; reserved seating at the Annual Meeting Opening and Plenary Sessions; and early access to housing registration for the Annual Meeting.
For more information on the Conquerors Circle, or to join, please contact Conquer Cancer Foundation staff at (571) 483-1700 or info@conquer.org. ■
© 2017. American Society of Clinical Oncology. All rights reserved.
---