Conquering Cancer With Dr. Kim

There are many different ways to treat cancer: surgery, radiation therapy, chemotherapy, and more, sometimes used alone and sometimes in combination. But, in certain circumstances, the best treatment option for a patient may not look much like treatment at all. Instead of attempting to eliminate the cancer, doctors simply monitor it carefully for signs of progression. This is called active surveillance.
For patients with low-risk prostate cancer, which is slow growing and often nonthreatening, active surveillance is a good option. It comes without the unpleasant side effects of more aggressive treatment and still helps ensure the cancer does not become harmful. Yet active surveillance is not administered as often as it could be, likely because little is known about its current use.
Simon P. Kim, MD, MPH, a urologist at University Hospitals Case Medical Center, as well as Assistant Professor at Case Western Reserve University School of Medicine and Co-Director of its Urology Institute Center for Quality Improvement and Outcomes, is examining why this happens through work made possible by a Conquer Cancer Foundation Career Development Award.
"We recognize that there is overtreatment in the United States for prostate cancer," said Dr. Kim. "We're trying to identify ways to improve active surveillance for patients who may not need curative treatment." He and his team are doing this by analyzing privately insured claims data to identify national trends of active surveillance—when and why physicians have or have not recommended it in the past. They are also conducting a survey to determine physician attitudes and perceptions about active surveillance.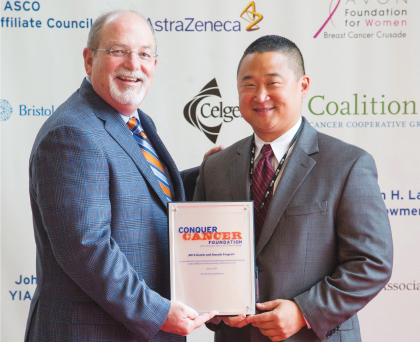 Dr. Kim (right) receives his Career Development Award from W. Charles Penley, MD, FASCO, Chair of the Conquer Cancer Foundation.
The survey will include responses from about 3,000 physicians and closes in 2 months' time. Results are forthcoming.
"We want to improve awareness for providers about the benefits of active surveillance and, ultimately, increase the number of patients who receive it," said Dr. Kim. "In some cases, it can be preferable to aggressive treatments that are associated with poor quality-of-life outcomes."
"My Conquer Cancer Foundation grant was absolutely critical in helping me conduct this research," noted Dr. Kim. "Supporting CCF is so important, not just for helping young clinicians become future leaders in the field, but also to improve patient care." ■
Originally printed on the Conquer Cancer Foundation website. © American Society of Clinical Oncology. "Researcher Spotlight: Conquering Cancer with Dr. Kim" www.conquercancerfoundation.org 4 February 2016. All rights reserved.
---