A Gene Hunter's Advice on How to Take Control of Your Genetic Inheritance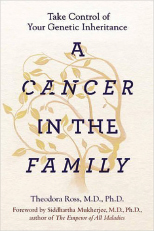 Title: A Cancer in the Family: Take Control of Your Genetic Inheritance
Author: Theodora Ross, MD, PhD
Publisher: Avery-Random House
Publication date: February 2016
Price: $26.00; hardcover, 304 pages
Since the late 1970s, researchers have identified several gene mutations that are implicated in cancer. Many of these mutations are acquired during our lifetime, but, as we know, some are inherited in families. Identifying heritable cancer-causing genetic mutations is a double-edged sword, raising uncomfortable quandaries for those with family histories of cancer.
For instance, if you are found to be genetically predisposed to a certain cancer, what, if anything, can be done to minimize the risk? What if we carry a known cancer risk in our families but do not know the gene associated with the risk? These and other important questions about the risks of genetic inheritance of cancer are answered elegantly in a new book by Theodora Ross, MD, PhD, called A Cancer in the Family: Take Control of Your Genetic Inheritance.
Dr. Ross is eminently qualified as a guide to these questions because of her extensive experience as a physician, scientist, and cancer researcher. She trained in internal medicine at Brigham and Women's Hospital and then in oncology at Dana-Farber Cancer Institute before launching her career in cancer genetics with the nationally regarded leukemia researcher Gary Gilliland, MD, PhD. She also carries the BRCA1 5382insC Ashkenazi founder mutation and is a melanoma survivor.
She opens her finely drawn book with the gripping story of how she found out her own genetic information. "It was March 2004 and I was sitting with my husband, Sean, at the round table in my sixth-floor office at the University of Michigan's cancer center…. When the phone on the table rang, Sean and I jumped. We knew that the incoming call would tell us the results of my own genetic test—that we would learn whether I was at risk for inherited cancer. I put the call on speakerphone so that both of us could hear the news." Powerful stuff.
Opening Messages
Dr. Ross's book is divided into eight well-organized chapters. Science books, especially those about cancer, are usually geared to either the lay public or the professional health-care sector. It's very difficult to write a hybrid—one that satisfies both types of readers. For the most part, this author succeeds at that task.
In chapter 1, "Knowledge That Can Save Your Life," Dr. Ross makes it clear that she is an advocate for genetic testing and tracing one's family history. She writes, "Now, as an oncologist, cancer gene hunter, cancer survivor, and the carrier of a cancer mutation, I want to help people like me and people like you. I don't want anyone to have to wait as long as I did [to discover my genetic predisposition to cancer]." Her message in the book's opening chapter is that knowing is better than not knowing, and clarity is better than confusion. Dr. Ross makes a strong case for genetic testing, but some will disagree with her.
In the following chapter, aptly titled, "The Double Helix," the author does a thorough job explaining the basics of genetics and laying an insightful roadmap for those concerned about their genetic predisposition for cancer. In simple but energetic language, she instructs readers about how to look for signs to see if cancer runs in your family.
In this chapter, there's a terrific segment called "Cancer and Family Secrets," in which the author describes her own search and discovery of both parents' family trees. Going back generations to track cancer histories is detective work, while dealing with living relatives can be sensitive. She writes, "It's challenging to survey your mother's and sister's cancer predisposition and think about all the possible scenarios, including the worst ones."
No Stone Unturned
Chapter 5 is the most informative section for the lay reader—it covers genetic counseling, genetic testing, and family conversations. Dr. Ross points out the stress involved with genetic testing. In fact, she delayed her own genetic testing out of what she termed "denial."
"I kept my mind off my own genetic history by staying deeply involved with caring for cancer patients," she writes. "Then I was diagnosed with melanoma. I knew that when a dark-skinned, sun-avoiding person gets melanoma in her 30s, it's smart to check for a cancer mutation." Not everyone would have the instincts to make that connection, but readers of this book will be well armed with information.
Dr. Ross covers all the indicators signaling when it's time to see a genetic counselor. One of the strengths of her book is that she is a cancer survivor who wrestled with the decision to be tested for a cancer gene. She seamlessly weaves her personal story throughout the book, as if she were having an intimate conversation with the readers.
The results of a genetic test come in three main categories: yes, no, or maybe. To her credit, Dr. Ross elucidates the nerve-wracking limbo of maybe. She writes, "Maybe means that you have a variant of uncertain significance, but to put things into perspective, everyone has many genetic mutations … and eventually variants of consequence will be classified." This chapter also clears up any fears one might have about how genetic tests might affect insurance policies and employment. Again, to her credit, Dr. Ross leaves no stone unturned.
A Straight Talker
The author also examines how to manage cancer risk when information is limited, highlighting risk-management options for the most common family syndromes. Dr. Ross is a straight talker; she tells readers that they need to condition themselves for the complex decisions involved in genetic testing and its consequences. "To make your decisions clear and concrete, sort each one into its own category," she writes.
This book is an invaluable guide for a generation of people entering the new world of genetics. Moreover, it should be mandatory reading for medical students.

—




Tweet this quote



The chapter on targeted treatments for cancer may get a bit too science-heavy for many lay readers. Likewise, the final chapter, "Science Is a Group Project," might ask too much of lay readers when it delves into data-sharing and what families can do to accelerate cancer research.
However, this last chapter also contains a fascinating section on a sample population that at first sounds like a colony of laboratory mice—but it's not. "It's the Mormons. Mormons are not the only group of people who are genetically distinct…. But the number of Mormons who make themselves available for genetic study is unprecedented," she writes.
A Cancer in the Family concludes with 50-plus pages of two well-organized appendices that answer any questions one might have about inherited cancer syndromes and where to go for help if needed. This book is an invaluable guide for a generation of people entering the new world of genetics. Moreover, it should be mandatory reading for medical students. It is highly recommended for The ASCO Post reader. ■
---