A Fight to Remember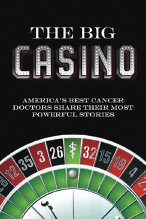 The following essay by Stanley M. Marks, MD, is excerpted from The Big Casino: America's Best Cancer Doctors Share Their Most Powerful Stories, which was coedited by Stan Winokur, MD, and Vincent Coppola and published in May 2014. The book is available on Amazon.com and thebigcasino.org.
In 2006, one of my close friends, Robert O'Connor, won the mayoral race for my hometown of Pittsburgh, Pennsylvania. Everyone loved Robert, affectionately known as "Bob" and often referred to as "The People's Mayor." Bob was "Mr. Pittsburgh," and it was his promise to reverse the city's decades-long decline. The city was full of excitement and hope. Everyone believed in Mayor Bob O'Connor.
A lifelong sports fan, Bob took office just before the Pittsburgh Steelers won Super Bowl XL on February 5, 2006. He had also arranged to host Major League Baseball's All-Star Game in Pittsburgh's PNC Park on July 11, 2006. Many events were scheduled leading up to the highly anticipated game, all of which would showcase Pittsburgh and Mayor O'Connor's contributions and accomplishments in the short period of time since he had taken office.
Just 2 days before the game, Bob was diagnosed with an extremely rare brain cancer, primary central nervous system (CNS) lymphoma. Primary CNS lymphoma comprises less than 5% of all lymphomas. Although rare and aggressive, the cancer is often treatable and the symptoms of the disease quickly alleviated with effective therapy.
At this point, the people of our close-knit community were aware of Mayor O'Connor's devastating diagnosis. The city was crushed and counted on his medical team to restore the health of the beloved Bob O'Connor. The media camped outside the hospital, where Bob spent 57 days. I remember giving them daily updates, along with Bob's neurologist, about his condition. Bob was not only my patient, whom I desperately wanted to save, he was also my close friend and a symbol of the city's future.
Desperate to Save a Friend
From the beginning, Bob's other physicians and I maintained a message of hope to the press and public. We believed that the treatments we were giving him would help make Mayor O'Connor better. We never said he would be cured, but we truly believed that his health would be restored for an extended time. Oftentimes, CNS lymphomas can be treated into a remission for an average of 4 to 5 years. Very rarely can patients be cured. The city was incredibly supportive. Tens of thousands of people began wearing black and gold bracelets produced by the local Leukemia & Lymphoma Society with the words "Bob O'Connor—Everybody's Mayor." Seven years later, many of the citizens of Pittsburgh still wear these bracelets.
We contacted experts all over the country to get advice. I remember one renowned neuro-oncologist who broke down when we discussed the details of Bob's story. I was so devastated and frustrated. There were nights when I cried myself to sleep. He was my dear friend, the entire city was expecting him to get better, and he wasn't improving. Despite our best efforts, including large amounts of steroids, high doses of chemotherapy, and a surgical shunt placed in the ventricle of the mayor's brain to help alleviate swelling, Bob O'Connor could not be saved. He did not respond to any of the treatments, and he suffered from intense headaches, recurrent seizures, and other complications.
Bob was in the hospital for 57 days. On the 56th day, his life support was removed, and he died the next day. Flags flew at half-mast; the entire city grieved. Governor Ed Rendell said, "Bob's death is especially tragic because becoming the mayor of Pittsburgh was his lifelong dream, and he was making incredible progress in revitalizing the city. His passing is so unfair and is such a loss for all of us."
Bob had an incredibly supportive and loving family. During his illness, I became close with his wife Judy and their children and maintain that close relationship with them to this day. They were with him throughout his hospitalization, always so supportive of their beloved husband and father, and they never lost hope.
Coming to Terms With Failure
I felt like a failure. I had disappointed the people of Pittsburgh and lost a close friend at the same time. It still haunts me today. Shortly after Bob's passing, a local TV reporter asked if she could interview me regarding Mayor O'Connor's case and what it was like taking care of him. The interview was so difficult, the story so painful, that at one point the reporter and I both broke down in tears.

Oncologists tend to be optimists. We are given the privilege of helping many patients and families. However, there are times when we feel immense defeat. Mayor O'Connor's death was one of those times for me.

— Stanley M. Marks, MD




Tweet this quote



This is one of the mysteries of medicine. Despite all of the progress we have made, especially in the treatment of lymphomas, Bob's was one of the rare cases that just did not respond to therapy. Cancer is not one disease; it is heterogeneous. Not all brain cancers are the same, and certainly not all lymphomas are the same. There are malignancies that have very high cure rates. And there are malignancies that for whatever reason, such as a genetic mutation, chemotherapy resistance, or bad luck, we can't even stall.
Mayor O'Connor's tumor was one of those tragically aggressive, resistant cancers. Oncologists tend to be optimists. We are given the privilege of helping many patients and families. However, there are times when we feel immense defeat. Mayor O'Connor's death was one of those times for me.
I still mourn Bob. His fight was valiant, and the city of Pittsburgh lost a great man and a true visionary. But there are other stories, so many uplifting and inspiring stories and successes, which keep me going.
Coping With Defeat, Relishing Success
I have a patient who I began treating when he was just out of college, although I had known him since he was in high school. Adam is an outstanding young man and athlete who played high school basketball with my son and went on to play football for Kent State University. Shortly after graduating, he developed sudden and debilitating hip pain and was diagnosed with Ewing sarcoma. I treated him for several months with very aggressive chemotherapy to reduce the size of a large tumor followed by surgical resection and the rebuilding of his hip and pelvis.
During his hospitalization and rehabilitation, he met a young woman whom he later married. As a precaution during Adam's treatments, he banked his sperm so he could realize his dream of becoming a father.
That was over 6 years ago, and Adam is doing well. He has become an advocate and supporter for cancer patients and our cancer center. He sees me for regular follow-up visits and always brings along his wife and baby daughter. He did not need the banked sperm after all.
It is patients like Adam that keep me going and allow me to cope with both the stories of success as well as defeat. ■
---