Medicine Turned Upside Down


Eric Topol, MD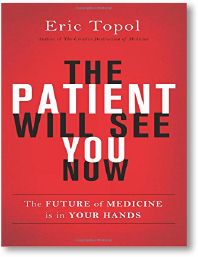 The Patient Will See You Now
How can leading doctors today continue to ask whether patients should have direct access to their lab tests?

—Eric Topol, MD
Bookmark

Title: The Patient Will See You Now: The Future of Medicine Is in Your Hands
Author: Eric Topol, MD
Publisher: Basic Books
Publication date: January 2015
Price: $28.99; hardcover, 384 pages

Most books about health care center on fixing broken parts of the massive $3 trillion system, as seen with the passage of the Affordable Care Act, which is fixated, largely, on covering the uninsured and reducing costs. Health care, once the province of policy wonks, has now captured the national dialogue and continues to spur heated debates on both sides of the aisle and in the lay public, from plumbers to CEOs. Health care is more than the physician's fee schedule, the amount of copays, or the cost of pharmaceuticals; it's personal, because being sick and needing a doctor is a universally shared experience.
Much of our health-care system is so mired in red tape and overworked doctors that getting medical care can become an unbearable chore. Often, you need to make a doctor's appointment months in advance, and then when the appointment day finally arrives, you'll probably wait for an hour or more before you hear, "The doctor will see you now." Has the Affordable Care Act made this situation better or worse? Ask five people, and you'll probably get as many opinions.
However, doctor-author, Eric Topol, MD, sees more promise in creating a new way of thinking about health care than in wrangling over a system mired in politics. Dr. Topol's first book, The Creative Destruction of Medicine, in which he described dozens of medical technologies that show great potential, won him legions of fans, who applauded his medical futurism. Now, still the futurist, Dr. Topol delivers another fine and forward-looking book, titled The Patient Will See You Now: The Future of Medicine Is in Your Hands.
Setting the Tone
Dr. Topol sets the tone for the book in chapter 1. "Getting first-rate health care will always be quite different from ordering a book from Amazon. We're talking about the most precious part of life—one's health—not buying a book. But the common thread is the power of information individualization. We are embarking on a time when each individual will have all their [sic] own data and the computing power to process it in the context of their [sic] own world." That single paragraph drills into the book's core message: New technology and the empowered patient are the future of American health care. However, there is so much more in this easy-to-read value-added book. His short digressions into medical history, for one, add pleasure and context to the ideas with which he challenges the reader.
In his previous book, The Creative Destruction of Medicine, Dr. Topol delved into how medicine would become digitized and how we had a new capability of digitizing human beings as well. However, that is a far cry from medicine becoming democratized. So now in his new book, Dr. Topol extends the model of digitized personalized health data to the concept of medical democratization, which he defines as making something, namely the individual's health care, available to all people.
"Until now," he writes, "the flow of medical data has been to the doctor. If a patient was fortunate enough, their [sic] data, such as lab test, scans, might arrive in the mail…. Patients are now generating their own data on their own devices."
A Tangible Way Forward
Not one for empty philosophizing, Dr. Topol lays out a tangible way forward, giving the reader a comprehensive list and explanation of the personalized medical tools and technologies currently available and those coming down the pike. He offers hope for a new generation of the smart, digitally connected and democratized patient. Much of the first half of the book is geared toward empowering individual health-care consumers in chapters such as My Lab Tests and Scans, where he makes the case for unlimited patient access to lab tests.
Dr. Topol points out that roughly 10 billion lab tests are done each year in the United States, and they factor into about 80% of the medical decisions that doctors make. He then asks, "How can leading doctors today continue to ask whether patients should have direct access to their lab tests?" Their explanation is that patients will be confused by the results, which could induce undue anxiety, and only their doctors can really understand and put the information into context.
Dr. Topol doesn't buy that and cites numerous studies showing that the majority of patients, with a tiny bit of coaching, not only can read their lab results, but may feel better at having them made available online rather than waiting for a call or letter in the mail.
The Informed, Proactive Patient
Naturally, Dr. Topol, a true believer in the power of technology gives the reader a dose of self-help advice and a roundup of future technologies in subchapters such as My Smartphone Lab. As you drill deeper into the well-written and neatly organized chapters, it is obvious that Dr. Topol's worldview of health-care reform centers on the informed, proactive patient. In other words, the best way to reign in our out-of-control spending and have better overall public health outcomes is to give patients the power to be the caregivers of their own health care, partnering with doctors in the process. In this new world of health care, we see home health-care centers in which people monitor their own health metrics using personalized electronic health records and state-of-the-art technologies. This is a paradigm shift from what Dr. Topol views as "paternalistic medicine."
Spiraling Health-Care Costs
Dr. Topol also takes on our spiraling health-care costs in a chapter titled My Costs. His most important message here—although not breaking any new ground—is the opaque nature of our system separates patients from their doctors and the cost of care. In short, a senior can tell you to the penny how much a pound of top-round meat costs at the local supermarket but ask that same senior how much an MRI costs, and you'll likely get a blank stare.
He writes, "Only rarely will patients have any idea what they have been charged for or what their employer or insurer has actually paid…. There is an overall lack of incentive for those patients themselves to drive costs down." Again, Dr. Topol's answer to this nagging issue is technology-based transparency, making cost data widely available to each individual. However, getting patients to care about costs is a tough sell in America, and this chapter proves to be Dr. Topol's weakest argument.
Medical Education Crisis
Readers of The ASCO Post will probably most enjoy when Dr. Topol goes global, in chapters with enticing titles such as Predicting and Preempting Disease, Flattening the Earth, and Open Sesame, where he makes the point, "Both education and medicine are going through economic crisis, and neither have sustainable archetypes."
To address this medical education crisis, Dr. Topol coined the term "MOOM," for massive open online medicine. In a subchapter titled The Cancer MOOM, he writes, "Several cancer MOOMs are taking hold…. The American Society of Clinical Oncology is supporting such initiatives, and its CEO, Allen S. Lichter, MD, FASCO, said, 'There's a treasure trove of information inside case histories if we simply bring them together.' They are, in a project called CancerLinQ."
Once again, Dr. Topol has delivered a highly informative, futuristic book that is not only a pleasure to read but offers real-life and actionable advice on how we can improve our health-care system by empowering patients to take control of their own bodies. Moreover, Dr. Topol has no ax to grind; he's simply a doctor who wants the best for his patients. This is a must-read for all doctors and those thinking of joining the profession. ■
---