Adjuvant Chemotherapy Favored in Locally Advanced Bladder Cancer Not Treated With Neoadjuvant Therapy


Matthew D. Galsky, MD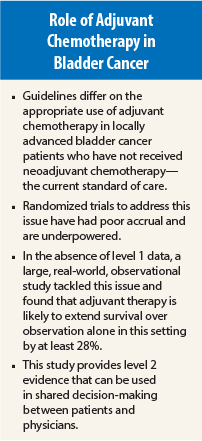 Role of Adjuvant Chemotherapy in Bladder Cancer
The best available evidence supports use of neoadjuvant therapy in this setting. These data lend more support to consider adjuvant chemotherapy in appropriate patients who have not received neoadjuvant chemotherapy.

—Matthew D. Galsky, MD
A large observational study presented at the 2015 Genitourinary Cancers Symposium in Orlando, Florida, found that adjuvant chemotherapy extended the likelihood of survival in locally advanced bladder cancer compared with observation alone.1 Using three different approaches to propensity scores adjustment for confounders, the authors found that adjuvant chemotherapy was associated with a 28% to 31% higher probability of survival in patients with locally advanced bladder cancer, postcystectomy, compared to observation alone.
"In a real-world population, adjuvant chemotherapy provided a survival benefit in patients with locally advanced bladder cancer who had not been treated with neoadjuvant chemotherapy. This level 2 evidence lends support to the use of adjuvant chemotherapy in locally advanced bladder cancer patients who have not received neoadjuvant chemotherapy—the current standard of care," said lead author Matthew D. Galsky, MD, Associate Professor of Medicine and Urology at The Tisch Cancer Institute, Icahn School of Medicine at Mount Sinai, New York. "These data can help inform shared decision-making."
Poor Accrual
Dr. Galsky told the The ASCO Post that three recent randomized trials of adjuvant chemotherapy in this setting have had poor rates of accrual. Of a total of 1,610 planned patients, only 620 (39%) enrolled in these trials.
"I think accrual was poor, at least in part, because doctors think they know the answer. However, doctors are split on this issue, and so are trial results, so doctors may be biased toward favoring the results of one trial or another," Dr. Galsky said.
In addition, the guidelines are split on this issue. The National Comprehensive Cancer Network Guidelines advocate for adjuvant chemotherapy (category 2B recommendation) for patients who have not received neoadjuvant therapy, whereas the European Association of Urology recommends against it.
"There are no sufficiently powered randomized trials to answer this question, and historical experience suggests such a trial cannot be done. We conducted our population-based observational study to provide the next level of evidence," Dr. Galsky said.
Study Details
The study was based on 5,653 patients with locally advanced urothelial bladder cancer enrolled on the National Cancer Database who were treated with radical cystectomy between 2003 and 2007: 4,360 were treated with observation after surgery, and 1,293 received adjuvant chemotherapy. These patients had not received neoadjuvant chemotherapy or radiation to the primary tumor. Patients in the adjuvant chemotherapy group received multiagent chemotherapy within 90 days of surgery.
The authors found that patients with positive lymph nodes were about twice as likely to receive adjuvant chemotherapy, and those with private insurance were 1.3 times more likely to be treated with adjuvant chemotherapy.
In addition to the main analysis, a subset analysis found that adjuvant chemotherapy was favored over observation for all subsets, including age, gender, nodal status, and number of involved nodes. Study limitations included its retrospective design, the lack of details on the type of chemotherapy, and no details on cancer-specific survival.
Closing Thoughts
"The best available evidence supports use of neoadjuvant therapy in this setting. Our data lend more support to consider adjuvant chemotherapy in appropriate patients who have not received neoadjuvant chemotherapy," Dr. Galsky stated.
Whether adjuvant chemotherapy should be used to treat a patient who has had neoadjuvant chemotherapy and has residual cancer in the tumor specimen is an issue not addressed by the current study. ■
Disclosure: Dr. Galsky has received research funding from Bristol Myers, Novartis, Dendreon, Celgene, and Janssen; is on the adisory board of Merck, Lilly, Novartis, and Astellas; has served as a consultant for BioMotiv; and has stock in Dual Therapeutics.
Reference
1. Galsky MD, Stensland K, Moshier EL, et al: Comparative effectiveness of adjuvant chemotherapy versus observation in patients with ≥ pT3 and/or pN+ bladder cancer. 2015 Genitourinary Cancers Symposium. Abstract 292. Presented February 27, 2015.
---
Related Articles
Commenting on the study presented by Galsky et al at the Genitourinary Cancers Symposium, Matthew I. Milowsky, MD, Section Chief, Genitourinary Cancer, at the Lineberger Comprehensive Cancer Center, University of North Carolina, Chapel Hill, agreed with Dr. Galsky that it is unlikely that we will...