Focus on the Virginia Association of Hematologists and Oncologists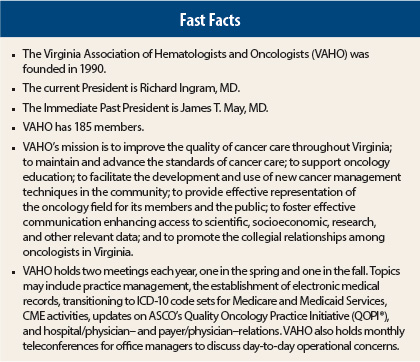 Fast Facts

Richard Ingram, MD
My overall goal for our Society is to put under one organization the different components that touch a patient's experience with cancer.

—Richard Ingram, MD
The state of Virginia encompasses a vast area of 40,000 square miles and is divided into five regions: the Atlantic Coastal Plain, the Piedmont, the Blue Ridge, the Appalachian Ridge and Valley Region, and the Appalachian Plateau. The diverse geography of the state creates unique challenges for patients with cancer seeking access to care and for oncologists providing it. The mission of the Virginia Association of Hematologists and Oncologists (VAHO), founded in 1990, is to ensure that quality oncology care is available to all patients with cancer throughout the state.
With 185 members, VAHO represents the interests of a majority of oncologists throughout the state, and its members provide care to over 80% of the patients with cancer in Virginia. This ASCO State Affiliate is also one of the most legislatively active and successfully helped gain passage, in 2012, of Virginia's Oral Chemotherapy Coverage Parity Act. VAHO is also leading the way to help pass legislation to exempt reimbursement of cancer drugs from the funding cuts imposed on the Centers for Medicare & Medicaid Services under the Budget Control Act of 2011.
The ASCO Post talked with VAHO President Richard Ingram, MD, about his Society's accomplishments and its unique challenges.
Good Reciprocal Relationship
Why was it important for VAHO to become an ASCO State Affiliate?
There are many benefits to being an ASCO State Affiliate. First of all, it gives us the ability to network with colleagues throughout the state, and that networking and sharing of information is very valuable. Second, it gives us the ability to link with a powerful partner in ASCO, to advocate for our patients on both a local and national level. And it gives us the ability to keep ASCO in the loop as well on what is happening at the state advocacy level to help our patients, so it's a good reciprocal relationship.
Legislative Efforts
VAHO has been very active in helping pass state legislation to improve patient care. Please talk about VAHO's involvement in some recent legislative and advocacy efforts.
In 2011, we started working with a government relations professional, and we have accomplished a good deal since then. For example, we led the charge on the state's Oral Chemotherapy Coverage Parity Act, which was passed in 2012. And earlier this year, we submitted letters to the Virginia General Assembly regarding the importance of setting safety standards in a biosimilar medication bill the legislature is considering.
Several years ago, we worked in collaboration with the Medical Society of Virginia to pass legislation for a drug-compounding safety bill, so we have a history of successful activism.
Unique Challenges
What challenges do you face that are unique to your Society?
I'm sure we share a lot of similar challenges other ASCO State Affiliates are coping with, but the geographic nature of our state, which includes a mixture of rural and metropolitan areas, presents unique challenges for us. In many parts of the state, access to clinical care is difficult and patients have to travel many miles to see the nearest cancer specialist.
Also, because we are located close to Washington, DC, and Baltimore, two cities with a large underserved or undocumented immigrant population, we are often called upon to treat patients who don't have health insurance. There are a lot of pitfalls in trying to find access to care for these patients.
In Virginia, as in other states, oncologists and hematologists are having difficulty maintaining their private practices because many community practices are being integrated into medical centers. That shifting of care from a cost-effective outpatient environment to a more costly in-hospital environment poses a lot of financial issues for patients who now have to deal with higher insurance copays.
Future Goals
What are VAHO's goals for the future?
My overall goal for our Society is to put under one organization the different components that touch a patient's experience with cancer, so I'm trying to expand our membership to include more physician extenders. We already have a good representation of active physician extenders, including office managers, billers, coders, pharmacists, and nurses, but I would like to increase their numbers and target meeting topics and teleconferences to their interests. This will give all of those stakeholders value-added features to motivate their participation in our Society.
I am also continuing to partner with our academic institutions to encourage their fellows in training to get involved in VAHO. When I was a fellow at the University of Virginia, I became very active in VAHO and it was such a valuable experience to meet practicing physicians and learn about legislative and advocacy issues that impact both oncologists and patients. These are the types of topics young physicians aren't exposed to when they are learning about the nuts and bolts of disease, but that are essential in helping advance cancer care—from learning how to apply for basic research funding from the National Institutes of Health to designing and enrolling patients in clinical trials.
Our meetings cover the whole spectrum of oncology care, so I would love to see more fellows in training be involved in VAHO. We are working very hard with fellowship directors in Virginia to encourage and support the attendance of fellows by offering them travel scholarships to our meetings.
I am also trying to increase our coverage of national oncology meetings, including ASCO highlights and the best of ASH, by encouraging our colleagues from the University of Virginia and Virginia Commonwealth University and other regional academic institutions to come to our meetings and give us updates. ■
Disclosure: Dr. Ingram reported no potential conflicts of interest.
---