Novel Antiandrogen Shows Encouraging Phase II Results in High-risk Nonmetastatic Castrate-resistant Prostate Cancer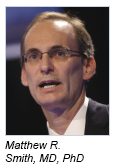 © ASCO/Todd Buchanan
ARN-509 is designed to be useful when first-generation antiandrogens such as bicalutamide fail. Our results to date support the further development of ARN-509 in prostate cancer.

—Matthew R. Smith, MD, PhD
Preliminary results of a phase II study suggest that a novel antiandrogen called ARN-509 is safe, well tolerated, and has promising activity in high-risk nonmetastatic castrate-resistant prostate cancer.
ARN-509 is a novel, second-generation, oral antiandrogen that binds directly to the ligand-binding domain of the androgen receptor, impairing nuclear translocation and DNA binding. In contrast with bicalutamide, ARN-509 has no significant agonist properties in prostate cancer cells that overexpress the androgen receptor.
Clinical Trials
Phase I studies of the novel compound have been completed. ARN-509 was safe and well tolerated in 30 men with castrate-resistant prostate cancer enrolled in a phase I study. Across all dose levels, the drug achieved decline in prostate-specific antigen (PSA) level. Going forward in phase II trials, the recommended dose was 240 mg/d.
Phase II studies are ongoing at 15 institutions in the United States in three cohorts of patients: high-risk nonmetastatic castrate-resistant prostate cancer, treatment-naive metastatic disease, and progressive disease after abiraterone (Zytiga) therapy.
"ARN-509 is designed to be useful when first-generation antiandrogens such as bicalutamide fail. Our results to date support the further development of ARN-509 in prostate cancer," stated Matthew R. Smith, MD, PhD, Director of the Genitourinary Malignancies Program at Massachusetts General Hospital Cancer Center, Boston, who presented preliminary results for the cohort with high-risk nonmetastatic castrate-resistant prostate cancer at the Genitourinary Cancers Symposium.1
Promising results in patients with metastatic castrate-resistant prostate cancer, including treatment-naive disease and post-abiraterone progressive disease, were presented at the European Society for Medical Oncology (ESMO) 2012 Congress.2
Study Details
The cohort reported by Dr. Smith included 47 patients with high-risk nonmetastatic castrate-resistant prostate cancer; of these, 41 were on ongoing treatment at the time of the Genitourinary Cancers Symposium. Of the 6 discontinuations, 2 were for progressive disease, 2 were for adverse events, and 2 for other reasons. At baseline, all men had PSA ≥ 8 ng/mL and PSA doubling time ≤ 10 months. Median age was 71 years. Approximately 32% had Gleason scores of 8 to 10, and median PSA was 10 ng/mL. All patients were previously treated with a luteinizing hormone-releasing hormone (LHRH) analog with or without a first-generation antiandrogen.
The primary endpoint was PSA response (defined as PSA decline ≥ 50%) at 12 weeks. At that time, 91% of patients had a PSA response. The same proportion of patients had a PSA response after 24 weeks, consistent with a durable treatment effect. The estimated 12-month progression-free survival was 88.7%.
The drug was well tolerated. The most common adverse events were grade 1 or 2 fatigue and gastrointestinal disturbances. The incidence of grade 3 adverse events was 6.4%, and no seizures have been reported to date. ■
Disclosure: Dr. Smith has served as a consultant for Aragon Pharmaceuticals.
References
1. Rathkopf DE, Antonarakis ES, Shore ND, et al: ARN-509 in men with metastatic castration-resistant prostate cancer. 2012 ESMO Congress. Abstract 964TiP. Presented September 29, 2012.
2. Smith MR, Antonarakis ES, Ryan CJ, et al: ARN-509 in men with high-risk non-metastatic castration-resistant prostate cancer. 2013 Genitourinary Cancers Symposium. Abstract 7. Presented February 14, 2013.
---
Related Articles
"The durability of PSA response is encouraging [with ARN-509], as is the toxicity data, but these are relatively asymptomatic patients," said formal discussant William Oh, MD, Chief of the Division of Hematology and Medical Oncology, Professor of Medicine and Urology, and the Ezra M. Greenspan, MD, ...