What You Need to Know About Axitinib, New Agent for Treating Advanced Renal Cell Carcinoma

In the Clinic provides overviews of novel oncology agents, addressing indications, mechanisms, administration recommendations, safety profiles, and other essential information needed for the appropriate clinical use of these drugs.
Indication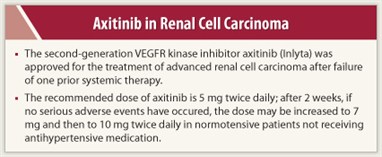 In January 2012, the second-generation vascular endothelial growth factor receptor (VEGFR) kinase inhibitor axitinib (Inlyta) was approved for the treatment of advanced renal cell carcinoma after failure of one prior systemic therapy.1
Approval was based on an international, open-label trial2,3  in which 723 patients with advanced renal cell carcinoma after failure of one prior systemic regimen were randomly assigned to receive oral axitinib at 5 mg twice daily (n = 361) or oral sorafenib (Nexavar) at 400 mg twice daily until disease progression or unacceptable toxicity; sorafenib is a VEGFR kinase inhibitor already approved in this setting. Patients with uncontrolled hypertension were excluded from the trial. Patients had a median age of 61 years, 72% were male, all had ECOG performance status of 0 or 1, and 99% had clear cell histology. Prior systemic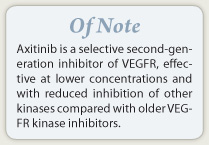 treatment had to consist of sunitinib (Sutent; 54% of total population), cytokines (35%), bevacizumab (Avastin; 8%), or temsirolimus (Torisel; 3%).
Median durations of treatment were 6.4 months in the axitinib group and 5 months in the sorafenib group. Median progression-free survival, the primary endpoint of the trial, was significantly increased to 6.7 months with axitinib from 4.7 months with sorafenib, representing a 33% reduction in risk of progression (HR = 0.67, P < .0001). There was no significant difference between axitinib and sorafenib in median overall survival (20.1 vs 19.2 months).
How It Works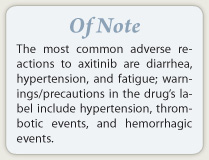 Axitinib is a selective second-generation inhibitor of VEGFR-1, -2, and -3.3,4 Compared with older VEGFR kinase inhibitors (eg, sorafenib), which inhibit a wide range of kinases in addition to VEGFR kinases, axitinib inhibits VEGFR at lower concentrations and exhibits reduced inhibition of other kinases. The wider range of activity of older inhibitors may underlie some of the toxicities associated with these agents.
How It Is Given
The recommended dose of axitinib is 5 mg twice daily. It should be taken with a glass of water and may be taken with or without food. The dose may be increased to 7 mg and then to 10 mg twice daily in normotensive patients not receiving antihypertensive medication if no adverse events higher than grade 2 occur during 2 weeks of treatment at the lower dose. Concomitant treatment with strong CYP3A4/5 inhibitors should be avoided; if such an agent is necessary, the dose of axitinib should be reduced by approximately half. The starting dose should also be decreased by half in patients with mild hepatic impairment.
Safety Profile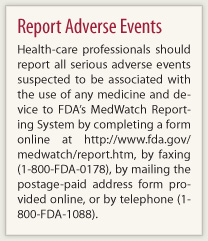 The most common (≥ 20%) adverse reactions in patients treated with axitinib in the comparative trial with sorafenib were diarrhea (55%), hypertension (40%), fatigue (39%), decreased appetite (34%), nausea (32%), dysphonia (31%), palmar-plantar erythrodysesthesia (hand-foot) syndrome (27%), weight decreased (25%), vomiting (24%), asthenia (21%), and constipation (20%).2,3 The most common adverse events in the sorafenib arm were diarrhea (53%), palmar-plantar erythrodysesthesia (51%), alopecia (32%), and rash (32%). 
The most common grade 3 or 4 adverse events in the axitinib group were hypertension (16%), diarrhea (11%), and fatigue (11%). The most common grade 3 or 4 laboratory abnormalities were increased lipase (5%), hyponatremia (4%), hypokalemia (3%), and decreased lymphocytes (3%). Severe adverse reactions reported in axitinib patients included hypertensive crisis, arterial and venous thrombotic events, hemorrhage, gastrointestinal perforation and fistula formation, and reversible posterior leukoencephalopathy syndrome. Discontinuation of treatment due to adverse events occurred in 9% of axitinib patients and 13% of sorafenib patients.
Axitinib carries warnings/precautions for hypertension, thrombotic events, hemorrhagic events, gastrointestinal perforation and fistula, hypothyroidism, reversible posterior leukoencephalopathy syndrome, proteinuria, liver enzyme elevation, and fetal harm. ■
References
1. US Food and Drug Administration: Approved drugs. Axitinib. Available at http://www.accessdata.fda.gov/drugsatfda_docs/label/2012/202324lbl.pdf. Accessed February 21, 2012.
2. INLYTA® (axitinib) tablets prescribing information. Pfizer Labs, January 2012. Available at http://www.fda.gov/Drugs/InformationOnDrugs/ApprovedDrugs/ucm289439.htm. Accessed February 21, 2012.
3. Rini BI, Escudier B, Tomczak P, et al: Comparative effectiveness of axitinib versus sorafenib in advanced renal cell carcinoma (AXIS): A randomised phase 3 trial. Lancet 378:1931-1939, 2011.
4. Escudier B, Gore M: Axitinib for the management of metastatic renal cell carcinoma. Drugs R D 11:113-126, 2011.
---