Some Patients Using Complementary and Alternative Therapies May Be Receiving 'Parallel' Rather Than Integrative Care

Most patients with cancer receiving complementary and alternative medicine do so not as part of integrative care, but rather as "parallel care," according to Lynda Balneaves, RN, PhD, Associate Professor, University of British Columbia, School of Nursing in Vancouver. Dr. Balneaves is lead investigator of a study analyzing data from interviews with patients in Canada and the United States. "For most individuals, true integration is not occurring. Complementary/alternative medicine and conventional care are being provided in parallel systems by health professionals who are not consulting each other," she reported at the Eighth International Society for Integrative Oncology (SIO) Conference, during a moderated abstracts session entitled Best of SIO.
"There has been a real push in this field to get away from using the [complementary and alternative medicine] terminology, and instead go to integrative oncology," Dr. Balneaves said in a follow-up interview with The ASCO Post. But integrative oncology "is not happening in reality," she said, "unless you are at a very specialized clinic."
Widespread Use of Complementary Medicine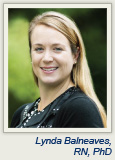 Dr. Balneaves cited recent data showing that up to 40% of people living with cancer in America and Europe report using some form of complementary medicine, but only 3% to 5% of patients use only alternative medicine and decline conventional therapy. "This suggests that people are using complementary medicine and conventional cancer care together, in what we hope would be an integrative manner," Dr. Balneaves said. "But is it truly occurring in an integrative manner?
Not really, according to information obtained from interviews with 34 patients—23 with breast cancer and 11 with prostate cancer—in Canada and the United States. The patients were interviewed every 2 to 3 months over a 1-year period. The study was a secondary analysis within a larger international study, the PATH study, lead by Marja Verhoef, PhD, from the University of Calgary.
'Like an Orchestra'

"This study is important because it is a qualitative study," noted session moderator Gary Deng, MD, PhD, of Memorial Sloan-Kettering Cancer Center, and President of the Society for Integrative Oncology. "Not everything we do in oncology can be subjected to the research methodology of randomized controlled trials. Qualitative studies can reveal special information that is helpful to clinical practice."
Patients expressed a clear preference, Dr. Balneaves said, "to have complementary and conventional care combined." She noted that one woman described integrative care as "like an orchestra. Everyone is working together and there is synergy."
Dr. Balneaves further explained, "People were not just drawing from a naive sense of using complementary medicine. These were people who had previous experience of using complementary medicine for overall health or other chronic conditions." Participants were recruited through cancer clinics and at community settings such as natural health food stores, and through the website of the Complementary Medicine Education and Outcomes (CAMEO) Program of the British Columbia Cancer Agency (www.bccancer.bc.ca/cameo).
Motivating Factors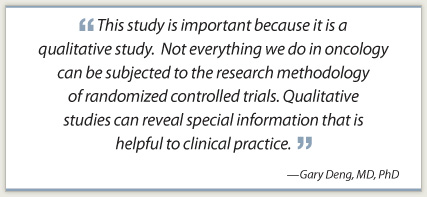 Patients expressed several different motivating factors for using complementary and alternative therapies. "Many people expressed a belief that chemotherapy was equated to poison. As a consequence, they were looking for alternatives that would be more natural and more amenable to their well-being," Dr. Balneaves said.
"There were some clear recommendations by health professionals within the conventional setting to use specific supplements," mostly from health professionals in the United States, she added.
"Social support was huge," she said. "The majority of people were creating a treatment plan based on what their fellow survivors were using" and what they were hearing about in support groups. Some people said that they felt let down after conventional treatment ended, but used complementary/alternative medicine to fill the void, saying, "I've now created a protocol for myself."
Barriers to Integration
One of the chief barriers to integrative care was lack of dialogue among conventional practitioners, complementary/alternative medicine providers, and patients. "When people tried to negotiate integration of their care, they were blocked by conventional health professionals," Dr. Balneaves reported.
Patients experienced "distress and anxiety" from not being able to have discussions with their conventional providers, Dr. Balneaves added. In some cases, this caused patients to abandon complementary/alternative therapy, even if it was perceived to be working. This lack of dialogue can also impair the patient-provider relationship, she said.
"My sense from the data is that patients are saying, 'It's my responsibility and I have to live with my decision,' but they really would like to get the conventional provider's perspective," Dr. Balneaves commented. "They'd like to ask, 'What do you know about this? Is it safe? Do you have any data about it? Will it work?' And they are not even getting to that point of a dialogue."
Cost can also be a barrier. There are integrative care clinics, she said, "but you can only go there if you can afford it. That's not integration either."
Dr. Balneaves' abstract concludes, "Until these barriers are addressed through professional processes of communication, education, and health policy, integrative oncology will remain a concept 'just on paper' and not a reality within cancer care settings." ■
Disclosure: Drs. Balneaves and Deng reported no potential conflicts of interest.
---