Pre–Annual Meeting Seminar Series Kicks Off
Seminars in Chicago, May 31–June 1

This year, ASCO is cosponsoring a new series of intimate, discussion-based seminars to be held just before the start of the Annual Meeting in June. The three seminars, which start at 1:00 PM on Thursday, May 31, and continue through noon on Friday, June 1, the first day of the Annual Meeting, are:
Clinical Care in Oncology for the Advanced Practice Provider
Designs for Contemporary Early-phase Clinical Trials
New Drugs in Oncology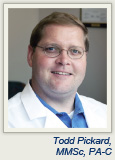 ASCO's goal in launching the new seminar series is twofold: (1) To meet the educational needs of health providers whose practices can't afford to send them to the Annual Meeting or for whom the Annual Meeting's topics aren't closely targeted to their areas of focus, and (2) To offer additional, expanded topics of interest to those who are attending the meeting, but who would like to drill down further into certain areas not typically covered at the meeting. The seminars will take place at the same location as the Annual Meeting, Chicago's McCormick Place.
Difficult Conversations, Targeted Therapies
The Clinical Care in Oncology for the Advanced Practice Provider seminar is being cosponsored with the Association of Physician Assistants in Oncology and the Oncology Nursing Society. The session will emphasize patient care and interactions and will include strategies for better handling of difficult conversations with patients and their families; new targeted therapies; advances in the treatment of hematologic malignancies; and updates on advances in breast cancer, prostate cancer, lung cancer, and colon cancer.
Todd Pickard, MMSc, PA-C, Physician Assistant Program Director in the office of the Vice President of Medical Affairs at The University of Texas MD Anderson Cancer Center, Houston, is on the planning committee for the seminar. He said that an anticipated shortage of oncologists, coupled with the increasing population of people over 65 were the driving force behind choosing this focus for one of the seminars.
"Oncologists realize that very soon, they will have to work more closely with nurses and physicians assistants to handle the volume of patients," he said. "The question they face is: How do we reach out to that group so that they feel supported and bring them into the fold? This seminar was part of the answer."
Early-phase Trial Design Explored
A second seminar, Designs for Contemporary Early-phase Clinical Trials, is being cosponsored with the Society for Clinical Trials. It will bring together statisticians and clinicians to discuss the design, implementation, and analysis of early-phase clinical trials.
The format is designed to foster interaction with faculty: Lectures will be complemented by small breakout sessions in which a faculty member will assist as attendees work together to answer real case-study questions. Topics will include pathway-driven trials, adaptive features of trials, innovative phase I trials, endpoints, and selection designs.
Knowledge about New Drugs Lacking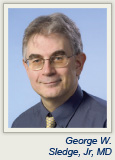 The third seminar, New Drugs in Oncology, "is badly needed by general oncologists, who are faced with absorbing information about the 8 to 10 new cancer drugs [introduced] per year before prescribing them to patients," said George W. Sledge, Jr, MD, Immediate Past President of ASCO and Ballve-Lantero Professor in the Department of Medicine, Division of Hematology/Oncology at Indiana University School of Medicine, Indianapolis.
"A huge number of drugs are being approved by the FDA and coming out or in the queue to come out," said Dr. Sledge, who is on the planning committee for this seminar. "The general oncologist gets overwhelmed trying to learn all he or she needs to know about them all."
The primary ways in which physicians learn about new drugs are by word of mouth, the news, and pharmaceutical representatives. This is inadequate, Dr. Sledge commented. During this seminar, oncologists who focus in specific disease areas will speak to generalists about the indications and side-effect profile of the market's new drugs. New pharmaceuticals the planning committee is considering for inclusion are ruxolitinib (Jakafi), crizotinib (Xalkori), brentuximab vedotin (Adcetris), abiraterone acetate (Zytiga), vandetanib (Caprelsa), ipilimumab (Yervoy), rituximab (Rituxan), and axitinib (Inlyta). The New Drugs in Oncology seminar is sponsored only by ASCO.
To learn more, and to register for one of the limited number of seats at the Pre–Annual Meeting seminars, visit chicago2012.asco.org today. ■
© 2012. American Society of Clinical Oncology. All rights reserved.
---